Will Wigfield, product manager for flat roofs at Rockwool UK, discusses the implications of roof fires and shares best practice advice on how to manage the risk
While Approved Document B (ADB) sets minimum performance standards to ensure the safe passage of exit for building occupants in the event of a fire, it does not provide any design guidance on how to ensure the building remains viable post-fire. Where fire takes hold within a building and can be contained, damage to the property and contents can often be minimised. This is not the case when fire spreads to the roof. Will Wigfield, product manager for flat roofs at Rockwool UK, discusses the implications of roof fires and shares best practice advice on how to manage the risk.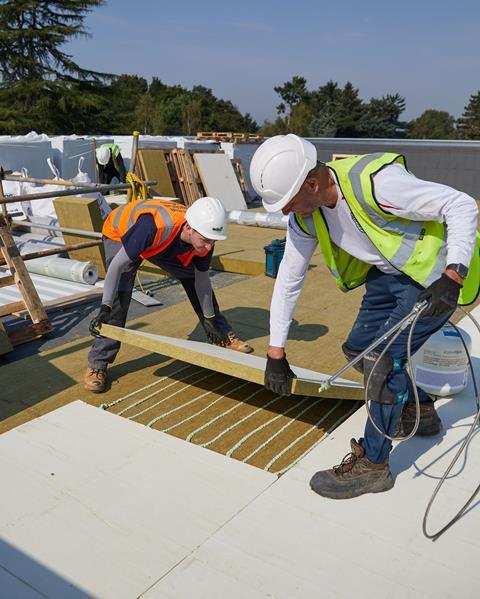 As compared with other areas of a building, when a fire takes hold in the roof there is a much greater risk that the building will collapse. Aside from the financial costs associated with re-construction; service disruption, loss of stock and impact on employment are just some of the wider socio-economic consequences which can be experienced.
Understanding the threat of fire in roofs is the first step in prevention as well as identifying where the risk can best be mitigated.
Flat roofs and fire risk
While all roof constructions are susceptible to localised fire spread from within a building or adjacent structures, flat roofs are at a greater risk of being the original fire source.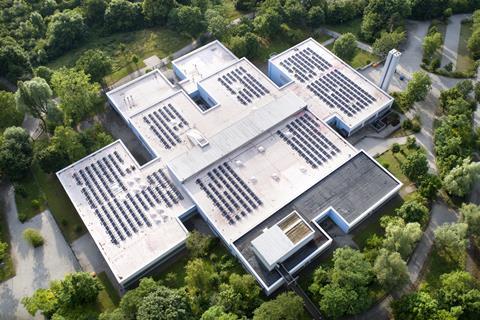 As an accessible surface area, flat roofs are an easy target for arson attacks. Given arson is the most common cause of fire in the UK, annually accounting for 50.5% of fire service call-outs*, this poses a notable concern for any building with a flat roof.
Additionally, the maintenance and refurbishment of flat roofs also present a fire hazard. Grinding, welding and torch-applied roofing are all hot works which can cause a fire to ignite.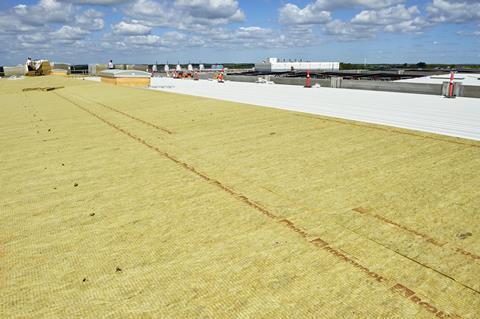 Finally, plant and machinery are commonly installed on flat rooftops. The mechanical failure of these can lead to a roof fire. With solar panels specifically, there are known incidences of faults causing fires by 'arcing'.
Considering the increased fire risk in flat roofs alongside the need for thermal performance, the safest material choice is non-combustible insulation as this will not burn or contribute to fire spread. However, recent changes in industry classifications have led to some confusion as to what defines non-combustible.
Clarifying classifications
EN 13501-5 'Fire classification of construction products and building elements – Part 5: Classification using data from external fire exposure to roofs tests' is the recognised standard for indicating the performance of a flat roof system when exposed to fire from an external source.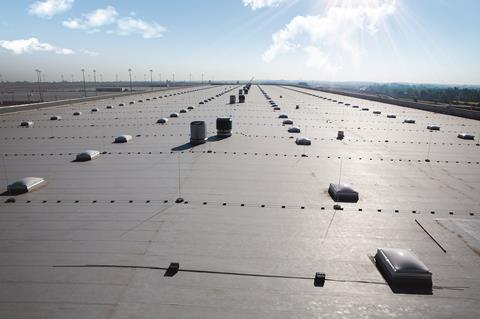 Applicable to Approved Document B, Test 4 of DD CEN/TS 1187:2012 provides the method for evaluating the performance of a roof under the conditions of thermal attack, which includes external fire spread and penetration by fire.
The highest possible performance is classified as BROOF(t4). However, BROOF(t4) does not determine the reaction to fire of individual components, which means it provides no indication regarding the material's combustibility.
A simple and straightforward way to determine the combustibility of a building product is by checking its Euroclass reaction-to-fire rating. A non-combustible material is defined by a Euroclass rating of A1 or A2-s3,d2.
Moreover, BROOF(t4) does not provide any indication as to how the roof system will perform when exposed to fire from inside the building – which may fuel a fire and emit toxic gasses and smoke.
In fact, roof systems incorporating combustible insulation products as low as Euroclass F can achieve a rating of BROOF(t4).
Mitigating the risk
As ADB specifies that roof coverings carried over compartment walls need to be on a substrate or deck of a material rated class A2-s3, d2**, or better, BROOF(t4) cannot solely be used to determine regulation compliance. The best way to mitigate risk in these areas is to request a Declaration of Performance (DoP) certification from the insulation manufacturer, which should detail a Euroclass rating of A2-s3,d2 or better.
A further area for caution is the installation of balconies and upstand boards. Under the ban on combustible materials in external walls of relevant buildings 18m above ground level, these are defined as 'attachments'. This means the insulation used in balconies and upstand boards must be A2-s1, d0 or class A1.
Many developers are already reducing the risk of error by adopting a single non-combustible insulation specification for the whole roof area. This not only helps to make site programmes more efficient, it also gives greater peace of mind and security that the fire risk has been minimised as far as possible. To learn more about mitigating fire risk in flat roofs, visit www.rockwool.co.uk/fifthfacade
**Source: www.bbc.co.uk/news/business-48919285
**Within the context of Approved Document B regarding the junction of a compartment wall and roof.