How can construction maximise the government's infrastructure spend in the post-covid recovery? Debika Ray reports on a roundtable hosted by Gleeds and Building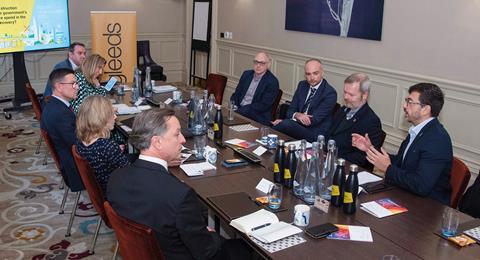 Last month a panel convened by Building magazine and Gleeds gathered together to ask how the construction industry could encourage and make best use of public infrastructure spending, as the UK government seeks to instigate the post-pandemic recovery.
The panellists, chaired by Building's editor Chloë McCulloch, honed in on three crucial aspects of this task – how it can use infrastructure to deliver on essential and urgent sustainability goals, how it can increase the uptake of digital construction processes by the sector, and how it can ensure that the projects it produces deliver social value and a long-term legacy for the communities that surround them. The conversation ranged from tackling the skills crisis and attracting new talent to the challenges for local governments and the supply chain involved in infrastructure schemes.
Focus on MMC
To kick off the discussion, Graham Harle, global chief executive of Gleeds, reflected on the turbulence of the past two years. The business, he said, had substantially increased its focus on infrastructure and had an acute awareness of the social and environmental importance of road, rail and similar projects.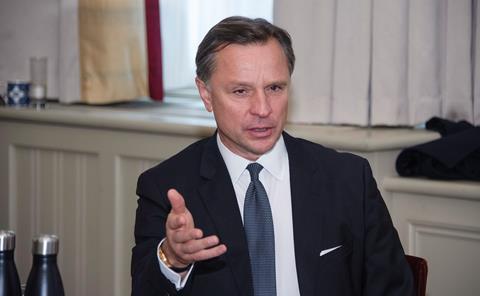 In these schemes, he hoped to see greater use of modern methods of construction, to help improve the quality of construction and safety standards on site.
"The way we often work at the moment is analogous to the car industry delivering a box of parts to someone's driveway to build their own car in a damp, cold environment without necessarily getting the quality right," he said. "I think we should have more elements constructed in a manufacturing facility."
Commitment
Andy Ellis, Gleeds' regional director for energy, provided some wider context – asserting that the UK has set ambitious targets for renewable energy and carbon reduction, but that investment to support this was vital.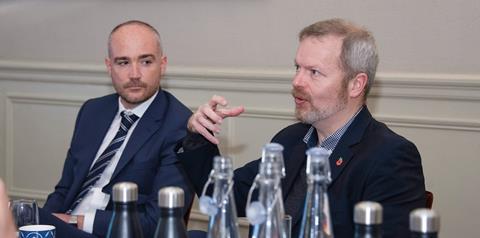 "When it comes to making investment, there is definitely an appetite – the government was taking its time to show its colours but it has done that quite strongly over the past 12 months," he said. "The energy white paper was quite bold, and its hydrogen strategy and the commitments made to carbon clusters are very ambitious. The private sector has already started to invest. So I think we've made fantastic progress in the last year, but there's a very long way to go."
The government was taking its time to show its colours but it has done that quite strongly over the past 12 months

Andy Ellis, Gleeds
Over time, he said, the UK energy sector's priority had shifted from simply "keeping the nation's lights on" two years ago, to doing so in a low carbon manner.
Francisco Pineda, who leads the US infrastructure practice at Gleeds, emphasised the crucial role of public investment – pointing to the lessons that the UK had learned in the 1990s through major projects such as the Olympics.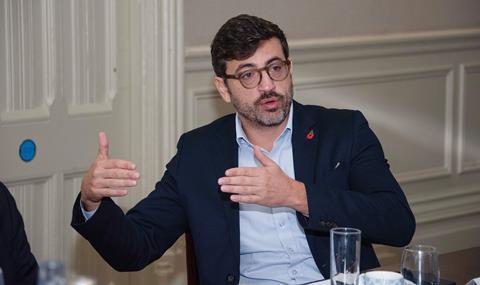 "I'm critical of too much private sector involvement – it's important and we can't do without it, but we have to be careful about citizens paying large margins for private equity to participate, when interest rates are low and inflation is high," he said. "That trade-off is hard to swallow."
That said, he pointed to the financial discipline brought to projects by private players, as well as the continuity it could achieve, as compared with the political swings brought about by the revolving door of elected officials continually changing their minds.
Meanwhile, a bigger question, Pineda said, was how single-purpose organisations – for example, ones devoted to road, rail, sanitation, water or energy – could be integrated better, which is essential to achieving socioeconomic goals.
Clarity of purpose
Part of this, said Gleeds' global head of infrastructure Dean Purvis, was about recognising the wider purpose of each of these organisations. "We don't build roads for fun; we build them for a reason. Our purpose has got to be to support national carbon reduction programmes and social value."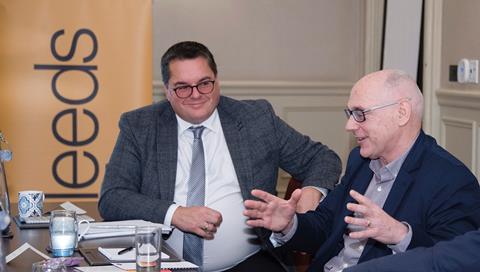 And soon, professionals in the sector would have no option but to think this way as the public increasingly starts to expect more from the industry, he warned. To more quickly meet these demands, he hoped that the government would choose to spend less money in chunks at a quicker pace, rather than larger amounts later on, to start delivering tangible benefits sooner. Meanwhile, the industry would need to be ready to respond and spend this money, despite challenges such as a skills shortage – it would need to learn to "do more for less and with less".
Public image
McCulloch wondered whether infrastructure had a public image problem, and if people might prefer the government to spend money on social infrastructure such as schools and hospitals.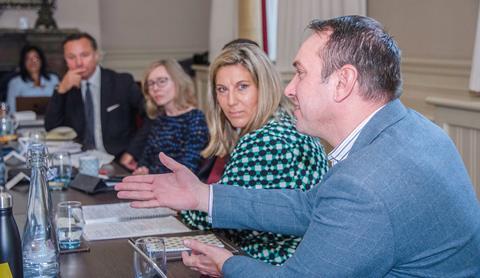 But Tim Morris, chief executive of the UK Major Ports Group, felt the time was ripe for hard infrastructure. "At the moment I think the public might be more receptive to green infrastructure and trains and roads than they might have been before, which is an interesting opportunity," he said.
The question of construction's image problem returned when it came to the subject of recruitment and skills. Ellis argued that the idea of working on one project for their whole career, which would not have been uncommon with infrastructure in the past, was not attractive to a younger generation of potential recruits.
At the moment I think the public might be more receptive to green infrastructure and trains and roads, which is an interesting opportunity

Tim Morris, UK Major Ports Group
"Some of the projects we're talking about will capture their imagination, but there's a massive challenge in getting them interested and on board," he said.
Pineda was more optimistic about the workforce. "The new generation is starting to understand that the service jobs that have proliferated over the last 20 years have vanished, and construction is a more long-lasting option that lets you build a real skill set," he says.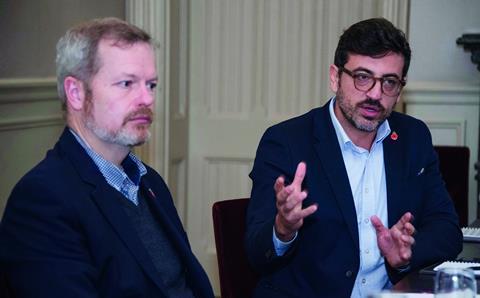 And for the industry, said Pineda, the entry of younger people could only be a good thing, as many of them are coming with backgrounds in data analysis, software development and other digital skills, which could help address construction's slow adoption of automation, machine learning and other technologies, he explained.
Securing this pipeline of recruits will partly be about better communication around the industry's benefits and opportunities, Pineda emphasised. "We need to promote it as a career at the intersection of digital, physical, craft, art, design, technology, leadership and organisation, which we are not doing well at the moment," he said. "Unions are also starting to understand that automation is making people's jobs safer and physically less demanding, and that they have a role to play."
Flexibility
Harle said that, for the new generation of employees, pay was a factor in choosing a career, but certainly not the only one – they also want flexibility in their schedule, an appealing office environment, consideration from their employer for their health and wellbeing, as well as knowledge that they are working for a business with a real purpose.
Brexit, he added, has had an impact on the availability of people, which made it all the more important to ramp up the use of technology in construction. "It's now cheaper to do brick panels than laying brick on site, which reduces the number of people on site, but that message isn't out there," he said.
Why isn't there a huge national recruitment campaign? If you want to build back better, you need people to do it

Victoria Brambini, Perfect Circle
Victoria Brambini, managing director at property, construction and infrastructure consultancy Perfect Circle, pointed out the government should bear some responsibility for this challenge, in the same way as it does in pushing recruitment for the armed forces or the public sector.
"This should be part of our lobbying to the government," she said. "Why isn't there a huge national recruitment campaign? There are so many disciplines within our industry that young people don't know about, and if you want to build back better, you need people to do it."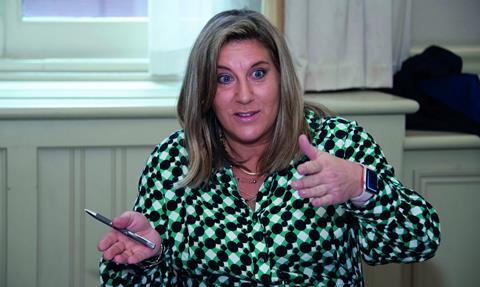 Another problem, she said, was that when it came to delivery, there was a gap between the industry and the central government – local authorities had all the problems of having to deliver projects, often without the funding or power to make projects happen at pace or to meet the needs of a community. Morris pointed out that, instead of thinking about the "government" as a single entity, it was important to think of multiple "governments" at various levels, from local authorities to metro mayors. "It's a more complicated landscape than it has been."
In areas that have not recently had large-scale infrastructure projects, one problem is that the supply chain and human resources to deliver a project often do not exist. David Haimes, director of Highways England, said that the industry was often responsible for establishing these locally. "But then what happens when we leave?"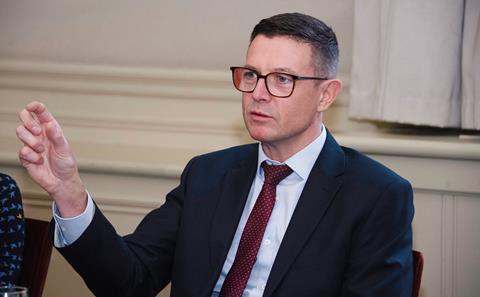 Part of the solution, Brambini said, was to join up infrastructure projects or different types across regions. Another way in which the industry can delivery social value is to support its own supply chain – ensuring that the businesses within it, which are often small and local, are paid on time. "Payments improved during the pandemic. We can't now lose that positive outcome," Harle said.
Lower-level problems and ones related to the wider supply chain are often ignored – such issues as the lack of adequate facilities and smooth passage for hauliers that create bottlenecks with freight delivery. David Haimes gave the example of planning policy failing to facilitate the easy purchase of land around roads to deliver these peripheral essentials. Cost-free adjustments such as these by the government could make almost as big a difference as large-scale expenditure on megaprojects.
Round the table
Chair: Chloë McCulloch, editor, Building magazine
Richard Ballantyne, chief executive, British Ports Association
Victoria Brambini, managing director, Perfect Circle
Andy Ellis, regional director – head of energy, Gleeds
David Haimes, regional investment programme director, Highways England
Graham Harle, global chief executive, Gleeds
Paul Knighting, director – head of UK infrastructure, Gleeds
Tim Morris, chief executive, UK Major Ports Group
Francisco Pineda, head of US infrastructure practice, Gleeds
Dean Purvis, global head of infrastructure, Gleeds