How will the legislation help the industry tackle the fire safety issues that let to Grenfell? Emily Twinch reports on a roundtable hosted by software company Disperse and Building
The Building Safety Bill drawn up in the wake of the 2017 Grenfell Tower fire is due to come into effect some time between this and next year – with a big impact on the construction industry and its processes.
Last month a group of 12 industry experts gathered to discuss the issues around fire safety in the sector, possible solutions to the problems and what they would like to see from the legislation.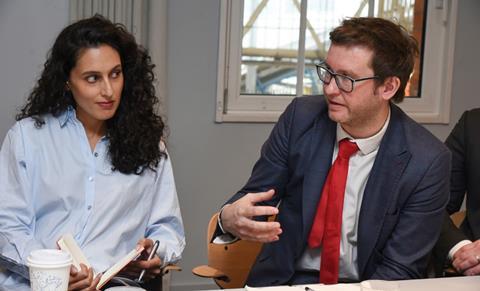 The panellists, chaired by Building's head of content Carl Brown, discussed the bill's requirement for a "golden thread" of information about buildings, the need to standardise data, and the troubles caused by fragmentation in the sector.
As well as the importance of useful data and its management, those at the roundtable talked of a need for safety engineers to be involved in projects at an earlier stage and to move away from the "race to the bottom" competitive nature of the industry to ensure buildings were constructed to a higher standard from the start.
Data as an opportunity
Everyone around the table recognised how important data was to ensure buildings were fire-safe. Mohsan Alvi, chief science officer at Disperse, called data a constant "opportunity". But he warned the industry had to "make that data work for you". "It's about your understanding of what's happening. It's an opportunity to bring together around one table lots of different stakeholders and understand how you're contributing to the success of a project."
Charlie Versi, director of operational performance for Europe at Multiplex, thought it was necessary for the ownership of information to be clear. He asked how one could ensure a building performed the way it should in the future if the data was held by organisations that did not understand it. He also talked about how the information could be pulled "pillar to post" during a build.
"Fundamentally everyone within a project, every stakeholder, has conflicting motivations," Versi stated. "Subcontractors don't necessarily want to give you all the information at certain times, contractors want it, designers want to give it, but they are limited by fees as to the level of detail they can provide," he told the panel. "Who owns [the data] I think is key."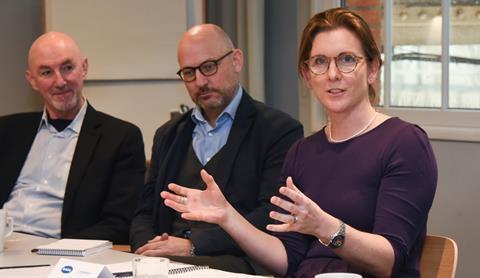 Tony Lonergan, associate director and head of planning at Canary Wharf Contractors, suggested to his fellow panellists that when creating a model it was important to think: "What are you going to do with it? Who's it for? What's the purpose of it?" Creating too much data was easy, he said, but "actually doing something that's functioning and usable and understandable is much more challenging".
Paul McSoley, sector design leader at Mace, said one of the issues with the industry in regard to fire safety was that people "weren't thinking systems" and were "working in silos". He said that, for him, "behaviour, culture and competency" were important but so was information in the right "language". He also warned that with the industry getting "external help" it had to be careful that "we don't end up with a digital record that records the wrong thing because none of us have understood the prescriptive nature of what it should have been originally".
"Fundamentally everyone within a project, every stakeholder, has conflicting motivations."

Charlie Versi, Multiplex
McSoley mentioned the issue of branding and getting the right products. "It's all about the specifics of products," he said. "The big risk of construction products is that there's a limitation to size, form and shape," he explained. "Threads [of information running through a project] can be very difficult," he added. "The digital platform is going to [be] key to this."
Golden thread and standardisation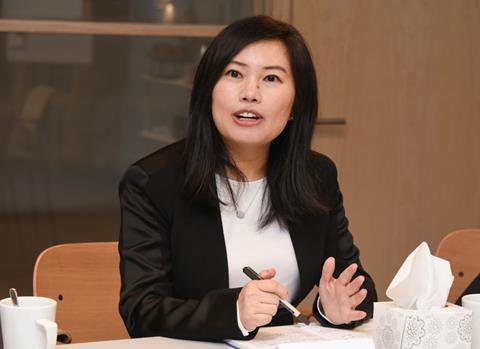 The Building Safety Bill will introduce a requirement for a "golden thread" to run through projects, with the aim of retaining information about a building to keep it fire safe but also ensure effective management of that data.
The government has said the golden thread will mean that the people responsible for a building will have easily accessible, reliable, up to date and accurate information. But panellists suggested this would not necessarily be a panacea for buildings' fire safety.
Jumana Al-Zubaidi, vice president for Europe at Disperse, said she believed the golden thread could become a burden "in terms of requiring people to collect that data". She suggested it "won't be compiled properly, especially during the construction phase". Al-Zubaidi thought if you were relying on subcontractors to report information then "there will be gaps". But, she added: "One of the opportunities that comes with data is if you can spot those gaps as they appear rather than getting to the handover phase."
Simon King, director at the Robert Bird Group, said he was concerned about the "wealth of information that's going on a system". He warned: "What the golden thread must not be is a dumping ground." King also said data had to be "future-proofed". It was important to use "management systems and software that can be read later, say in 20 years' time".
But Alvi believed that the thread offered a chance of "being something that we can pull people around together to be able to improve the delivery of products", although while "obviously also making sure that we are compliant and reduce disasters down the line".
"You've got to do your own due diligence on your supply chain."

Chris Spiceley, Claritas
Ashley Murray, BIM and digital programme lead at McLaren Group, said she felt standardisation was "the key", and not just of technology. "There's so many different people involved [on a project], if we all start going off customising everything which only suits us it's not going to work," she said.
Johnny Furlong, BIM lead at L&Q and vice chair of the Golden Thread Initiative, said you had to build in the "right way, in a quality way" from the start. "It actually leads to cheaper and quicker products, doing things in a standardised way," he said.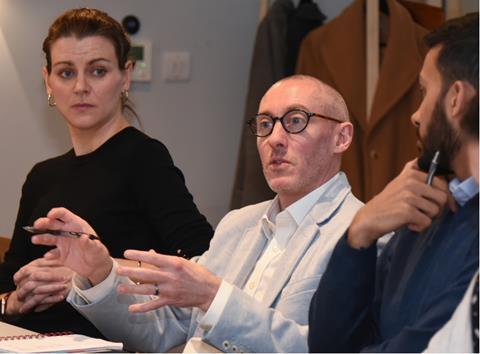 Holy Liang, fire and life safety director at consultancy AESG, said an improvement in the sector since Grenfell was that fire engineers were now brought into projects earlier: "Traditionally a fire engineer was not brought in at the beginning of the project [but near] the end."
She said clients now have more of an awareness of fire safety and "you will be brought on board right at the beginning of the project, which is very good". Liang explained that, as a result: "We can actually help with the planning side to solve lots of problems in the beginning." She believed the bill would improve procedures but warned the industry needed to "prepare and be ready for it".
But McSoley pointed out there were still challenges because of "different standards" across the industry and between various projects. Understanding of a building could change as it went from the architect to the engineer to the contractor, he explained, which created a "big chasm" in the sector that needed to be fixed.
Fragmentation and the race to the bottom
Chris Spiceley, head of Claritas Four Zero, said the sector was fragmented. "This industry has always been driven by fragmentation and [a] disparity in size," he told the other panellists. "My biggest fear is for small to medium-sized trade contractors." And he urged: "You've got to do your own due diligence on your supply chain."
Lonergan echoed this, suggesting that there was always a risk of data being lost through the process of a project: "The weakest part of all is the transition [from one part of the business to another], between one element who has a focus on one part of the business to another element, who then focuses on a different part."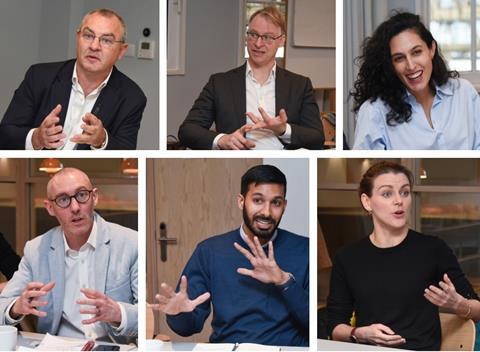 Multiplex's Versi also talked about the fragmentation of data, which would make it difficult to have a thread running through a project. The industry was "actually fragmenting our information more and more", he said. "The challenge with our industry is that a lot of software companies make money out of these models," he explained. "So they might offer a cheap upfront licence fee for a project but then charge to retain your data on their system for the next 15 years, which you can't access."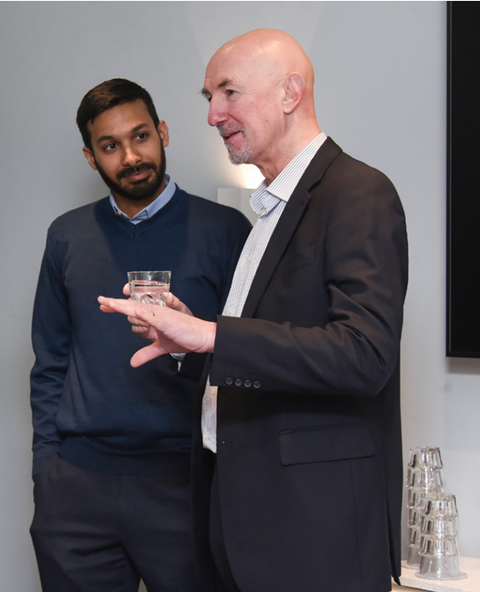 Rebecca Rees, partner and head of public procurement at Trowers & Hamlins, also talked about supply chain issues and how the current system in the industry creates a "race to the bottom from which a project never recovers".
"The whole business model in the construction sector is shot," she stated. "We are asked not to bid the cost of something. We're asked to bid the lowest price. There's no way that you will get a quality and safe outcome via a procurement that's premised on a race to the bottom."
Cliff Smith, executive director of the not-for-profit membership body GIRI (the Get It Right Initiative), mentioned the government's Construction Playbook guidance for departments to procure and contract work, launched in December 2020. He pointed out that it was "driving a different feel on the procurement value and these sorts of things" but added: "[It's] only a proportion of the industry. It doesn't affect local authorities, and it doesn't affect the private sector."
"There's no way that you will get a quality and safe outcome via a procurement that's premised on a race to the bottom."

Rebecca Rees, Trowers & Hamlins
Liang suggested there needed to be greater benchmarking for competence but also "the level of detail being required for a project [should be more] consistent throughout the industry".
Procurement problems
Versi believed: "Procurement takes longer than it should because of all the rubbish we've got to go through now with protecting ourselves and having adversarial relationships." He said this longer procurement time eats into design time: "We don't give each other enough time to get the design right." The programme was key and build programmes should be benchmarked, he said, adding: "People say design is the root of all evil. I think programme is the root of all evil."
GIRI's Smith said: "The key is to invest more at the design stage," and to get information into the model at an "early stage stage", which is then "passed down the line". Lonergan said it was necessary for companies across the sector to be "brave enough" to recognise where gaps in information came from and "adopt the right way" of procuring contractors "rather than paying lip service to it".
Trowers & Hamlins' Rees said: "Clearly the method of procurement and the risk of warranty has an immense impact on who owns the information." She cautioned: "The need of the model or the interests of the project isn't being served by the [current] method of procurement. You've got to understand the limitations of the design and build contract when you are setting up your team."
Conclusions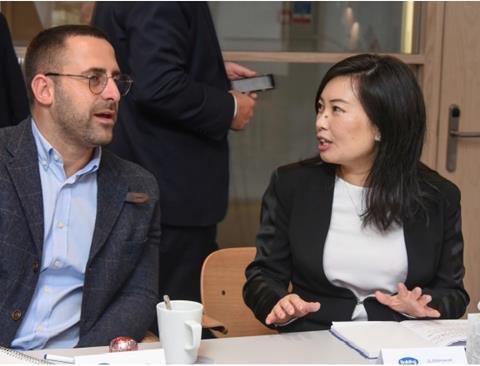 Everyone obviously wanted construction processes and the fire safety of buildings to improve. Furlong also hoped the bill could help the industry tackle other issues, such as net zero: "The whole industry is going to be spending a lot. I think if you look at what we are trying to achieve round building safety, it can be used to fix a lot of the other issues that the industry is focused on."
Smith explained: "Competence is going to be a big part of this bill and how people deal with it." He reminded the panel that this was not just about high-rises and that the industry needed to "think more broadly about the impact of the bill". GIRI, he said, was doing the important work of getting people together to talk about how they were going to tackle the bill and legislative changes.
But it was clear from the event just how much of an uphill task the industry has ahead of it. As Building's Brown, rounding off the session, said: "This has made me realise just how much of a big job there is."
Round the table
Chair: Carl Brown, assistant editor, Housing Today
Jumana Al-Zubaidi, vice president for Europe, Disperse
Mohsan Alvi, chief science officer, Disperse
Johnny Furlong, vice chair, Golden Thread Initiative, and BIM strategy lead, L&Q
Simon King, director, Robert Bird Group
Holy Liang, UK director of fire and life safety, AESG
Tony Lonergan, associate director and head of planning, Canary Wharf Contractors
Paul McSoley, sector design leader, Mace
Ashley Murray, BIM and digital lead, McLaren Group
Rebecca Rees, partner and head of public procurement, Trowers & Hamlins
Cliff Smith, executive director, GIRI (Get It Right Initiative)
Chris Spiceley, head of Claritas Four Zero, Claritas
Charlie Versi, director of operational performance – Europe, Multiplex