We asked Building readers how adding an element of social value is influencing (and improving) their work. Tom Lowe analyses the responses

The need to deliver social value as an additional outcome of a project has become an increasingly familiar feature of contracts in the construction industry. If you are a contractor, client or consultant, it is now more likely than not that you have worked on a scheme that includes a social value component.
Over the past few years this need has been "exponentially increasing", according to Richard Beard, chief executive of social enterprise the Jericho Foundation. "I think the construction industry is embracing social value better than many other sectors of the economy," he added (the full interview is in our digital edition).
Whether it's building a new community centre, a sports pitch or a school, social value is embedding itself in the industry and, with a new mood of civic responsibility sweeping the country in the wake of the coronavirus pandemic, the trend seems certain to continue.
As the industry heads into the unknowns of working with coronavirus as an ongoing reality, Building and Aecom asked how those employed in the construction industry regard the concept of social value. And the results of our survey seem to confirm that it is now more important than ever.
Question 1: Is social value frequently a factor in procurement processes you are involved with?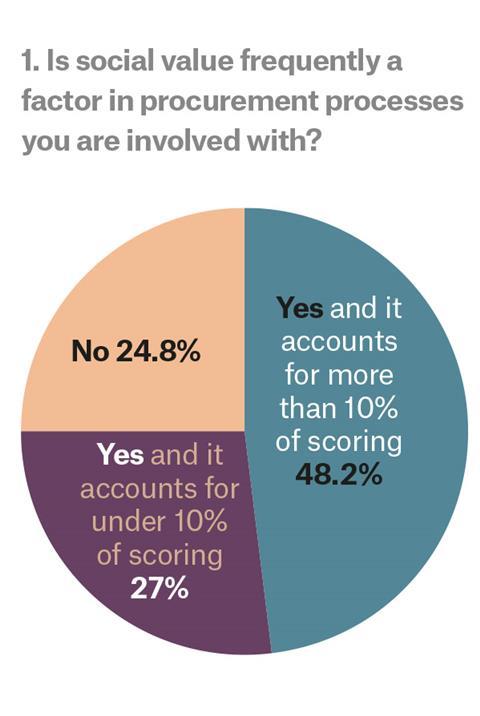 The answers to this question showed just how important the need to add social value already is – and confirmed the relevance of this survey. Just over 75% of those who responded said it was already a factor in their thinking and the biggest group (at 48% almost half) said that it accounted for more than 10% of the scoring during the contract bidding process.
One respondent described it as "an essential requirement of winning work", another said it was now "part of doing business". A respondent who worked for a contractor said: "Social value often pays for itself. Projects become more acceptable and there is less social and industrial unrest."
Question 2 : In projects that prioritise social value, what outcome do you hope to achieve?
Delivering sustainable and healthy priorities was the priority of almost 40% of respondents, but a broad range of motives were represented.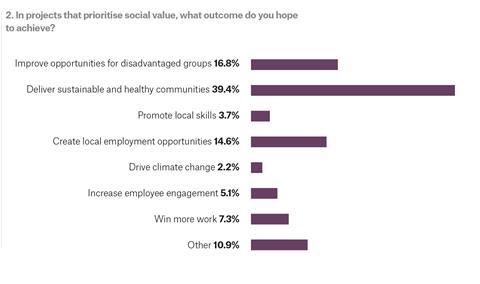 Some respondents were cynical. One, who did not provide their role or employer but said that they worked for a private sector client, said that social value was embedded by "paying lip service purely as an exercise in box ticking".
Another, who worked for an architect, when asked how social value outcomes were identified, monitored and reported, said: "We don't, as any metric is a fictitious one, simply [designed] to virtue signal something that is now fashionable and thus has political value."
Others were more pragmatic, with one bid manager at a major industry heavyweight saying that social value was "an essential means of winning work", while another said it was just "part of doing business. Another line item in our budgets."
But the majority certainly saw social value as a potential force for good, improving opportunities for all involved. One employee valued "being part of a company with a vision and mission". Another, who worked for a contractor, said: "All of us want to bring positive experiences to all affected by our work.
"Our staff commit to going the extra mile to provide social, economic and environmental value to their projects – and they take pride in doing so."
Question 3 (below): Who do you consider the primary beneficiaries of the investment in delivering social value?
Though some firms viewed social value as a business strategy, respondents broadly agreed that it was those intended to be on the receiving end of socially minded initiatives who were the main beneficiaries.

Just 11% said the commissioning clients were the main beneficiaries of social value investments, while over two-thirds said end users of schemes, voluntary and community organisations and social enterprises benefited most.
And when asked what outcome respondents wanted to achieve in projects that prioritised social value, just 7.3% said that it was winning more work, while by far the most popular answer, chosen by nearly 40% of respondents, was delivering sustainable and healthy communities.
Another 17% said that improving opportunities for disadvantaged groups was their favoured outcome.
One architect said: "We get involved with local activities irrespective of any direct link with potential work. This is all about getting to know the community better so that it can be more easily incorporated into the designs as they emerge."
Another respondent said the primary beneficiaries were clear: "a happy client and their community".
Question 4 (below): In your experience, do the majority of people – clients, contractors, consultants, end users etc – understand what social value is?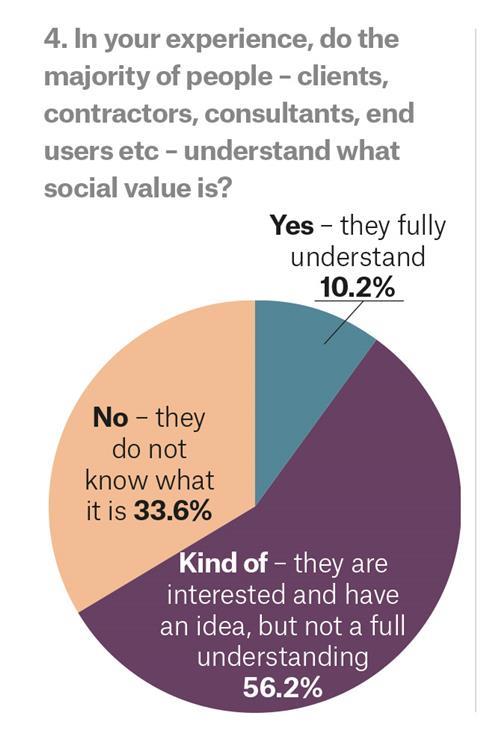 While the message is now getting through, clearly there is more work to be done. Most people (66%) have some idea what social value means, but it might surprise construction workers to learn that nine out of 10 respondents to our survey said people within the industry still lacked a firm understanding of exactly what it is.
Asked if, in their experience, most people – including clients, contractors, consultants and end users of completed projects – knew what social value was, only 10.2% said they thought that it was fully understood.
However, more than half said that people were interested in the concept.
One respondent made clear that good communication was key to getting the social value message across: "We report annually on our social value activities and outcomes. On a project level we report monthly on any objectives, actions and outputs both to the client and internally."
Question 5 (below): The socio-economic impact of covid-19 on communities and businesses is still to be fully understood. As society responds and seeks to "build back a better world", will social value become more or less of a priority in that response?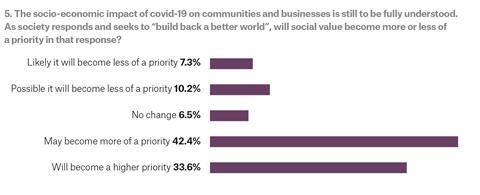 Just over three-quarters said that the impact of the pandemic on wider society, though not yet fully revealed, was likely to lead to social value becoming a higher priority in the future. A third confidently asserted that it would mean a greater emphasis on providing it, while just 7.3% thought it would lead to the opposite.
While some companies were already making social value "a core value" with board level commitment, staff training and working groups set up to promote it, many others were aware of the need and potential to do more.
It could have been a given in a famously competitive and adversarial industry that social value, like green-washing, would become a tool used by firms to outshine their rivals in the procurement process. But, at the start of this era of great uncertainty – in which we are nevertheless being urged to "build back better" – the answers to our survey reveal a surprisingly principled workforce, even if there is work still to do.