Bringing the benefits of BIM to sire allow firms to boost productivity, accuracy and health and safety
Building Information Modelling (BIM) has become the industry standard for mid to large-sized projects, enabling end-to-end collaboration between trades through digital modelling and software.
While there are many benefits of BIM across the design, construction and operation phases, it's the BIM to field workflows that really bring the digital twin - that is, the digital replica of physical assets - and jobsite together.
By doing this, construction companies are able to supercharge productivity, improve accuracy and reduce health and safety risks.
How can BIM to field boost jobsite productivity?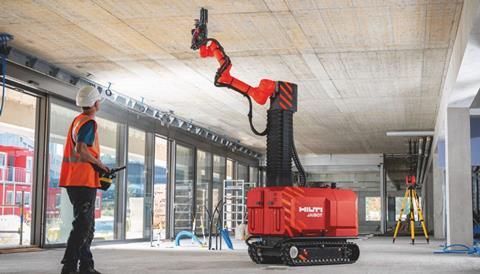 Creating a digital replica of a jobsite allows companies to plan exactly where they need to drill in advance, avoiding on-site decisions and clashes that can cause delays. This is made even easier by using BIM-enabled equipment, such as the Hilti Jaibot and the PLT 300 layout tool.
The Jaibot, a semi-autonomous mobile ceiling-drilling robot, uses data from the BIM model to accurately position itself before drilling and then marking the holes according to the trade. Not only does this minimise the time spent locating where to drill, but it's also 3x faster than tackling it manually – which significantly boosts productivity when you're drilling thousands of holes.
Advanced layout tools can read your BIM files too, using a built-in laser to locate points from the digital model to the physical jobsite. The Hilti PLT 300, for example, acts as a robotic total station to guide the Jaibot to its correct location, but can also be used independently to layout up to 500 points per day with just one worker.
That's a giant leap compared to traditional methods, whereby two experienced workers are limited to just 150 points a day. As well as freeing up workers to complete other tasks instead, the speed at which the PLT 300 can operate is simply unachievable for humans.
Improving accuracy with BIM to field tools and robotics
When construction is designed and planned in advance, it's no surprise that accuracy is improved as a result. This is especially true when bringing the digital twin to the jobsite via tools and robotics, which remove the risk of human error.
The Jaibot and PLT 300 are designed with precision in mind, as they are led to the exact location by the BIM data – making miscalculation less likely.
The Jaibot takes this one step further with its marking ability, which lets each trade know which holes are theirs, eliminating any on-site confusion. Not only does accuracy save construction companies time, it also saves them the cost of re-doing any mistakes – emphasising the importance of getting it right first time.
As well as freeing up workers to complete other tasks instead, the speed at which the PLT 300 can operate is simply unachievable for humans.
Reducing safety risks by digitising the jobsite
With reports in the UK stating that 498,000 workers suffered from musculoskeletal injuries in 2018/19, we should not underestimate the damage that can be caused due to overhead working.
In fact, if workers raise their arms over a 90° angle for more than 10% of their working hours, the risk of musculoskeletal injuries in the shoulder region is said to increase by one to two thirds.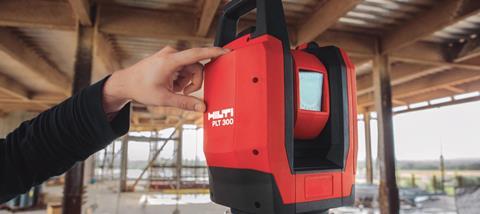 In the mechanical, electrical and plumbing trades, overhead work is commonplace and – until now – unavoidable.
The Jaibot, however, removes this strain on workers' muscles by drilling overhead holes for them – relieving the workforce of physically demanding and repetitive tasks. Not only does this benefit employees, but it'll also save employers approximately £646m a year in sick pay and missed deadline penalties.
If a robot is doing the work for you, there's no risk of dangerous dust inhalation or Hand Arm Vibration Syndrome (HAVS) either. The Jaibot's robotic arm will take the full brunt of vibration, whilst the built-in dust extraction system will remove the dust before it has a chance to infiltrate the air.
By tying the digital twin to the jobsite through BIM to field workflows, companies can expect to see improvements in productivity, accuracy and health and safety – all of which are important pillars to the success of a project. BIM-enabled equipment completes this offering, magnifying the gains and propelling businesses into this new age of digitalisation and automation in construction.
To learn more about Hilti's BIM equipment and services, visit: https://hilti.to/bim