Beneath the streets of London lies a little known world of labyrinthine tunnels, disused tube stations, underground rivers and even a Post Office railway. Ike Ijeh journeys to the underworld to discover more
While London cannot match the labyrinthine catacombs of Paris in which more than 6 million people are said to be buried, over the past 2,000 years the capital's vast subterranean landscape has accumulated a fascinating mixture of myth, rumour and reality.
Some of the more fanciful claims, such as a secret royal escape tube under Buckingham Palace and a government tunnel under the Thames linking the Vauxhall MI6 building to Westminster, are firmly the stuff of urban legend. But there are other elements of London's hidden underworld for which there is conclusive proof, such as its ghostly cohort of disused tube stations, the maze of historic tunnels linking royal and government buildings under Whitehall and the network of underground rivers that flow unnoticed under our feet.
Earlier this month we were allowed two rare glimpses into this secret underworld. Plans were announced to reopen an ornate subway that once served Paxton's Crystal Palace – slated for this spring. And after being closed since the 1960s, the extraordinary network of wartime underground shelters built at Clapham South tube station was opened to the public as part of the London Transport Museum.
But these are merely the upper layers of the submerged iceberg when compared with the astonishing array of underground infrastructure that exists below the capital today. Most of this remains hidden to the public, a fact that merely enhances its mythical status.
But, as the two examples just mentioned suggest, there is a growing pattern of reopening and reuse of many of these underground spaces as they become objects of cultural interest or are interwoven into major infrastructure works such as Crossrail, as is the case with the Connaught Tunnel in east London.
Together, all these developments help construct a fascinating and mysterious impression of a parallel hidden city submerged deep underground and still frozen in the cultural, social and technological traditions of yesteryear. While the city above surges towards modernity, history itself is secretly entombed in the tunnels and voids beneath our feet.
Disused Underground Stations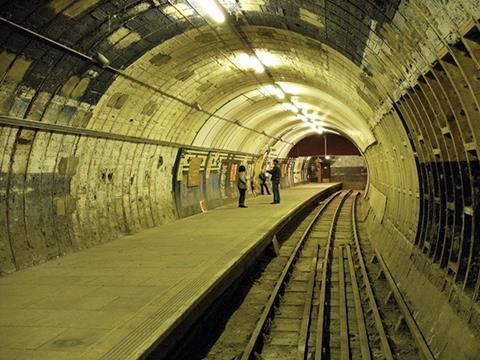 Incredibly there are more than 40 closed stations on the London Underground network, more stations than on the entire Bakerloo and Victoria lines combined. Some of these stations, like the British Museum and King William Street in the City, have been demolished. But a great many of them, such as York Road, Aldwych and South Kentish Town, remain largely intact but inaccessible to the general public. In a city with the relentless expansionist appetite of London, the very idea of a closed tube station seems somehow perverse, particularly when considering that despite being 15 times larger than Paris, London has 270 tube stations compared with the 300 metro stops in the French capital. The most common reason given for the closure of so many stations is simple: low passenger numbers. The British Museum station for instance suffered when the larger and more strategically located Holborn interchange station opened nearby.
However, on a system that carries almost 5 million passengers a day, the proximity of this parallel phantom network carries with it a ghostly irony, as if the eerie palimpsest of a sunken spectral city lurks just beyond our reach. This spooky dissonance has not been lost on the film industry, which has filmed several horror films, including 28 Weeks Later and a forgettable noughties slasher called Creep, in London's abandoned stations. Aldwych is particularly popular in this regard, principally because, as the last tube station to close, it remains in relatively good condition and retains an impressively surreal backdrop of abandoned ticket barriers, signs and 1990s advertising posters. Disused tube stations have also been put to more practical use over the years. Scores doubled as air raid shelters during the Blitz, Aldwych hosts the occasional rave and up until 2014 Brompton Road was covertly requisitioned by the Ministry of Defence and is rumoured to be the location of Nazi Rudolf Hess' alleged interrogation in 1941.
Deep-level shelters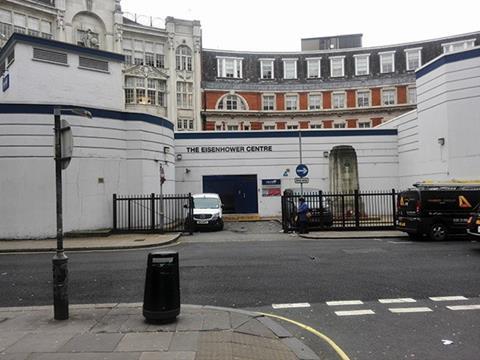 During the Blitz, most of London's deep-level tube stations were used as air raid shelters, a practice initially discouraged by the government on safety grounds. But, as the bombing raids intensified, the government decided that additional shelters would be required and between 1941 and 1942 constructed an extraordinary network of sprawling hideouts beneath key tube stations. Ten were originally planned; five on either side of the river but only eight were eventually built, with work stopping at one of the abandoned shelters under St Paul's station when engineers feared damage to the cathedral foundations. Each was a heroic feat of engineering planned to hold between 8,000 and 12,000 people. They consisted of a pair of 427m long and 5m wide tunnels constructed on either side of the existing tube platforms and served by two access and ventilation shafts completely independent from the tube station. Each tunnel was subdivided horizontally in the manner of a passenger plane fuselage to provide two levels of accommodation. Shelters were equipped with bunk beds, toilets, catering and medical facilities with waste hydraulically pumped to a rising main sewer above.
Water was drawn from the local supply with a 3,000 gallon emergency tank constructed beside each access shaft near ground level. Equally, electricity was drawn from two sources should bombing cause one to fail: the local grid and the London Underground supply. All doors were fitted with gas seals with an automatic shutting mechanism in the event of a chemical attack. Above ground at the top of each access shaft a special pill box building of densely reinforced concrete was constructed to protect the shelter should it suffer a direct hit. Unbelievably, as the complexity and maintenance requirements of the shelters became more apparent as they approached completion, the authorities attempted to secure them for government use alone, an aspiration that public outcry quickly reversed. However, two shelters, Chancery Lane and Goodge Street, were retained for military purposes with the latter becoming General Eisenhower's London HQ.
With admirable foresight, the shelters were constructed parallel to the Northern and Central lines so that after the war they could be converted into an express tube service similar to today's Crossrail. However, post-war austerity and insufficient station tunnel widths meant that plans were eventually shelved. One shelter, however, has had a profound cultural impact on London. Clapham South was converted into temporary and acutely inhospitable accommodation for 492 West Indian immigrants who arrived in Britain in 1948. Clapham's nearest labour exchange was in Brixton thereby heralding that neighbourhood's transformation into the multi-cultural hub it is today.
Lost Rivers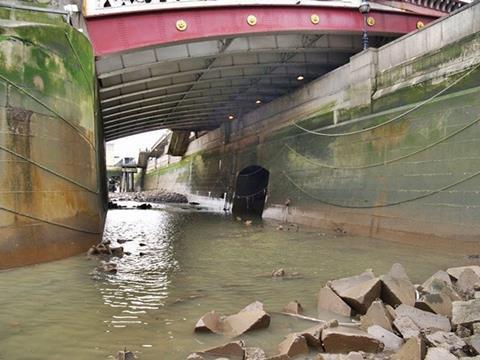 Fleet, Westbourne and Walbrook are street and area names that are familiar to many Londoners. But what those people might not know is that these names also refer to ancient rivers that once flowed at these locations but are now buried underground. Recent flooding in the northern UK may suggest otherwise but London is built on one of the largest flood plains in Europe and would flood with catastrophic regularity were it not for the Thames Barrier. There are around two-dozen buried rivers underneath the capital, a direct consequence of London's location and geological composition. When London's development began 2,000 years ago, it not only grew on either side of the Thames but around a network of smaller tributaries and waterways that snaked across the Thames basin – even Westminster was once an island. Over the centuries much of the land over these rivers was developed but the biggest change came in the 19th century when rapid urbanisation turned many of the remaining rivers into open sewers. Emerging public hygiene standards soon deemed this situation unacceptable and the Victorians consequently submerged most of these rivers underground.
The Westbourne is the second largest of London's buried rivers, rising in Hampstead before snaking down underneath Kilburn and Kensington to the Serpentine Lake in Hyde Park. While the river has obviously lent its name to its eponymous north Kensington district, it has also had a wider impact on London etymology. Medieval cavalry would enter London via a Westbourne crossing south of today's Hyde Park that came to be known as Knights Bridge. Additionally, the Westbourne is viewed by thousands of Londoners every day without them even realising it. It flows through an elevated green conduit that spans over the platforms of Sloane Square tube station.
The Fleet is the largest of London's buried rivers, again flowing down from Hampstead and into the Thames through an innocuous gulley underneath Blackfriars Bridge. The Victorians requisitioned the southern part of the river as a sewer, enclosing it within a sumptuous sequence of arched brick tunnels. However, today there is an increasing awareness of the enormous urban regeneration benefits restoring rivers such as this might offer and as recently as 2009 the GLA established an action plan to investigate the issue, although sadly proposals never emerged from the drawing board. Farringdon Road, for instance, a street that has never quite emerged from the chaos of the Blitz, could be transformed into a grand Venetian artery were the Fleet, which runs directly underneath its path, to be uncovered. While projects of this nature are likely to be both hugely disruptive and expensive, there are positive precedents. Central Aarhus in Denmark has enjoyed a spectacular urban and economic renaissance after the recent restoration of its river, which was covered by a road in the 1930s.
Crystal Palace Subway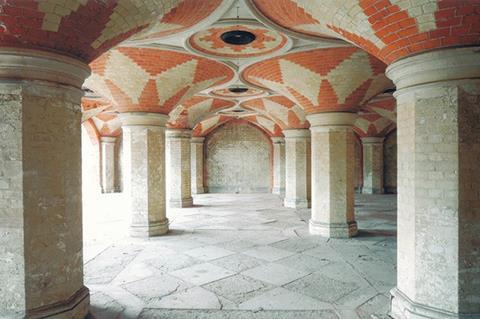 Joseph Paxton's seminal Crystal Palace is one of the most celebrated and recognisable of London's long list of vanished buildings. But what is considerably less well known is the extraordinary subway that once linked the palace to one of the railway stations built to serve it. In 1865, 11 years after the palace was relocated from Hyde Park to Sydenham Hill, Crystal Palace High-Level station opened to serve burgeoning visitors. Designed by Edward Barry, architect of the Royal Opera House and son of Charles Barry of Houses of Parliament fame, the station sought to match the monumental character of the palace with its soaring brick arches and impressive scale. When the palace was destroyed by fire in 1936, use of the station declined rapidly, prompting its eventual demolition in 1961. But one part of the station was retained, its lavish vaulted subway. Bedecked in twirling curlicues of patterned red and yellow brickwork springing from thick octagonal piers, the subway is a typically florid Victorian recreation of the ornate gothic cloisters and undercrofts of the middle ages. But with its illusory kaleidoscopic colouring, it is imbued with an exotic, almost Moorish quality that provides a curiously contemporary cosmopolitan flair. That such elaborate decoration should be used for what was essentially a pedestrian underpass is a testament to both the confidence of the Victorian age and the huge cultural esteem in which the Crystal Palace was held. Save for Open House days and a fleeting appearance on the 1997 Setting Sun music video of electro-pop duo the Chemical Brothers, the subway has remained closed to public view since 1961. Local campaigners hope to reopen it by the spring.
Mail Rail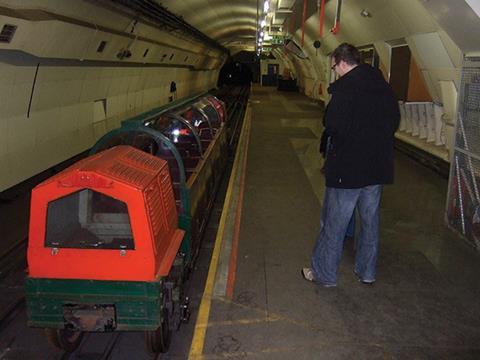 Many things are transported underneath London every day: people, water, sewage, waste. But up until relatively recently, another type of cargo was distributed daily below the city: post. The London Post Office Railway, or Mail Rail as it came to be known, was built in 1927 by John Mowlem & Co and stretched for 6.5 miles from Whitechapel to Paddington, with much of its route following roughly that of the Central line on the tube. But unlike the tube, this system was fully automated, required no drivers or guards and ran trains on a tiny 2ft gauge track. Eight stations were located along its route, each one serving a main sorting office above. For the vast majority of its life, the system proved to be highly efficient, avoiding above-ground traffic and carrying four million letters every 19-hour day of operation. But spiralling operational costs and the eventual closure and relocation of sorting offices meant that the route had become obsolete and it was finally closed in May 2003. The decision was not without controversy: a Greater London Authority report recommended the system be retained and unions accused Royal Mail of exaggerating costs in order to justify closure. However, plans are afoot for a resurrection of sorts – by 2020 part of the railway will be reopened to the public as part of the British Postal Museum and Archive.