Former Conservative deputy prime minister urges government to use private finance to make £42.6bn scheme cheaper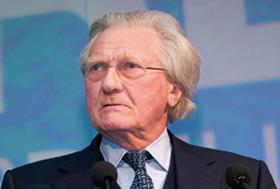 Tory grandee Lord Heseltine has said he believes more than £10bn could be knocked off the cost of HS2.
Controversy has surrounded the cost of the £42.6bn scheme and David Cameron has tasked incoming chair David Higgins with finding cost savings.
Last week, Building revealed that costs on engineering design were already £11m over budget.
Speaking at Royal Town Planning Institute last night, Heseltine said selling parts of the railway to private sector investors, such as pension funds, after it was complete could lower the overall cost by £10bn.
He added: "What possible case is there for the public purse to carry the cost of the stations? The property development involved can only be imagined by a quick glance at today's Kings Cross and St Pancras, with plans for 35,000 jobs and nearly 2,000 new homes.
"The government should immediately declare Urban Development Corporations in the appropriate areas thus not only capturing the planning gain for the taxpayer in order to further reduce the cost but also to transfer the costs of stations to the private sector."
The former Conservative deputy prime minister went on to say the cost benefit ratios for the scheme calculated by the Department for Transport were flawed because they assumed growth in passenger demand would stop from 2036.
He said: "Let me leave the ladies and gentlemen of the slide rules. They know no more and no less than you and me."
He said the cost of not building the scheme would be felt most acutely by future generations.