Contractor expects around 1,000 suppliers to take-up the scheme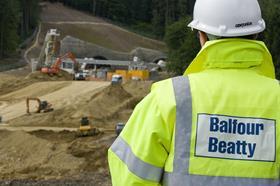 Balfour Beatty has already had 21 subcontractors sign up to its new supply chain finance scheme just weeks after its launch bringing the total number of firms signed up to nearly 30.
The firm announced last month that it would be offering a supply chain finance scheme – where subcontractors pay a small bank charge to get paid early – to its whole supply chain in a phased roll-out throughout this year.
Speaking to Building Martin Chown, supply chain director at Balfour Beatty, said 21 firms were in the process of being signed-up in addition to the seven that had piloted the scheme earlier this year.
He added: "I think we will have a few hundred, up to a thousand suppliers on it. We could have more than that."
He estimated the firm had between 8,000 and 10,000 active suppliers in total.
Chow said having a "solid robust" supply chain was "essential" and the scheme was the "right thing" to do as a "good corporate citizen".
Unlike competitor Carillion, Balfour Beatty will not extend payment terms for firms entering the scheme and the only additional agreement subcontractors need to sign is with the bank.
But Chown did not expect Balfour Beatty to gain a competitive advantage from operating the payment scheme in this way.
The initiative sits alongside other measures the contracting giant is taking to improve payment through the supply chain. It has centralized its payment division, which handles 1 million invoices across 1,000 sites; created a series of regional hubs to handle procurement of materials; and started a purchasing card system.
The purchasing cards allow suppliers to purchase small volumes of materials - up to £1,000 per transaction - and have the cost charged directly back to Balfour Beatty, which Chow hoped would make the supply chain more efficient.
Speaking about the purchasing cards and the procurement hubs he added: "What we're doing is trying to get faster and slicker at ordering for our supply chain and for our sites. We're trying to turn around 100% of orders for our site in under 48 hours. It's not just about payment it's about making things more efficient."