Consultant criticised after Stormont committee says it has a 'strong impression' that procurement of Lyric Theatre was 'manipulated'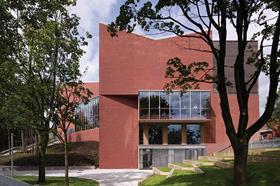 Consultant Rider Levett Bucknall has been criticised for its role in an allegedly "rigged" competition to build the Lyric Theatre in Belfast, with the Northern Ireland finance minister saying he has "serious concerns" about the firm's work.
Last week, the Northern Irish Public Accounts Committee said it was left with a "very strong impression" that the procurement of a contractor for the £18m job was "rigged and manipulated" and the cost estimates were "unrealistic".
Rider Levett Bucknall (RLB) carried out the tender cost assessment for the Northern Ireland Department of Culture Arts and Leisure (DCAL) and Arts Council Northern Ireland in 2008. The actions of all three bodies were subject to criticism.
Responding to the findings, Northern Ireland finance minister Simon Hamilton said it was a "matter of serious concern to me" that the external professional advisers were not judged by the Northern Ireland Audit Office to have applied best practice.
The contract to build the O'Donnell & Tuomey-designed theatre was awarded to contractor Gilbert-Ash Northern Ireland.
The committee found there were "unexplained adjustments" to the tender submissions.
The committee also found that "the private sector consultants who produced the tender valuation report" - which was RLB - "destroyed the tendering documentation very promptly after the tender evaluation meeting".
The report listed this as one of six "completely unacceptable departures from long-establised principles of good practice" on the project.
Committee member Trevor Clarke said the absence of any tender documents to be examined by the committee was "suspicious".
But Peter May, accounting officer at the DCAL, said the department had not placed any requirement on RLB to keep the documents.
Chair of the committee Michaela Boyle, added: "DCAL, the Arts Council and the Central Procurement Directorate were unable to provide any assurance that the contract had been awarded in a fair and equitable manner. We believe they did not discharge their duty properly, and failed to ensure the proper use of public funds."
A spokesperson for RLB did not comment on why the tender documents had been destroyed but said the tender process was "run in strict compliance with the OJEU regulations" and the consultant had not been invited to give evidence to the committee or the Northern Ireland Audit Office.