Campaign group attacks wisdom of spending taxpayers' cash on scheme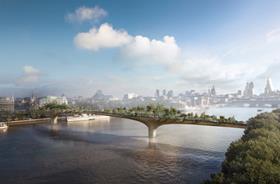 A campaign group opposed to plans to build Thomas Heatherwick's Garden Bridge in central London has described it as a "luvvies' folly".
The bridge has been championed by actress Joanna Lumley but Thames Central Open Space (TCOS) has said the project, which is now expected to cost £175 million, should be scrapped. It scraped through a Lambeth planning hearing last week by four votes to three.
The proposed bridge, designed by Heatherwick Studio with engineer Arup and gardener Dan Pearson, would span the Thames from the South Bank, in the borough of Lambeth, to the roof of Temple Tube station in Westminster.
But a spokesman for the lobby group said: "The thousands of local residents, many in social housing, will have their lives blighted. One of Europe's great promenades and riverscapes will be lost forever – for a luvvies' folly which provides less than half a football pitch of green open space. We look forward to a legal challenge being mounted against Lambeth's half-baked decision."
Lambeth is due to make a final decision next year, following last Tuesday's decision – but with a list of 46 conditions on issues such as a public safety.
A council spokesman said: "Our duty is to make sure we have a scheme that works in practice and our planning team have been working with the Garden Bridge Trust to make sure there are appropriate measures in place to accommodate the number of potential visitors, and there's a suitable management plan in place for maintenance.
"That was made a condition on the application coming before our planning committee and the committee has directed that these matters are referred back to ensure full public scrutiny prior to their final agreement."
Among those who have raised concerns are the City of London Corporation and Middle Temple. The corporation warned the bridge would obscure views of St Paul's Cathedral from parts of the South Bank, while the inn of court feared the 366m link would precipitate a deluge of tourists on to its historic estate.
Others have questioned why such a large amount of public money, including £30 million each from the Treasury and Transport for London, is being spent on a crossing in an area already well provided for with bridges – the Hungerford, Waterloo, Blackfriars and the Millennium bridges are all within walking distance of Heatherwick's proposal..
The TCOS spokesman added: "The taxpayer should not be bearing a £60 million cost for a transport project that excludes bicycles. The opportunity to walk across London in a whimsical environment should not outweigh the significant harm the bridge would do to the Thames and its protected views – not to mention the thousands of other worthy projects that could do with public investment."
Lord Mervyn Davies, chairman of the Garden Bridge Trust and a former chief executive of banking group Standard Chartered, said: "The support for the bridge has been overwhelming. The trust also acknowledges some concerns have been raised, but continues to work closely with local communities to address them."