Labour's shifting stance on HS2 demonstrates how politics can jeopardise major infrastructure projects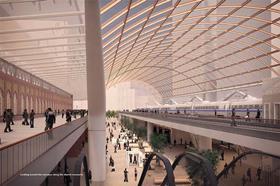 A rising star in the Labour party, Maria Eagle's speech in Brighton as shadow transport secretary to the annual conference received a warm reception in the press. Her speech promised sweeping reforms of rail management, a long-term investment in building cycle infrastructure, and a series of tough new rules on HGVs. However, when Eagle unequivocally declared "we support High Speed 2", she deviated from her script in a way that some speculate may have cost her the transport role.
The day before her conference address, Ed Balls had set out the revised party line: that a north-south rail link is a good idea in principle, but a project like High Speed 2 should not have a blank cheque. Fast forward to last week's reshuffle and Eagle was asked to step aside to be replaced by Mary Creagh. In Creagh's first comments to the press she not only echoed Balls' sentiments, but seemed to cast further doubt on the project, saying she was in favour of a north-south link of some kind, but not explicitly HS2.
If Eaton's assertion holds true and Labour retracts support, it will leave a huge gap in the infrastructure roadmap
So, is Labour changing position on the £43bn HS2? And if so, what does that mean for the future of the project? Writing in the New Statesman, George Eaton has suggested the shifting mood in Labour is setting the groundwork for a full-scale rejection of the project, as "unless the coalition can significantly reduce the projected cost of the project […] it does now seem a question of when, not if, Labour withdraws its support."
If Eaton's assertion holds true and Labour retracts support, it will leave a huge gap in the infrastructure roadmap. Furthermore, it will set a worrying precedent for other big infrastructure projects that they can be cut by leaders looking for political points.
Others argue Labour is merely reflecting public disquiet over the scheme, but will ultimately stay on side. With construction not due to start for another four years, cancellation of it will not save a large amount of money in the short term. Lord Berkeley, chairman of the Rail Freight Group and one of the projects biggest supporters, called Creagh's comments a "shot across the bows", but said: "When Mary has had a chance to look at the whole picture of rail capacity and option for enhancements, she may well conclude that HS2 is still the best option for providing what I see as two more tracks on the West Coast Main Line corridor, possibly at less cost but certainly with less disruption than would be needed to add tracks to adjacent lines as some are proposing."
Stephen Joseph, executive director of Campaign for Better Transport, said: "We're expecting a level of continuity, and a continued commitment to focus on affordability and devolution."
Labour's shifting stance on it means that, despite it being a long-term commitment, the party's position on HS2 is volatile. In a report last month that was ironically – some say – commissioned by Ed Balls, former Olympic chair Sir John Armitt argued that this volatility shows why politics needs to be taken out of infrastructure. Balls, certainly, cannot argue that he hasn't been warned what impact political equivocation can have on projects of this nature. With construction timetabled to start near the halfway point of the next parliament, and with a project of this size and cost, Labour will have to cement its position sooner rather than later.