With the possibility that airport control towers may become obsolete, our architectural correspondent looks at some of the more interesting examples of this aviation mainstay
Airport traffic control towers have been a distinctive feature of international aviation for over 80 years but they could be on the way out. According to Saab which has developed technology that enables air traffic systems to be controlled remotely by use of cameras, sensors and satellite positioning, current towers which rely in part on visual surveillance, could be "obsolete" by 2025. So-called "remote" air traffic control systems have already been use for a number of years at select smaller airports but a number of British airports as well as the Civil Aviation Authority itself are considering trialling the new technology.
Air traffic control towers are often thought of as purely functional and firmly lodged within the realm of engineering rather than architectural design. While this may have been the case at one point it is certainly not so now and a collection of airport traffic control towers are emerging across the world that combine engineering prowess with a thrilling level of architectural spectacle. The best of these capture the motion and romance of air travel itself and in many ways they are the lighthouses of the skies, beacons of wonderment and exhilaration.
So, in order to celebrate an object that might be under threat from new technologies, we've picked six of the best examples from around the world and will be revealing them over the next few days.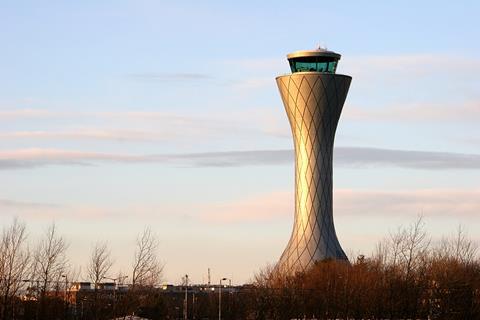 Edinburgh International Airport, UK
3D Reid Architects
2002
In a field dominated by international examples, 3D Reid's new airport traffic control tower for Edinburgh Airport is arguably the most visually distinctive in the UK. Completed in 2002 as part of an extensive overhaul of Scotland's busiest airport, the tower has an elegant hourglass form clad in diamond shaped aluminium shingles which help create an impression of sinuous fluidity. Furthermore, the physical impact of the tower is not only heightened by its low-lying surrounding areas but by the fact that unlike most airports the tower is located on the edge of the airport site rather than deep within the airfield zone and thereby operates as a legible urban beacon. In so doing, Edinburgh proves that air traffic control towers are not solely functional engineering exercises but are also legitimate works of architecture and urbanism in their own right. Accordingly in 2006 it was commended for a Civic Trust Award. However, perhaps the ultimate modern accolade comes into terms of image branding and recognisability, Edinburgh is one of only a handful of airports across the world to use the silhouette of their airport control tower as their airport logo.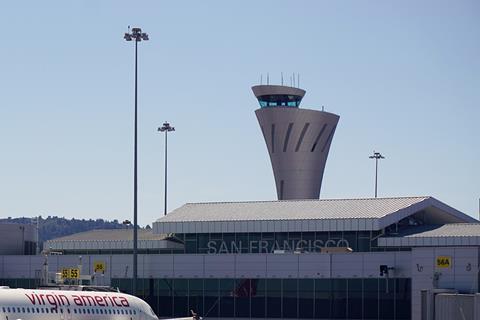 San Francisco International Airport, USA
Hensel Phelps / Fentress
2015
San Francisco already has one of the most spectacular built and natural skyline backdrops of any city in the world and now it has an airport control tower to match. Completed just last summer at a cost of $70m (£54m), the tower is part of massive $4.1bn (£3.2bn) airport improvement plan that will also see America's seventh busiest airport gain revamped terminals and a new hotel. The new 221ft airport tower clocks in a dizzying array of ground-breaking engineering firsts. It is the first airport control tower in the world constructed using a vertical post-tensioned system. It is the tallest vertical post-tensioned structure in the U.S. state of California. And located just four miles from the notorious San Andreas Fault, the tower sees the first ever application of mass dampers in a seismically controlled structure and it has been designed to withstand a 7.5 magnitude earthquake. But impressive as these achievements are, for most of 47million passengers who use San Francisco Airport every day, its principal impact will be a visual one. A single, soaring aluminium shaft sprouts upwards like a blossoming flower with its centre recessed to incorporate a continuous glazed channel. The form is simple but its strident encapsulation of the motion of upward flight is utterly memorable.
Chhatrapati Shivaji International Airport, India
Arup / HOK
2013
With its exposed concrete shaft and sculpturally aerodynamic form, the Mumbai airport's new tower recalls the contorted, tendon-like silhouettes of the famous air traffic control towers of the 1960s at airports like Washington Dulles, New York JFK and LAX. The tower is part of a comprehensive overhaul of India's busiest airport which also included a spectacular new terminal building by SOM. In keeping with the quality exhibited there, the 275ft (85m) new tower is a spirited exercise in angular dynamism with its skirt-like shaft precipitously supporting a four-storey glazed lantern that perches on its summit like a prow. The tower, which is the tallest control tower in India, also provides some of the largest amount of internal accommodation of any air traffic control tower in the world. A further three storeys straddle the base of the tower contributing to an overall internal area of 4,000m², as large as a respectably sized office block. To incorporate this amount of floor space into a structure that still maintains a slender, elegant form is a clear functional and design achievement.