The Building Awards Project of the Year shortlist puts the spotlight on transformative projects that have raised the bar for excellence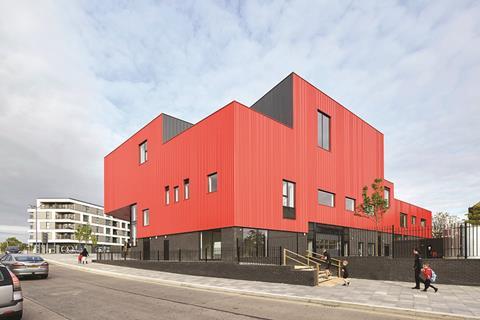 Plymouth School of Creative Arts
Plymouth, Devon
Architect: Feilden Clegg Bradley Studios
Client: Plymouth College of Art/Kier Construction
Contractor: Kier Construction
Submitted by: Feilden Clegg Bradley Studios
Fielden Clegg Bradley has carved a niche for itself as a designer of superlative education buildings and this virtuoso school is no exception. Taking its cue from its brownfield site in a formerly industrial area, the building sports a ribbed metallic envelope and simple, linear massing. But a clue to the radical teaching strategies inside is evident in its red cladding, a contextual nod to the bold colours regularly adopted on the nearby dockyard and harbour sites. And it is indeed these teaching strategies that are the soul of this building's pioneering credentials. Conceived as cross between a department store, gallery and theatre, the school provides a fully immersive learning environment designed to stimulate creativity and exploration for pupils aged from 4 to 16. Small classrooms are replaced with open-plan floors and functionally specific zones supporting all manner of artistic pursuits from dance to music. Simply put, in its radical, artistically weighted reinterpretation of both syllabus and space, there is no other school like it in the country.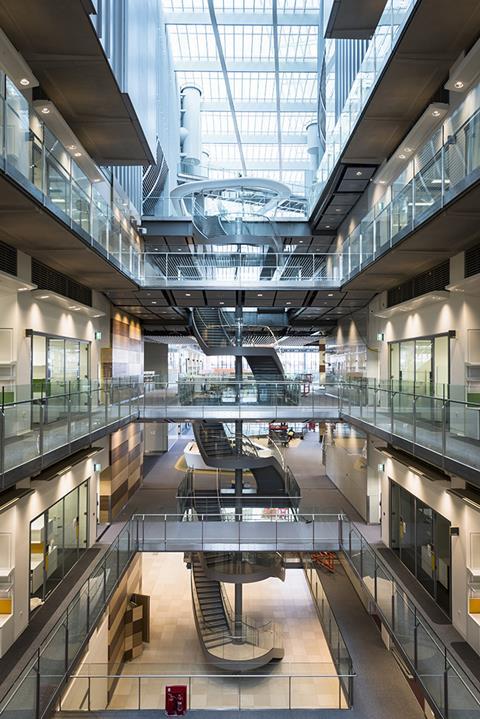 The Francis Crick Institute
St Pancras, London
Architect: HOK/PLP
Client: Francis Crick (UKCMRI)
Contractor: Laing O'Rourke
Submitted by: Turner & Townsend (cost consultant)
The Francis Crick Institute is the largest medical research facility of its kind in Europe, and one of the biggest in the world. Conceived on a gigantic scale, it has a 130m-long full-height central atrium resembling a cathedral nave. Such is the scale of its mechanical services infrastructure that it assumed a quarter of the entire construction budget and one-third of floor space is allocated to plant. Air ducts are large enough to accommodate a London double-decker bus and flues are wide and long enough to comfortably host a fleet of transit vans. Of its 12 levels, four are underground. Plus, all of this has been achieved on a tight residential inner-city site next to one of the most revered railway terminuses in the country. The Francis Crick therefore is no ordinary building and represents a generational leap in the scale, sophistication and ambition of scientific research facilities.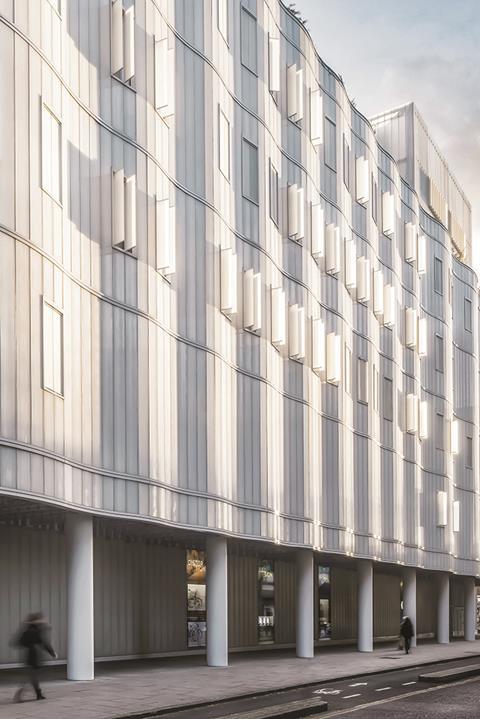 Sainsbury Wellcome Centre for Neural Circuits and Behaviour at UCL
Fitzrovia, London
Architect: Ian Ritchie Architects
Client: University College London
Contractor: Kier Construction
Submitted by: Ian Ritchie Architects
Located in a corner of London that is emerging as one of the world's foremost biomedical research campuses, this building matches scientific excellence with high quality architecture. The new 14,000m² facility provides adaptable, modern neuroscience teaching and laboratory space in the heart of central London. With a brief tested by an historic context protected by two conservation areas, the building's gently rippled translucent glass façade mitigates its impact on the surrounding area. Scientists are encouraged to write on the internal glass surface, which is essentially configured as a giant whiteboard devised to stimulate discussion. This spirit of creative spontaneity is also evident in an interior designed to be fully flexible to accommodate scientific change over a period of at least 60 years.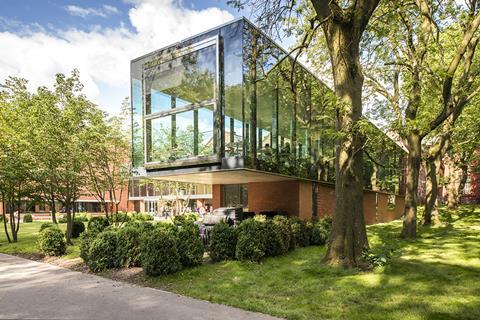 The Whitworth Art Gallery
Manchester, Greater Manchester
Architect: MUMA
Client: The University of Manchester
Contractor: ISG
Submitted by: ISG
The Whitworth Art Gallery is more than an extension to a formerly tired cultural institution. It is a fundamental reimagining of what an art gallery is that breathes new life not just into the building itself, but into the social and civic fabric of its surrounding park, neighbourhood and city. Prior to the project, there was a sense of physical and social dislocation between gallery and city, with the Victorian gallery's assortment of redesigned 1960s spaces offering little excitement with regards to the display of art or little enticement to visitors to the local park in which it sits to venture inside. This situation has been transformed. Redesigned galleries have revealed formerly hidden Victorian glories behind which a sophisticated network of new services have been carefully threaded. Impressively, the gallery remains naturally ventilated. And perhaps most impressively in architectural terms, a new glass pavilion has been attached to the rear of the library, providing a sequence of new circulation and café spaces, all of which open out views towards a rejuvenated park. Culturally-led regeneration is a tried and tested formula, but it is rarely achieved with the subtlety and success of this one.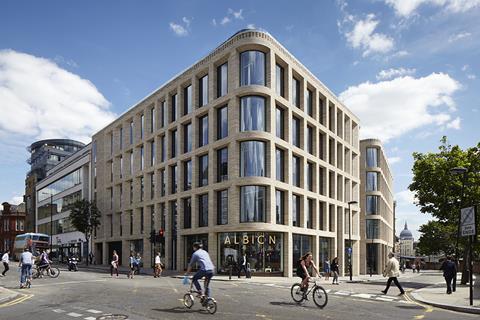 Turnmill
Clerkenwell, London
Architect: Piercy & Company
Client: Derwent London
Contractor: McLaren Construction
Submitted by: Piercy & Company
With its reliance on repetition, floorplates and standardisation, commercial speculative office architecture is not commonly associated with innovative or inspirational architectural design. But now and again a project comes along that bucks the trend. This is undoubtedly one of them. Built on the site of a former nightclub from which it takes its name, the project marks an expansion of office space into a part of London historically identified with creative industries. It therefore sets a benchmark for how the two can be combined. The façade features handmade bricks separated by windows punched into deep, rhythmic bays and is an impressively well-judged application of the local light-industrial context onto a standardised commercial template. Internally, the brickwork gives way to a plush palette of polished concrete, polished plaster and brass, again extending the aesthetic sensibilities of the neighbourhood into a commercial environment that could just have easily suppressed rather than celebrated local identity. Turnmill is a triumphant architectural affirmation of the fact that commerce and character can mix.