Our technical editor's take on the five winning schemes in this year's Housing Design Awards
The theme of this year's Housing Design Awards is quality rather than quantity. Difficult economic times mean very few homes are being built. It also means the few schemes making it to site must be outstanding to entice buyers to part with their hard won cash. We think this has had a positive effect on the Housing Design Awards.
Entries were up by 28% compared with last year but the real indicator of quality is that the shortlist has been extended to take into account more quality entries. During the boom years the design quality of schemes dropped as homes were easy to sell. This meant the awards struggled to attract more than a handful of decent schemes. Now that times are tough design quality has shot up.
How is that quality manifested in this year's entries? The downturn has meant a re-examination of what works well in a housing scheme. This has resulted in a retreat to traditional, tried and tested values so all this year's schemes feature more than a nod to vernacular style or classical design.
But this doesn't mean pastiche - traditional design has been freshened up with a modern twist. The result is traditionally proportioned, brick-built housing mixed up with modern windows and details. In many ways there has never been a better time to buy a new house.
Attention to detail is a must and high quality public realm is high on the agenda. Buyers also expect private outdoor spaces so generous balconies and gardens feature in all the winning schemes. Below we present the five winning, completed schemes.
OVERALL WINNER
OFFICERS FIELD
Weymouth, Dorset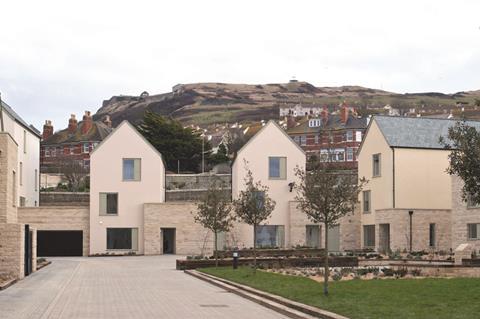 architect HTA
developer Zero C
contractor Acheson Construction
local authority Weymouth and Portland Borough Council
This scheme was thought to be so good it was voted unanimous winner by all 16 judges. It was also given the Richard Feilden Award (HCA Award) and the Graham Pye Award (Best Family Housing). The 77-home scheme looks particularly good as, unusually, it has been fully completed rather than phased as it doubles up as accommodation for athletes competing in the 2012 Olympic sailing events. The homes are generously proportioned with large windows offering views of the sea which is a stone's throw away from the development.
Many of the homes have large garages with room for a car and a boat - the garages even feature sinks for washing out wetsuits. Local vernacular style is clearly evident in the homes - Weymouth is a town dominated by gables and sandstone so all the houses are gable fronted with local Portland stone elements and slate roofs. Some homes are arranged around a green with others following a traditional street pattern. Quality detailing is abundant - the granite sets used for paving extend right up to the door thresholds and the biomass stores outside each house are built from Portland stone. The development has been built to level 4 of the Code for Sustainable Homes. This development has been priced for the tough market - a 72m2 two-bedroom town house with garden costs £160,000 and the most expensive 223m2 four-bedroom home with double garage costs £420,000.
WINNER: TIBBY'S TRIANGLE
Southwold, Suffolk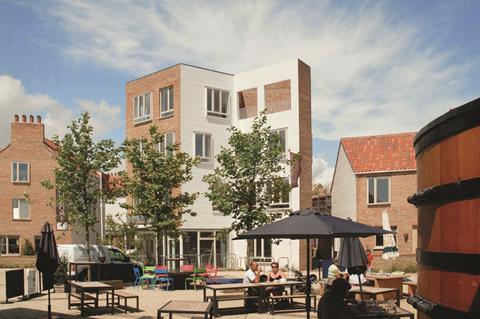 architect Ash Sakula
developer Adnams/Hopkins Homes
contractor Hopkins Homes
local authority Waverney District Council
When brewery Adnams relocated its distribution centre it freed up this plot in the heart of fashionable seaside bolthole Southwold on the Suffolk coast. The 34-home scheme has stayed true to the medieval layout of the town with a non-orthogonal layout punctuated by narrow alleyways offering glimpses of the nearby church. The homes follow the Suffolk vernacular and are brick built with clay tile roofs. Many local homes feature white or black painted gable ends, a detail that has been reproduced on this scheme. There are modern touches in the form of contemporary windows and galvanized steel, Scandinavian-style rainwater goods. A public square, with timber groynes reclaimed from the seafront embedded in the surface, dissects the development. The public nature of this space is tempered by a private walled garden to each home.
WINNER: SAXTON
Leeds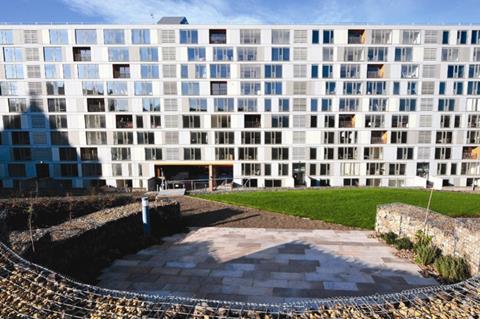 architect Union North
developer Urban Splash
contractor Urban Splash Build
local authority Leeds City Council
Saxton is typical of Urban Splash - take some down at heel buildings and reinvent it as trendy, affordable city centre living. Here two derelict fifties council blocks have been transformed into 410 flats for sale or rent. The long, thin blocks were stripped back to the concrete frames and the floorplates extended using a steel frame which doubled the number of apartments. The original lifts served two flats per floor but now serve four, increasing the scheme's viability. The blocks have recessed balconies and there are allotments, parking and the largest residential garden in the area plus a wildflower meadow and an orchard.

WINNER: BRIDPORT HOUSE
Hackney, London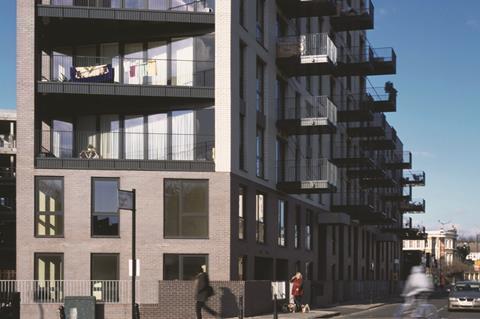 architect Karakusevic Carson
developer London Borough of Hackney
contractor Willmott Dixon
local authority London Borough of Hackney
Hackney is notorious for grim council estates so all eyes were on this scheme as it is the first council housing to be built in the borough for 45 years. Conscious of the fifties and sixties tendency of planners to foist modernist inspired housing onto reluctant communities, the council and architects engaged in a comprehensive consultation process with locals, winning the Community Consultation Award for this process. Everything was discussed from the interior layouts to the choice of brick in more than 20 meetings.
Generous external space is a feature of this scheme - it is the first to be built to the London Design Guide
The result is an eight-storey block with recessed balconies occupying one end of the block - a sense of drama has been added by terminating the apartments at a 45 degree angle to the end of the block. Generous external space is a feature of this scheme - it is the first to be built to the London Housing Design Guide - so balconies are at least 6.5m2 rather than the more typical and mean 1.5m2. This won the scheme the Mayor's Housing Design Award.
Bridport House is part of the trend for mixing traditional design with modern elements so this building is classically proportioned and clad with brick and white render. Even the scheme's structure diverges from the old council estate model, being constructed from cross laminated timber panels.
WINNER: PHASE 3, ST ANDREWS
Tower Hamlets, London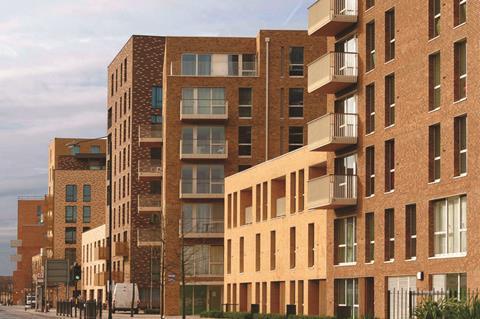 architect Glenn Howells
developer Barratt Homes
contractor Barratt Homes
local authority London Borough of Tower Hamlets
Unusually, this scheme has been won an award for the second year running. The reason is that it bucks the trend of most effort being put into the first phase of schemes (as these contain the showhome and need to make a good, early impression on buyers). The third phase of St Andrews is as good as the earlier phases and reflects the need for housebuilders to offer more home for less money. The scheme is also a well executed example of a building typology offering very attractive homes in rectangular blocks built onto the street.
Maisonettes at the top of the building have double height cutaways with sheltered outdoor spaces
These feature maisonettes at ground and first floor level, which means no residents have to suffer street noise in their bedroom. Maisonettes also feature at the top of the building and these have double height cutaways containing large, sheltered outdoor spaces that are ideal for families. This typology is also used at Bridport House. Like its near neighbour, this scheme is classically styled with townhouse type proportions and brick cladding.
About the awards
This is the 64th year of the Housing Design Awards, which are open to entries from any scheme in England of four or more units. It was backed by the Department for Communities and Local Government and this year also received backing from the Greater London Authority. Rick Blakeway, the mayor of London's housing adviser, sat on the 16-strong judging panel for the first time. The awards were also supported by Design Council Cabe.