This year's Housing Design Awards once again show developers beating off the gloom of the recession and offering high-quality, varied designs for residents to chillax in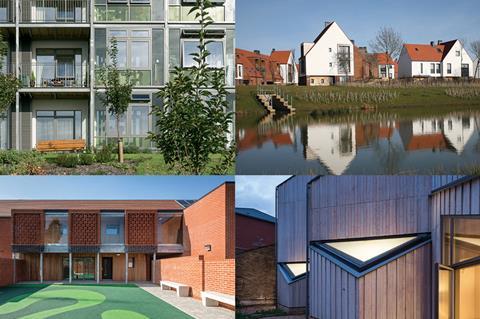 The good thing about this year's Housing Design Awards is that once again the recession has not managed to dampen quality. In another encouraging development, after years of relative stagnation within the housing market, gradually more homes are starting to be built, although we remain a long way off from emulating the boom construction periods of the last decade.
Another significant trend concerns location. There are increasing signs of two parallel UK housing markets emerging - London and outside London - with more and more housing construction being concentrated in the capital. Well over half of all submissions to this year's Housing Design Awards were London schemes, a development that is reflected in the new awards categories implemented this year.
There are various reasons for this growing geographical imbalance. Partially because of massive sustained foreign investment throughout the recession, land values and property prices within the capital did not tumble as they did in the rest of the country, making London housebuilding a comparatively attractive economic proposition.
On top of this, the mayor's London Housing Design Guide must take due credit for helping to ensure the minimum design standards that encourage architectural quality. This in turn has further increased the desirability of the London housing market, despite its ongoing problem of heavily constrained affordable housing stock.
Throughout all entries this year, common design themes emerge. The perennial challenge of how to build housing estates that don't look and feel like housing estates is evident. In order to nurture a strong sense of character, there are also many instances of design variety being enthusiastically adopted, ranging from complexity of plans to the use of differing
storey heights.
And London's buoyancy notwithstanding, outside the capital there are a number of exceptional examples of high-quality schemes that have crafted an innovative contemporary response to local rural vernacular.
Finally, one rather pleasant characteristic seems to emerge from this year's entries, particularly in London. While striving to achieve the ever higher densities that ensure economic viability and will help to abate the housing shortage, more and more developers are separating their blocks with pools of water to provide a greater sense of space and openness within an increasingly congested built environment.
LONDON WINNERS
BUZZARDS MOUTH COURT & MOUTHGATE (BARKING RIVERSIDE), BARKING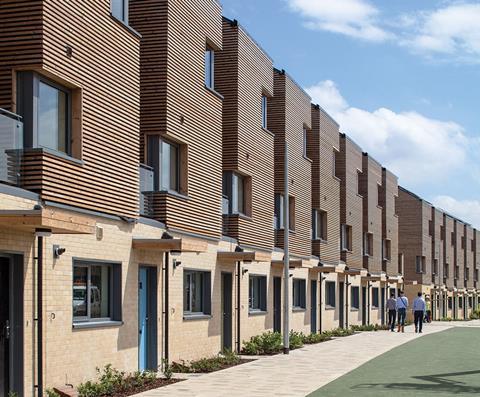 ARCHITECT Sheppard Robson
DEVELOPER Barking Riverside
CONTRACTOR Bellway Homes
LOCAL AUTHORITY Barking & Dagenham
Over the past decade, 170-hectare Barking Riverside has grown into one of London's largest and most progressive large-scale housing regeneration schemes with a number of prominent architects contributing to its multiple development phases. This latest one provides 161 homes on a 3.81-hectare site. Accommodation is split between one to three-bed flats and three and four-bed houses, with the larger properties conceived as three-storey townhouses designed on open-plan, dual-aspect principles. Buildings are arranged around a number of large open green spaces, which are suggestive of the relatively low densities that the site's inland position and existing context have imposed. Despite slim local public transport infrastructure and stubbornly post-industrial surroundings, sales have been consistently strong, challenging the popular London preconception that location is king.
CHURCH WALK, STOKE NEWINGTON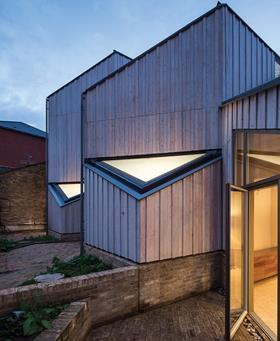 ARCHITECT David Mikhail & Annalie Riches
DEVELOPER David Mikhail & Annalie Riches
CONTRACTOR Eurobuild
LOCAL AUTHORITY Hackney
The gentrification of Stoke Newington has already spawned a spate of notable, contemporary one-off private houses. But this one is rendered all the more unusual by being the product of an entrepreneurial architect couple designing their own home and acting as their own developers. The result is four intimately personal homes, each one finely crafted with a precision and detail that is derived as much from empathy as design. Large triangular roof lights and a stepped, terraced profile allow natural daylight to pour into interiors, and the use of soft natural materials such as Siberian larch corrugated external cladding and Douglas fir internal fixtures provides a soft, homely feel. This in turn contrasts with sharp contemporary finishes such as aluminium mesh screens and balconies. Church Walk may be small in scale but it provides a resonant response to the perennial urban housing challenges of density, overlooking and context.
NON-LONDON WINNERS
NEWALL 'BE', HARLOW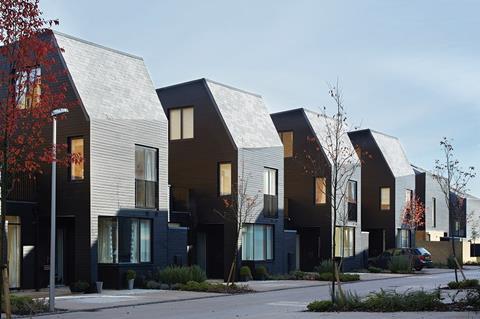 ARCHITECT Alison Brooks
DEVELOPER Galliford Try Partnership
CONTRACTOR Galliford Try Partnership
LOCAL AUTHORITY Harlow
Reinterpreting traditional vernacular architecture into contemporary form has long been an ambition of housing design. It is executed in vigorous form at this 85-unit development in Harlow. The traditional Essex barn is the chief inspiration for the design of flats and terraces that comprise the scheme. Pitched barn roofs have been reconfigured as asymmetric chamfers that slice the tops and sides of blocks to form a fluid, dynamic roofscape. Walls are also faced in black shiplap timber to form a sleek, contemporary variation on the traditional barn aesthetic. The incorporation of home office spaces overlooking the street also introduces economic versatility into the traditional context.
DERWENTHORPE PHASE 1: OSBALDWICK, YORK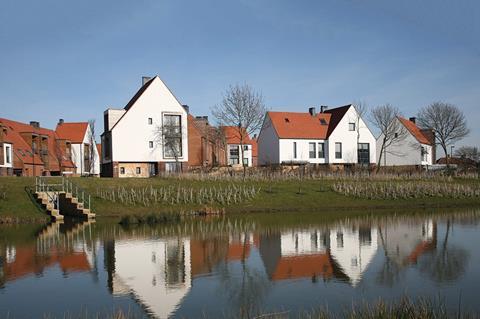 ARCHITECT Richards Partington
DEVELOPER JRHT / David Wilson Homes
CONTRACTOR Barratt Homes
LOCAL AUTHORITY City of York
This subtle and considered scheme is a spirited contemporary response to local rural typology. It also forges an intelligent relationship between building, landscape and ecology. The 64-unit development is phase one of a planned 540. The scheme has also been built as an extension to the village of Osbaldwick and the architecture, with its steep-pitched roofs and vertically proportioned frontages, reflects this existing local character and context. Most properties are affordable and wide footpaths and shared surface Home Zones ensure pedestrian priority. The landscaping also merges the scheme seamlessly into its rural surroundings by preserving ancient hedgerows and grassland and providing new ponds and becks rich with species.
SPECIAL AWARDS
HARGOOD CLOSE, COLCHESTER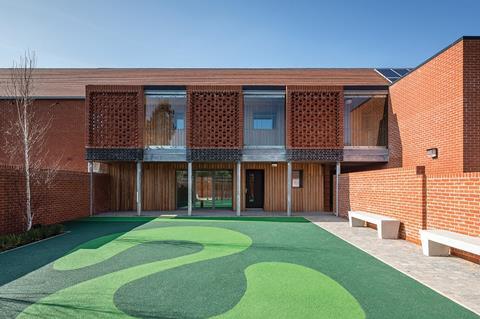 ARCHITECT Procter & Matthews
DEVELOPER Family Mosaic
CONTRACTOR ISG Jackson
LOCAL AUTHORITY Colchester
Hargood Close might represent the shape of things to come. This small development of 35 affordable and supported housing has been designed for the most vulnerable in society who may need emergency temporary accommodation after being relocated, possibly due to cuts in benefits. Accordingly, a chief priority of the design has been to provide a safe and unintimidating environment. This has been achieved by intimacy of scale, the use of natural materials and highly textured, almost tactile projecting bond brick surfaces. Crisply landscaped courtyards and cloistered recesses also provide a reassuring and finely detailed sense of enclosure.
PRINCE CHARLES HOUSE, ST AUSTELL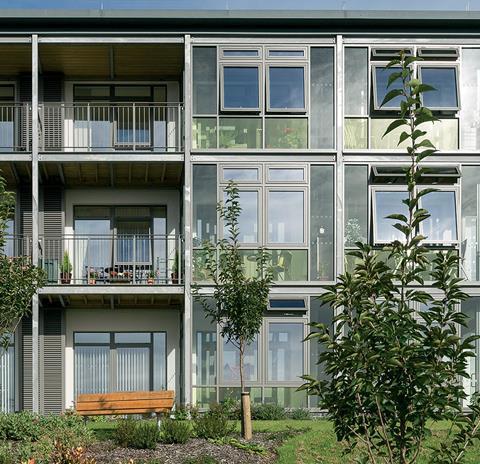 ARCHITECT PRP
DEVELOPER Ocean Housing
CONTRACTOR ISG Jackson
LOCAL AUTHORITY Cornwall
Like much of the western world, the UK's population is ageing and this evolving demographic is set to play an ever-increasing role in public services and housing provision. In response, the government's first HAPPI (Housing our Ageing Population: Panel for Innovation) report recommended a number of design principles for elderly housing, many of which have been incorporated into this development of 31 affordable rent flats for older people. Prince Charles House features large dwellings arranged around a naturally lit atrium, with flats designed as open-plan units with large kitchens and sheltered balconies.
MASTIN MOOR RESIDENTIAL HIGH SUPPORT UNIT, DERBYSHIRE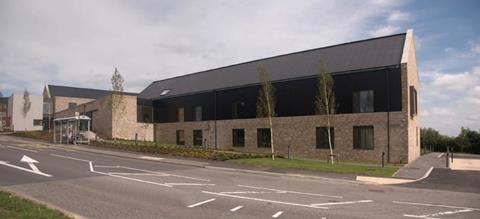 ARCHITECT OMI
DEVELOPER Turning Point
CONTRACTOR ESH Construction
LOCAL AUTHORITY Derbyshire
The cool, simple and understated lines of this 28-unit scheme reflect its function as a supported residential housing scheme designed to gradually encourage independent living among its residents. Nestled into the Derbyshire countryside, the building's traditional farm-like form comprising pitched roofs and pale brickwork merges well into its surrounding landscape. Vertical black timber cladding and a standing seam natural anthracite zinc roof provide contemporary twists on the vernacular theme. The 28 studio flats are arranged around two courtyards, which provide an intimacy of scale and sense of enclosure that contribute to the reassuring environment.