Ahead of next week's Housing Design Awards, we look back at the schemes that have clinched the top spot over the last decade
2012 Overall winner: Officers field, Weymouth, Dorset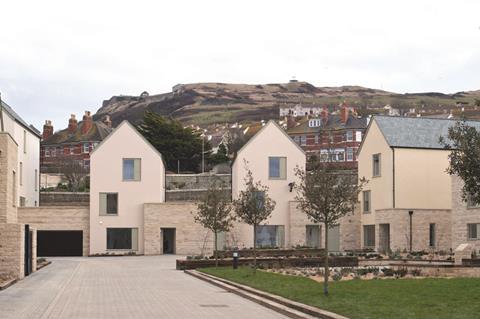 architect HTA
developer Zero C
contractor Acheson Construction
local authority Weymouth and Portland Borough Council
Building said: This scheme was thought to be so good it was voted unanimous winner by all 16 judges. It was also given the Richard Feilden Award (HCA Award) and the Graham Pye Award (Best Family Housing). The 77-home scheme looks particularly good as, unusually, it has been fully completed rather than phased as it doubles up as accommodation for athletes competing in the 2012 Olympic sailing events. The homes are generously proportioned with large windows offering views of the sea which is a stone's throw away from the development.
Many of the homes have large garages with room for a car and a boat - the garages even feature sinks for washing out wetsuits. Local vernacular style is clearly evident in the homes - Weymouth is a town dominated by gables and sandstone so all the houses are gable fronted with local Portland stone elements and slate roofs. Some homes are arranged around a green with others following a traditional street pattern. Quality detailing is abundant - the granite sets used for paving extend right up to the door thresholds and the biomass stores outside each house are built from Portland stone. The development has been built to level 4 of the Code for Sustainable Homes. This development has been priced for the tough market - a 72m2 two-bedroom town house with garden costs £160,000 and the most expensive 223m2 four-bedroom home with double garage costs £420,000.
2011 Overall winner: Granary Wharf, Leeds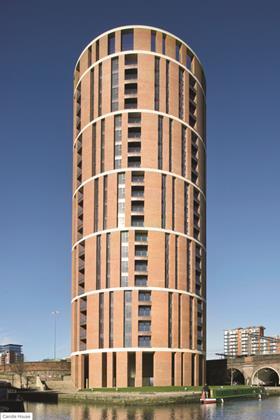 architect: Allies & Morrison, careyjones, CZWG
developer: ISIS Waterside Regeneration
contractor: Ardmore Construction
local authority: Leeds council
Building said: RIBA award-winner Granary Wharf is an exceptional example of ambitious residential design. The masterplan includes buildings by three practices and is a key component of wider council plans for the ongoing urban revitalisation of Leeds. CZWG's Waterman's Place resurrects the stepped roofline of which CZWG is so fond and uses it to provide some of the largest private terraces you are ever likely to see on a residential development. The ground floor commercial units are exclusively reserved for start-up businesses.
But the centrepiece of the development is careyjones's Candle House, a 23-storey cylindrical brick tower whose subtly twisting facade pays jovial homage to the leaning tower of Pisa. The internal layout of the flats is ingeniously free of the awkward crevices that normally plague circular floorplans and generously bathed in natural light. The tower is surmounted by spectacular communal roof terrace, encased behind a perforated brick drum but open to the sky. It is a fitting crown to a virtuoso achievement.
2010 Overall winner: Icon, Street, Somerset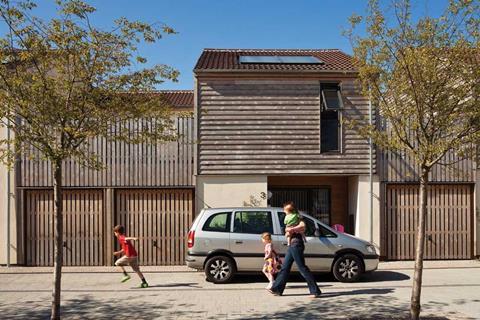 architect: Feilden Clegg Bradley Studios
developer/contractor: Crest Nicholson
public realm architect: Grant Associates
Building said: For the second time in five years, Feilden Clegg Bradley has claimed the supreme accolade in English housing design. Its Icon development for Crest Nicholson is this year's overall winner, following its Accordia scheme in Cambridge for Countryside Properties in 2006.
Although using very different materials and architectural styling, the two schemes share a high-density rectilinear urban grid of terrace houses flanking narrow mews. They also have in common in-built garages, roof terraces and tiny patio gardens.
Indeed Icon is held up by the award judges as an exemplar of the Department for Transport's guidance for spaces outside the home, as published in Manual for Streets in 2007. More compact private open space has allowed 40% of the site to be devoted to public space, laid out as public squares, housing squares, streets and mews.
This hierarchy of public spaces is expressed in a carefully co-ordinated array of pavings, benches, planters, trees and even a topiary giraffe.
The near elimination of private gardens means many living rooms face directly onto the mews through large windows. These windows are, however, inset to provide a modicum of privacy.
The continuous flat frontages of natural timber boarding conceal novel variants to the traditional terrace-house plan. Most adjoining houses are separated by a built-in garage with roof terrace above. Residents are encouraged to park in their garages and visitors in remote parking courts to keep the streets clear of parked cars.
2009 Overall winner: South Gate, Totnes, Devon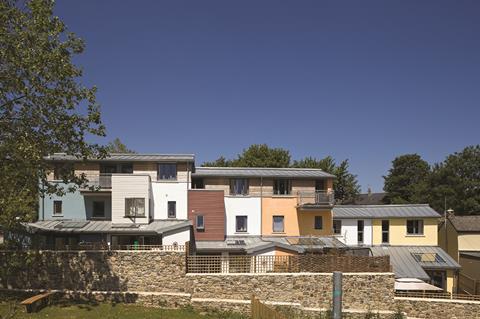 architect: Harrison Sutton Partnership
developer: South Hams council, Midas Homes, Sovereign Housing
contractor: Midas Homes
Building said: A bafflingly intricate housing scheme in Totnes, Devon, has scooped the top Housing Design Award this year. What it may lack in visual cohesion, it more than makes up for by ingeniously packing 53 homes into four tiny, steeply sloping urban sites.
The main design challenge was how to pack so many family homes on to two pairs of tiny, sloping sites. Harrison Sutton's solution was four rows of houses that step gaily up the slopes in a contemporary reinterpretation of traditional Devon terraces. In one, rows of two-storey houses and duplexes sit back to back, the duplexes jacked up above garages to gain unobstructed southerly views from the third floor.
Another terrace flaunts rendered walls in several pastel colours, timber boarding, zinc roofs and garden walls of natural stone recycled from a former cattle market on the site.
Although the results are impressive, the process of development is the real star. The scheme was initiated by South Hams council to provide affordable homes for local people priced out of the market by rich second-homers swooping down on the Devon Riviera nearby. But its first proposal was rejected by the local community, which set up its own group called Design Our Space to look at the issue. Within three months, the group had persuaded the council to withdraw its scheme and instead work with it and the local architect. Together they drew up a higher density scheme that could fit in more affordable homes and a larger proportion of family homes.
The council went on to form a partnership with Sovereign Housing and local housebuilder Midas Homes to fund and develop the housing, in which 37 social rented and shared-equity homes would be cross-subsidised by 26 homes for sale. South Hams then directly funded the special landscaping features and the enhanced specification needed to attain Ecohomes "excellent" standard for sustainability. Local co-operation has led to a solution where all groups are satisfied, not least young residents in desperate need of a home.
2008 Overall winner: Chimney Pot Park, Salford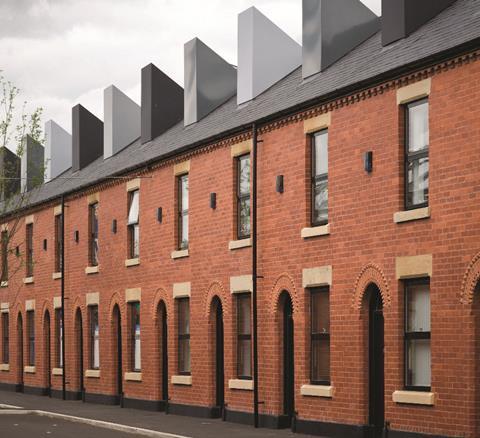 architect: Shed KM
developer and contractor: Urban Splash
Building said: Chimney Pot Park was a victim of the UK's contrary VAT laws, yet has it ended up as a strikingly original and compact hybrid of conservation and new build. The original idea was to refurbish 16 Edwardian terraces of two-up, two-downs, but as this would have been hit by the 17.5% tax rate, Instead, Urban Splash opted for a complete new build behind the original fiery red brick facades.
The houses were reconstructed to their original dimensions, with an extra room added in the roofspace. But the rear extensions, backyards and the notorious lanes behind them have been replaced by ingenious double-decker affairs. Residents' carparking on the ground floor is capped by private garden decks that are screened from the neighbours by bamboo-filled planters.
Prefabricated bathrooms have been condensed into miniature wet rooms, with the baths recessed into the floor and covered with a timber hatch. In a sly metaphor for changing energy use, chimneys to let smoke out from coal fires have been replaced by triangular rooflights to let daylight in.
2007 Overall winnner: Tabard Square, London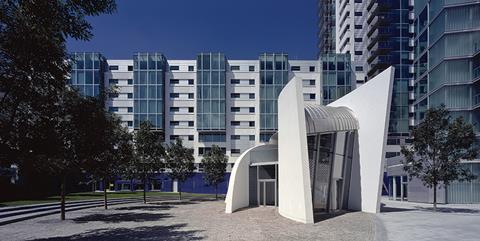 architect Rolfe Judd
developers Berkeley Homes, East Thames
main contractor Laing O'Rourke
Building said: Tabard Square, behind London Bridge Station, is a model of high-rise, high-density housing that complies with the latest government planning guidance. Not only do the 22-storey tower and three neighbouring blocks exhibit sharp good looks from all angles, but they also embrace a large traffic-free public square and incorporate a mix of uses and tenures.
What makes the success of the scheme all the more remarkable is that it is the outcome of a tussle between developer, town planners and English Heritage. Southwark council planners insisted on doubling the density to 572 dwellings on the 1.2ha site, but then English Heritage slashed the tower block by seven storeys. Even so, it emerged as one of the best resolved residential towers the award judges had visited. An irregular plan is made up of five interlocking flats on each floor, which leaves gaps and overlaps that enliven the facades. All the flats have floor-to-ceiling windows and generous balconies, while a few on the upper storeys have roof terraces.
The three lower blocks include a communal roof garden and one of them is shared with an apartment hotel. Affordable homes make up 46% of the dwellings, divided between shared-ownership, rented and key-worker homes linked to the nearby Guy's Hospital.
The traffic-free square is claimed to be London's largest new public residential square since the 1970s. It is reached through narrow gaps between the housing blocks and contains a sculptural pavilion for communal use. It has good benches, mature trees and excellent ground surfaces. A large creche, supermarket, health club and office suites will occupy the ground floors overlooking the square.
2006 Overall winner: Accordia, Cambridge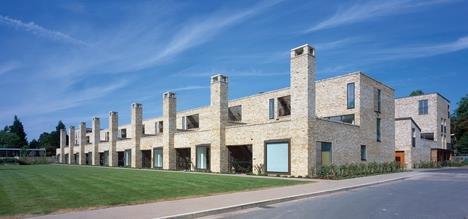 architect Feilden Clegg Bradley with Maccreanor Lavington and Alison Brooks
developer Countryside Properties plc
contractor Kajima Construction Europe (UK) Ltd
planning authority Cambridge City Council
This year's Housing Design Awards feature six inspired permutations of high-density blocks of flats on brownfield sites and a zig-zagging sheltered housing scheme. But the overall winner is a family housing scheme in Cambridge.
Accordia, which comprises 379 mixed-tenure homes, has 47 dwellings per hectare yet accommodates generous public and private spaces. Three architects have produced a variety of compatible building forms from semi-detached villas to a long flat four-storey terrace.
Feilden Clegg Bradley designed the row of three-storey mews houses (pictured here), with terraces on first and second floors. Elsewhere, the four-storey terrace houses designed by Maccreanor Lavington have narrow elongated plans incorporating a garage, small courtyard at ground level and roof terrace.
2005 Overall winner: Bennet's Courtyard, Merton, south London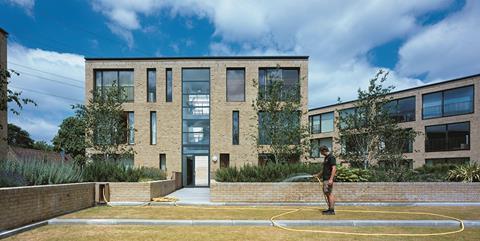 architect Feilden Clegg Bradley
developer Countryside Properties
contractor Wates Construction
Building said: This year's overall winner of the Housing Design Awards is a clear-cut yet sensitive response by a medium-sized housebuilder to a suburban riverside site in south London. At Bennet's Courtyard, Countryside Properties has developed three blocks containing 52 apartments plus commercial space. In addition, two of the three blocks enclose a secret ingredient that lifts the scheme to a higher plane. Instead of the usual narrow corridors, the two longer blocks are built around elongated atriums.
Each atrium has been conceived by Feilden Clegg Bradley Architects as a calm, spacious wintergarden intended to act as "the ideal space to meet the neighbours". The apartments in the two upper storeys are reached along hardwood gangways and entrance platforms wide enough to fit sofas and occasional tables. In addition, apartments have bay windows that project into the atrium, giving them a dual aspect along with extra daylight.
The whole scheme nestles into an appealing riverside landscape of walkways and planters. Here again, the communal garden cleverly conceals a essential but often unattractive facility – a lower level of car parking stretching beneath the whole development.
Confident, unfussy handling is also evident in the plain rectilinear facades and the large floor-to-ceiling windows, which are enlivened by projecting bays in hardwood boarding (strictly from sustainability-assured sources).
2004 Overall winner: Abode, Essex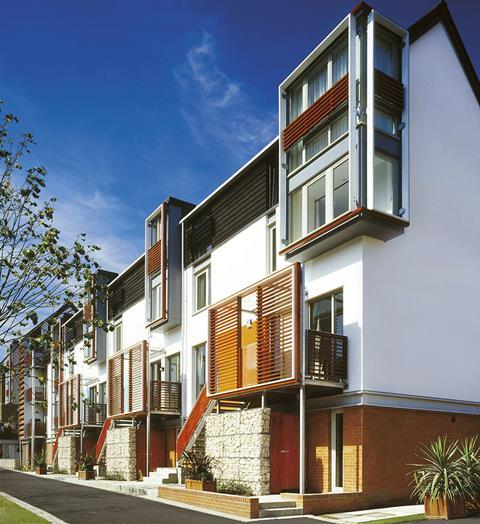 architect Proctor & Matthews
developer Copthorn Homes
contractor Copthorn Homes
planning authority Harlow District Council
Judges said of the project: Thatch? In Harlow? Yes, and coloured render, weatherboard, slates and tiles as well, not to mention louvres, oriel windows and gabion walls. But this first phase of Copthorn Homes' parcel at Newhall pulls off this potentially indigestible combination of textures with remarkable success. The overall discipline of the planning, and the careful combination of different dwelling types, means this rich mix is used extremely subtly, and never without good reason.
2003: No overall winner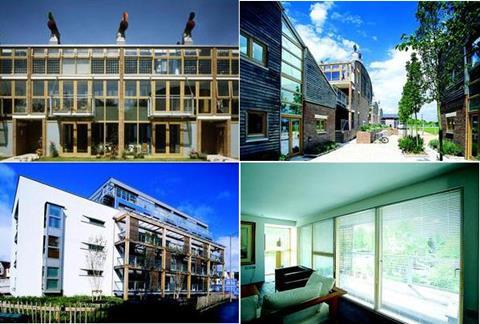 Building said: High density came out on top in this year's awards. There were prizes for Irwell Valley in Manchester, New Islington & Hackney in Essex and Peabody's much-garlanded BedZED
You could be forgiven for thinking the judges of the 2003 Housing Design Awards misheard their brief and thought they were judging the Housing Density Awards. This year's winners all have high density as their guiding principle and the cornerstone challenge of their design.
There are the usual swanky showhomes on the list - particularly well dressed this year is Ian Simpson's One Deansgate - plus some familiar faces. Architect Bill Dunster will be wishing he designed larger mantelpieces in his Beddington zero-energy development as it scoops yet another award. The Peabody Trust scheme is now groaning under accolades, including a 2000 Housing Design Award when it was still on the drawing board.
Another housing association scheme that provided a winning mix of ecology and density was Chorlton Park in Manchester, which picked up the Housing Corporation Award for best affordable housing. This 23-unit scheme, by architect Stephenson Bell for Irwell Valley Housing Association, notches up an impressive 180 homes a hectare. Squeezed onto the site of a garage, the development also includes four penthouses for private sale.
Rounding out the housing association winners is New Islington & Hackney Housing Association's Darwin Road development in Tilbury, Essex. This Sergison Bates-designed scheme, which provides accommodation and training for unemployed young people, was picked out by the judges for its "innovative mix of social and physical regeneration.