From radical warehouse conversions to art deco elderly care, this year's Housing Design Awards show an industry emerging from the recession with a spring in its step and unafraid to experiment
Once again, this year's Housing Design Awards are marked by the consistently high quality of entries. "We're having the opposite problem to the one we used to have 10 or 15 years ago," says David Birkbeck, chief executive of housing lobbyist Design for Homes, which organises the awards. "Back then it was a struggle to decide what to include, now it's difficult to choose what to leave out."
This is an encouraging sign for the housing sector, a part of the industry that suffered gravely during the recession but now, particularly in buoyant London, seems to be rallying strongly.
Other trends are noticeable too. London still enjoys the bulk of activity but quality and quantity are slowly spreading to others parts of the country. Birkbeck reveals that the judging panel were particularly impressed by some "fantastic" new house types, and that many rural developments had found innovative ways of positioning blocks to optimise views out towards the countryside.
There is also ongoing evidence of the growing influence of the government's HAPPI (Housing our Ageing Population: Panel for Innovation) recommendations, while the emergence of a UK private residential rental market, albeit still a tiny proportion of the overall sector, is reflected in this year's inaugural Private Rental Sector award.
OVERALL WINNER
Abode Great Kneighton
Cambridge, Cambridgeshire
Architect: Procter and Matthews
Developer: Countryside
Contractor: Countryside
Local authority: Cambridge council
Units: 308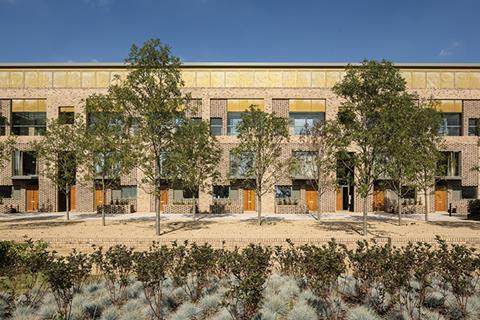 Procter and Matthews continues its meticulous exploration of vernacular style and textured brickwork with this virtuoso assortment of rural terraces and townhouses. The scheme offers a wide range of unit types from barn-like townhouses clad in black ship-lap timber to highly articulated brick "urban" mews houses with integrated carports and the architect's signature "perforated" brickwork patterns. The masterplan is inspired by the collegiate courtyards of Cambridge, and there is a nuanced complexity that applies control without constraining. Even window types are coded with varying colours, sizes and materials. Adobe Great Kneighton is a model for new housing that imaginatively crafts contemporary expression from an established rural vernacular.
London winners
Raven's Way
Proposed scheme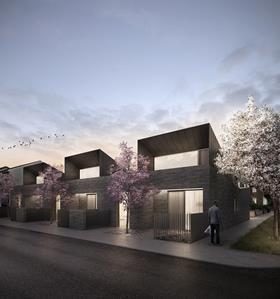 Greenwich, London
Architect: Bell Phillips
Developer: Royal Borough of Greenwich
Contractor: n/a
Local authority: Royal Borough of Greenwich
Units: 6
This suburban housing scheme for older people epitomises two things, the growing demands our ageing population is making on the residential market and the huge opportunities offered by the redevelopment brownfield land in inner- and outer-city sites. Six garages will be demolished to make way for a terrace of six single-storey wheelchair-accessible bungalows. With its brick facades and multiple mono-pitched roofs, the terrace is a contemporary reinterpretation of the local residential aesthetic and provides properties split into top-lit open living zones and more secluded sleeping areas. Raven's Court provides an ambitious housing prototype which the local authority plans to disperse across a number of similar, derelict garage sites across the borough.
Faircharm
Proposed scheme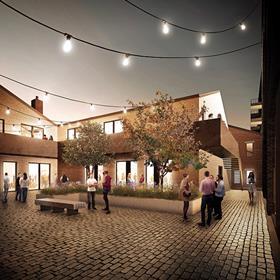 Lewisham, London
Architect: Karakusevic Carson
Developer: Workspace
Contractor: n/a
Local authority: London Borough of Lewisham
Units: 148
Despite its idyllic name, this ambitious inner-city scheme openly celebrates its hard-edged industrial context. Existing warehouses and sheds are cut and remodelled into residential units to form a seamless urban streetscape of new-build and refurbishment. New buildings retain the character of the existing by expressing a solid, punched brickwork aesthetic. The industrial theme is maintained in the external works, with a series of yard-like gardens flowing between the new and refurbished buildings. The development also seeks to capture the vibrancy and animation of city life by being genuinely mixed-use. Some of the existing buildings have been converted for commercial and recreational uses in a committed attempt to increase footfall.
King's Cross Arthouse
Completed scheme
King's Cross, London
Architect: dRMM
Developer: Argent
Contractor: Kier
Local authority: London Borough of Camden
Units: 143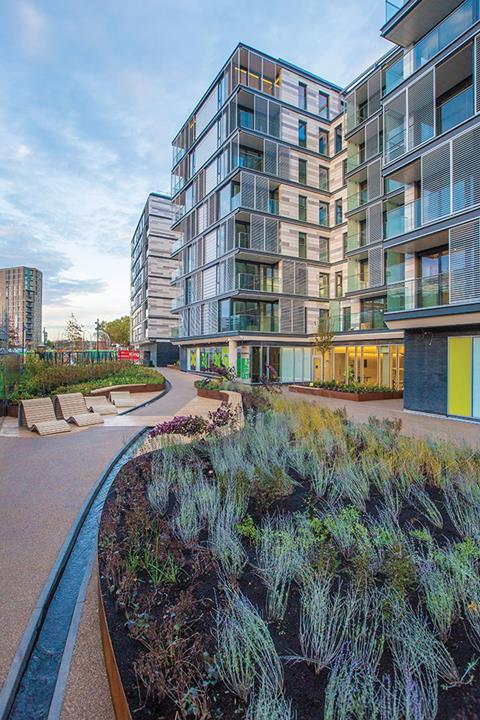 This quirky composition, part of the massive King's Cross regeneration, forms an imaginative rendition of a traditional piece of London modern vernacular, the slab block against the railway line. This particular project is squeezed not only by the tracks but by York Road on the other side, leaving a narrow strip of land for development. The design responds to these constraints by adopting some artfully fitful cladding to soften its bulk and cleverly weaving small courtyard spaces onto its footprint. The building is technically sophisticated too: its entire bulk rests on massive shock absorbers to minimise vibrations from the tube line below.
Royal Road
Completed scheme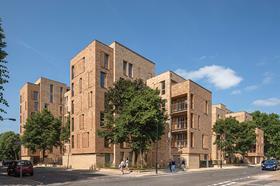 Kennington, London
Architect: Panter Hudspith
Developer: Affinity Sutton
Contractor: Higgins
Local authority: Southwark council
Units: 96
This social housing development provides accommodation for some of the residents decanted from the infamous Heygate estate at Elephant and Castle, which is being demolished and rebuilt. Conceptually, Royal Road represents an evolution of the ideas of stacked and staggered communal living that Panter Hudspith first experimented with in its Bear Lane development, also in Southwark. This time, elements of the block are pulled out like drawers to create some triple-aspect units and a highly modulated facade. This theme of hyper-articulation is further expressed by the variety of perforations cut into the brickwork. One innovative feature is the use of personal raised-access decks dedicated to single flats.
Young Street
Private rental sector award
Kensington, London
Architect: Assael
Developer: Grainger PLC
Contractor: n/a
Local authority: Royal Borough of Kensington & Chelsea
Units: 53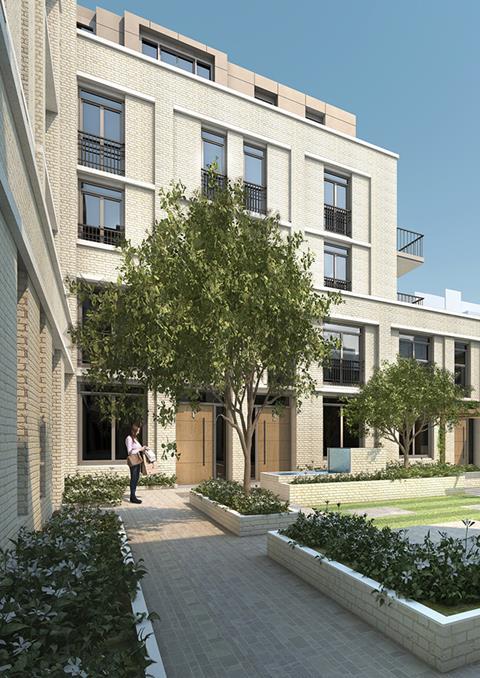 The winner of this year's inaugural Private Rental Sector (PRS) award is an example of a housing type that some are keen to grow as an answer to the affordable housing crisis. This development has many of the amenities associated with the more exclusive end of the market, including a concierge and private cinema. As the market seeks to expand, the challenge with this and other PRS schemes will be to deliver the kind of specifications that makes the rents affordable while maintaining the space standards in the London Housing Design Guide.
Mint Street
Completed scheme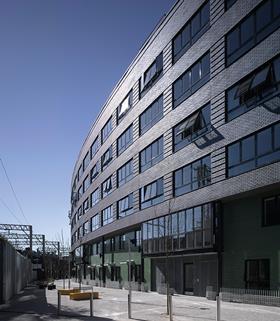 Bethnal Green, London
Architect: Pitman Tozer
Developer: Peabody
Contractor: Galliford Try
Local authority: London Borough of Tower Hamlets
Units: 67
Mint Street is another innovative response to a tight urban site bounded by a railway line. Here, noise as well as space is the issue, with the building's position at a prominent curve along the track where turning carriages creates intense screeching. The result is the deployment of winter gardens along the railway facade to provide a secondary glazing buffer and high acoustic performance walls and windows throughout - measures that have been successful in virtually eliminating noise when within the flats. Flats are also dual aspect and are stacked above ground-floor maisonettes available for social rent. In a city stricken by unattainably high house prices, Mint Street's private properties are also a relatively rare example of affordable inner-city housing.
Non- London winners
Bath Western Riverside
Completed scheme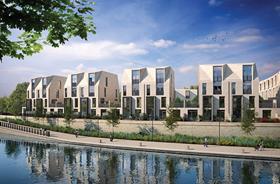 Bath, Somerset
Architect: Alison Brooks
Developer: Crest Nicholson
Contractor: Crest Nicholson
Local authority: Bath & North East Somerset council
Units: 26
Part of the overall Bath Riverside masterplan, Bath Western Riverside is a bold break from the more conservative Georgian-inspired architecture present in much of the scheme. Located on a prominent riverside plot, the development is also within a Unesco World Heritage Site and thereby subject to all of the onerous conservation requirements this entails. Nevertheless, the design is still bravely contemporary, with its series of sculpted and folding Bath stone facades forming a dynamic reinterpretation of the traditional townhouse and provoking a stark reassessment
of the city's signature construction material. The scheme also marks a significant footnote in flood-defence design: all accommodation is above ground floor level with garages and non-habitable rooms generally occupying the spaces below.
Bath Riverside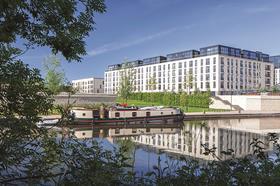 Proposed scheme
Bath, Somerset
Architect: Fielden Clegg Bradley / Holder Mathias
Developer: Crest Nicholson
Contractor: Crest Nicholson
Local authority: Bath & North East Somerset council
Units: 299
This benchmark housing scheme for the west of England seeks to reinvigorate a tranquil stretch of the River Avon by introducing housing and a well-crafted public realm. Taking the controlled orthogonal repetition of Georgian architecture as its cue, this series of stately stone blocks provides a reassuringly solid foil to the site's rich natural landscape. A lively and enigmatic public art scheme also sees bronze slow worms and centurions' helmets carved into walls and paving to express the site's heritage and lush riverside context.
Hanham Hall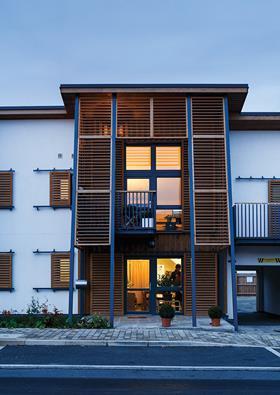 Completed scheme
Bristol
Architect: HTA
Developer: Barratt
Contractor: Barratt
Local authority: South Gloucestershire
Units: 185
This landmark development is the first large-scale housing scheme in England to be fully zero-carbon. Properties are designed like shaded pavilions with a large amount of shuttered timber screens providing shade for balconies, generous verandas and windows while still maximising daylight and views. Homes are generally 10% larger than equivalent market housing.
Doorstep Green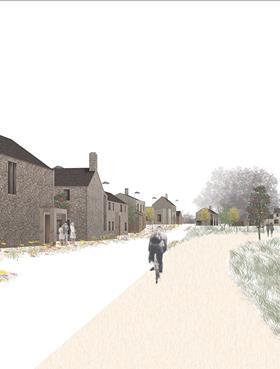 Proposed scheme
Humberton, Lincolnshire
Architect: Jonathan Hendry
Developer: Cyden Homes
Contractor: n/a
Local authority: North East Lincolnshire council
Units: 121
Incredibly, golf courses in England are allocated twice as much rural land as housing. In the absence of a UK golf crisis as acute as that suffered by housing, many may surmise that this does not represent the most efficient distribution of land. Doorstep Green attempts to redress the balance by converting a golf course into homes. There are two significant design features of this scheme: the porosity of its masterplan and the imaginative array of house types created, largely around the farmhouse aesthetic. Houses are cleverly situated along the boundary to maximise views out onto the countryside and routes, and throughout the scheme the layout is aligned to optimise rural vistas. The prodigious array of house types includes cranked barns, farmhouses, cottages, terraces and long barns.
Pilgrim Gardens
Happi completed winner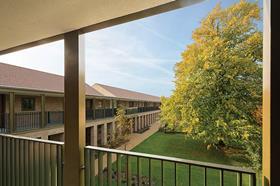 Leicester
Architect: PRP
Developer: Pilgrim Homes Trading
Contractor: Keepmoat
Local authority: Leicester council
Units: 31
This exceptional scheme represents the kind of housing quality the judging panel felt was once only possible in Europe but now, happily, is well established in the UK. This Christian extra care residential community provides assisted living accommodation for older people and once again demonstrates how the increasing adoption of HAPPI principles is forging housing schemes that maximise the regenerative power of natural light and a tranquil natural landscape. This development translates those principles into an architecture of elegance and simplicity, with its brick colonnade, upper gallery and sleek horizontal lines and massing providing an ecclesiastical sense of intimacy, communality and enclosure. Wide access decks, lush landscaping and floor-to-ceiling folding glazing help to complete what is an extraordinary residential enclave for elderly care.
Horsted Park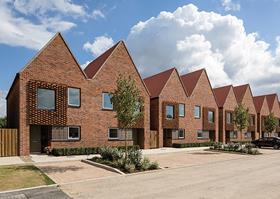 Richard Fielden Award
Chatham
Architect: Procter & Matthews
Developer: Countryside
Contractor: Countryside
Local authority: Medway Council
Units: 154
Once again Procter & Matthews' distinctive vernacular style breathes life into a large rural housing scheme. The design of this mixed-use, mixed-tenure scheme reads the grain and texture of local architecture before re-presenting it in a sympathetic yet coolly contemporary way. Innovative brickwork patterning and building forms inspired by the simplicity of local barns and farmhouses are recurring themes. Two other elements impressed the judging panel: some imaginative house types, some of which included triple -aspect glazed dining rooms. And the porosity of the masterplan layout which once again maximises views out towards the surrounding countryside even from the centre of the development.