The Olympics may be over but the capital still has plenty of exciting projects to fill the void. Here are the main development sectors and key projects
MAJOR MIXED-USE DEVELOPMENT
According to Mark Farmer, head of residential and regeneration at EC Harris, the prospects for large, mixed-use London schemes over the next few years look good. Crucially, he also maintains that it is residential rather than commercially-led regeneration schemes that will be most likely to progress. "The London residential market London has a completely different dynamic and demand structure to the rest of the UK. Despite the downturn one of main reasons London continues to perform well is the significant amount of foreign investment. Developers can advance big schemes because they have the confidence that they'll be able to secure pre-sale funding to de-risk their projects."
Farmer also identifies "prime or fringe of prime" sites such as Nine Elms, Vauxhall and increasingly Stratford as the areas where development is most likely to proceed. This is in marked contrast to areas like the Thames Gateway where the lack of infrastructure and the exposure to more national,
non-London market trends may continue to promote piecemeal rather than comprehensive regeneration.
However, Farmer maintains that London's sustained pace of regeneration may not necessarily resolve the capital's critical undersupply of affordable housing. "Regeneration requires huge infrastructure investment such as new roads and public transport. This may compel developers to recoup costs by cutting back on affordable housing." While Farmer predicts that central government's desperation to stimulate activity may render it more amenable to such a relaxation, he acknowledges that the mayor of London Boris Johnson is unlikely to sympathise.
Farmer also identifies "staggered and phased development" as the key to projects ensuring that projects remain deliverable through the recession. There may well also be greater emphasis on the "tools required to sell the vision" such as placemaking and public spaces.
Battersea, Nine Elms & Vauxhall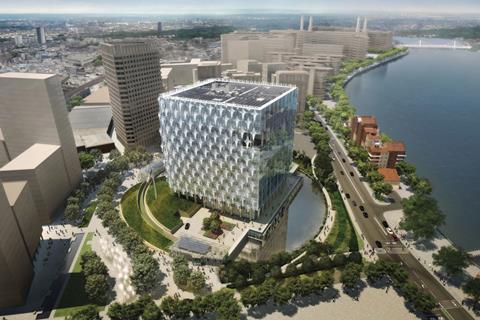 This vast stretch of prime, undeveloped riverside land recently received two significant boosts. The £620m new American Embassy at Battersea gained planning permission and a Malaysian consortium paid £400m to buy the Battersea Power Station site and deliver the Rafael Viñoly-designed £8bn consented masterplan. Phase One is set to be submitted for planning and if approved, could be complete by 2015. There is still ample room for scepticism here: Battersea Power Station has had more new beginnings than the England football team. However, these two recent developments arguably represent the best opportunity to finally regenerate the sprawling 450 acre site in a generation. The Battersea Power Station scheme will provide 3,500 homes, a park, leisure and retail amenities, up to 25,000 jobs and potentially, an extension to the Northern Line.
Earl's Court
The scheme that is said to be London's biggest new construction project since the Olympics received planning permission last month. Terry Farrell's gigantic 77 acre, £8bn masterplan for the redevelopment of Earl's Court and West Kensington will create 11.4 million ft2 of mixed uses including 7,583 homes, a 5 acre park, retail, leisure and hotel amenities, a school and, according to Hammersmith & Fulham council, 35,000 construction jobs over 20 years. The proposed demolition of the iconic Earl's Court Exhibition Centre and some local housing estates has sparked controversy. Nevertheless construction of the £300m first phase which will provide 800 homes is expected to start next year.
Elephant & Castle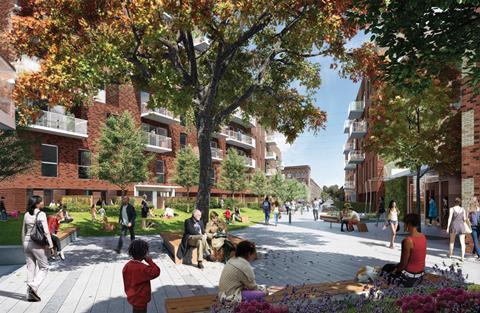 There is only one other major London project that can match Battersea Power Station for the skilful precision with which it has consistently evaded regeneration: Elephant & Castle. But here too, the tide is about to turn. Last month Lend Lease submitted a planning application for the £1.5bn transformation of arguably the capital's most famous eyesore back into what was once known as the "Piccadilly of south London". Two thousand eight hundred homes, 5,000 jobs and central London's biggest new park for 70 years are planned in a 15-year scheme that even attracted unlikely praise from former US president Bill Clinton. If planning permission is won by the end of this year, the first phase, which involves 235 new homes on the partially demolished Heygate Estate, could be complete by 2015.
King's Cross Central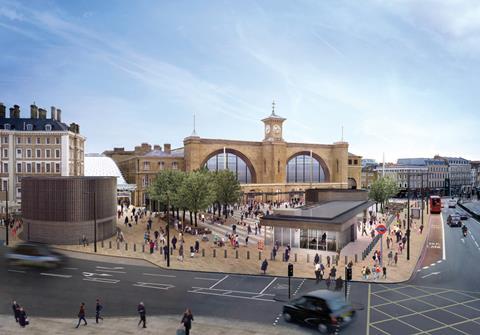 After years of planning, one of Europe's biggest regeneration projects is starting to take shape. Argent's £2bn, 67 acre King's Cross Central scheme will eventually provide 8 million ft2 of mixed-use space, including 2,000 homes, when it is finally complete in 2020. In the meantime the project has been split into around 60 plots which are being developed incrementally. This year the new University of the Arts London campus, King's Cross Station concourse and Granary Square have already opened at the southern end of the site. Next year will see the completion of residential and student schemes by Maccreanor Lavington, dRMM, and Glenn Howells, a 100m2 office development by David Chipperfield, the refurbishment of the Great Northern Hotel and the opening of the new King's Cross Square on Euston Road (right). Further office schemes by Bennetts Associates, Allies and Morrison and French practice Wilmotte will follow in 2014 and 2015.
TRANSPORT & INFRASTRUCTURE
Next year London Underground, the world's oldest tube network, will celebrate its 150th birthday and this serves as a convenient metaphor for a transport sector that is likely to undergo substantial expansion in the years to come. It is also one of the few sectors that can look forward to retaining significant levels of public investment despite the downturn.
Mathew Riley, head of infrastructure, industries and utilities, at EC Harris, says: "The government sees transport and infrastructure projects as key economic drivers to stimulate inward investment. This will sustain several key projects across the capital over the next five to ten years."
Both rail and tube upgrade programmes will continue with the renewal of several tube and train stations across the capital. The final south London segment of the London Overground network opens this December giving London its first orbital railway. The DLR continues to spread its tentacles with extensions to Dagenham Dock and, incredibly, St Pancras and Victoria are under consideration. Although the airport expansion debate promises to be bitter and protracted, its outcome will have a huge impact on the capital's built environment. Although by no means the most glamorous piece of infrastructure, construction of the £4.1bn Thames Tideway Tunnel or Thames Super Sewer is under way and will mark the biggest expansion of sewer capacity since Victorian times when it finishes in 2023. However, doubts remain, over the fate of the much needed East London River Crossing.
Crossrail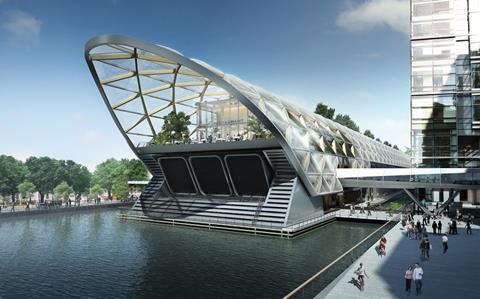 Although Europe's biggest engineering project is not scheduled to finish until 2018, 2015 will mark the completion of its first station, Canary Wharf (left). In total the 73 mile, £16bn network will link 37 new stations, eight of them underground and provide additional capacity for 200 million commuters. There is unlikely to be any major tube expansion before Crossrail is complete and sadly Crossrail 2, the long anticipated and desperately needed new route between Hackney and Chelsea, is unlikely to start until HS2 has finished, should HS2 proceed.
London Gateway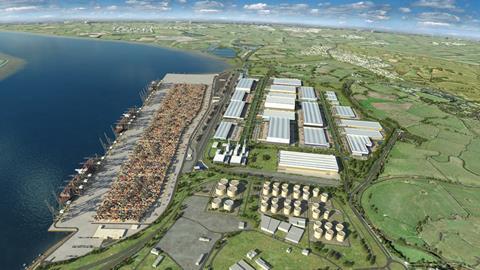 Although technically in Essex, the £1.5bn London Gateway will have an enormous impact on London's economy and shipping infrastructure. When complete London's "super-port" will contain the UK's largest deep port and Europe's biggest logistics park. Construction of the first phase began in 2010 as a joint venture between Laing O'Rourke and Dredging International for developer Dubai Ports World. Completion is expected in the second half of the next decade.
Greenwich Cruise Terminal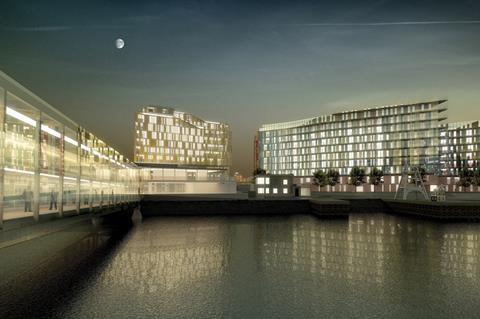 Later this year work is due to start on one of the more exotic elements of London's transport infrastructure, the capital's first cruise liner terminal. The terminal will be built on the Enderby Wharf site between the Millennium Dome and the Old Royal Naval College and will be part of a regeneration scheme that will deliver 770 homes and a 251-bed hotel. The terminal has been designed by Ian Simpson and at any one time will be able to accommodate a single cruise ship up to 240m long, almost the length of the Titanic. Developer West Properties estimates that the terminal could serve up to 100 ships a year from which 40,000 tourists could disembark annually. Construction will not be complete until 2017 although the first ships could be docking by 2014.
Mainline Station Upgrades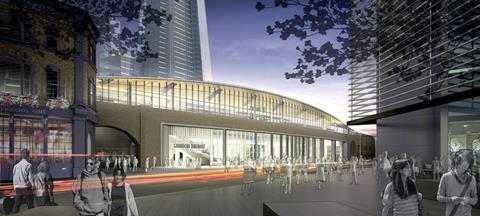 The Shard isn't the only major development at London Bridge, by summer 2018 the station, the world's oldest railway terminus, will have been transformed (above). By this point the £400m development would have provided new platforms, new entrances, 66% more space and the UK's largest concourse. A £600m scheme submitted for planning earlier this year could lead to the creation of a 10,000ft2 square in front of Waterloo Station and the resuscitation of its former Eurostar platforms if approved. Land Securities and KPF's controversial and twice rejected £1.1bn Victoria Transport Interchange project is set to provide 2.5ha and 1.5 million ft2 of shops, offices and flats beside the terminus when it completes in 2018. And while the reviled Euston's much anticipated demolition has been delayed by HS2 consultation, Grimshaw and Arup have been appointed to progress plans for its complete redevelopment.
TALL BUILDINGS
Last year architect Ken Shuttleworth controversially predicted that the age of the iconic skyscraper was dead. The recession has stalled several high-rise projects across London including 100 Bishopsgate, where main construction will not start until a tenant has been found and the Pinnacle where chronic funding issues could mean that work on the the tower is delayed for the foreseeable future.
For Shuttleworth and many others it is the high cost of skyscraper construction that irreparably harms their economic viability in these straitened times. While acknowledging the iconic value of key recent projects like the Shard and the Gherkin, Steve Watts, head of the tall buildings commercial sector at Aecom, also predicts that "London is now in a new development phase with an emphasis on elegant but rational forms - the savings from which can be invested in a combination of more competitive rents and better internal spaces. If we can spend less on the structure and facades without compromising quality, why not direct some of these savings into comfortable, flexible and interesting environments?" He also maintains that London can "accommodate only so many icons and the challenge remains to make the rest of the building stock effective, and to extract value out of existing buildings".
While a post-Olympic London therefore may be faced with fewer skyscrapers than have been proposed in recent years, the controversy surrounding their strategic impact will inevitably remain. Several architects, including Zaha Hadid and David Chipperfield, have long called for the adoption of a more co-ordinated vision of what London's skyline should look like. And in 2002 a report by the LSE's widely respected Cities Programme for property investors Development Securities concluded that "negative and erratic planning" had contributed to the capital's "messy skyline" and that a "detailed and co-ordinated" tall buildings approach is required to secure the "success of London's architectural future". Sadly, a post-Olympic future finds us no closer to this goal.
Vauxhall Tower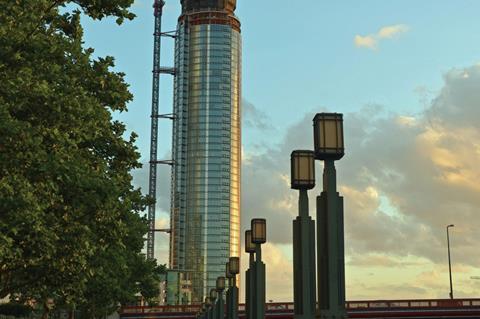 Quite how a development as universally ridiculed as St George's Wharf could contrive so successful a means to sustain derision in perpetuity is an engineering feat in itself. Despite its complete lack of architectural merit and the visual devastation it has already wreaked on the townscape of swathes of south and central London, Berkeley Homes and Broadway Malyan's 49-storey, 181m high surgical cylinder will be the UK's tallest residential tower and symbolises, albeit comically, the wider regeneration of the Vauxhall and Nine Elms regeneration area.
Leadenhall Tower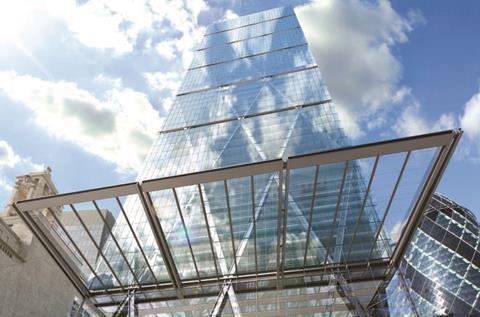 If you discount the superfluous spire stuck on the top of Heron Tower, Richard Rogers' 47-storey 224m skyscraper will be the tallest in the City when it opens in 2014. It is also the first skyscraper contractor Laing O'Rourke has built. While its distinctive wedge-shaped form was devised to avoid incursion onto protected St Paul's sightlines, it was also presumably effective in helping the tower evade the public inquiry imposed on most London high-rises over the past decade. One third of the tower has been pre-let to US insurance broker Aon.
Heron Plaza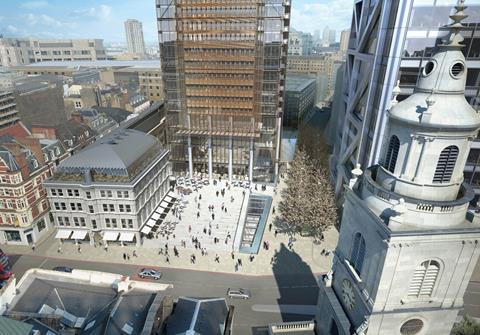 The City of London's first major purpose-built luxury hotel for generations and its first ever skyscraper hotel will assume the copper-clad form of the £500m Heron Plaza. As well as providing 190 hotel suites, the 135m tall, 43-storey tower will also incorporate 120 flats when it opens in 2015. The architect and developer team, PLP and Heron International, is the same as that of the Heron Tower next door. While its construction required the demolition of a fine twenties block and courtyard, a hotel and residential development of this scale marks a major departure for the commercially obsessed City.
20 Fenchurch Street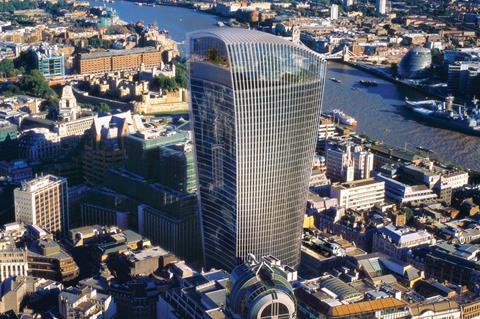 Even in a city as familiar with tall building controversy as London, skyscrapers have rarely been more divisive than Rafael Viñoly's 160m Walkie-Talkie. It led ex-RIBA president George Ferguson to dub its architect a "major menace to London" and also pressed UNESCO into threatening to strip the nearby Tower of London of World Heritage Status. Nonetheless construction of Land Securities' 38-storey tower is proceeding apace and it is set to open in 2014. While its roof-top sky garden promises to offer a spectacular and unique new space to the public, its overbearing visual assault on the City of London is symptomatic of design and planning failure on a cataclysmic scale.
SPORT INFRASTRUCTURE
The Olympics Games may be pitched as the greatest show on Earth, but London has plenty of big sporting events to look forward to over the next few years. The next major international sporting competition to be held at the Olympic park will be the European Hockey Championships in 2015, soon to be followed by the 2017 World Athletics Championships, the world's biggest athletics competition after the Olympics. Anybody who remembers the humiliating fiasco of London's last doomed candidacy for the 2005 World Athletics Championship, where inadequate site facilities forced us to forfeit our winning bid to Helsinki, will appreciate just how far London has progressed as a serious sporting host. With a capacity of 82,000, Twickenham Rugby Ground, the UK's second largest stadium after Wembley, will play host to the Rugby World Cup in 2015. And UEFA was so impressed with Wembley's logistical and commercial performance at this year's Champions League Final that they decided to hold next year's there as well. And Wembley may also host the finals of Euro 2020, should favourites Turkey's withdrawal compel England to bid. In fact, football is the sport that will arguably have the biggest impact on urban development in London over the next few years with big Premiership clubs like Tottenham and Chelsea looking to emulate the success of Arsenal's Emirates Stadium and develop their existing grounds or acquire new ones.
Olympic stadium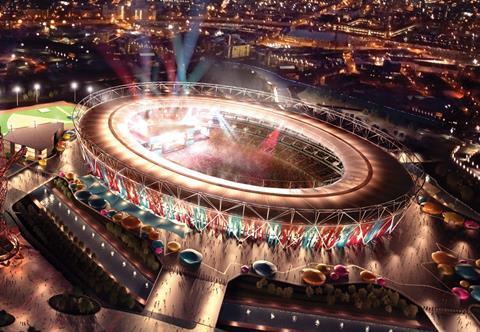 The fiasco surrounding the as yet undecided conversion of the Olympic stadium is a pertinent lesson in the manifest perils of not fixing the post-Games legacy of major sporting venues well before construction has even begun. West Ham FC's previously successful bid (above) still makes the most convincing economic and usage case, even if further public money may be required to convert it into an effective multi-purpose venue. While history shows that most Olympic stadiums traditionally end up as abandoned inconveniences after the games, London 2012's pronounced emphasis on legacy and regeneration means that we cannot afford the luxury of failure. The London Legacy Development Corporation will decide the stadium's fate later this month.
Olympic park venues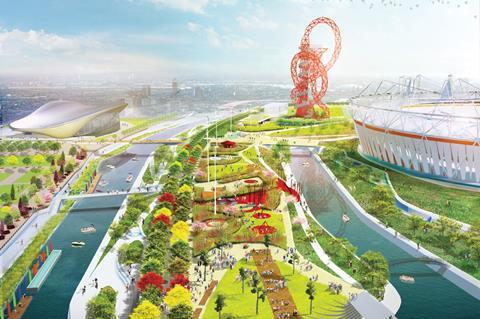 The next few years will see a sustained period of reopening for several of the Olympic park's permanent venues. Next summer the handball arena will reopen as a multi-use arena catering to a wide array of sports ranging from basketball to judo. The Lea Valley velopark will open as a state-of-the art cycling facility in December 2013 with the velodrome as the centrepiece of a circuit featuring road cycling and mountain bike trails. Early 2014 will see the opening of the Lea Valley hockey and tennis centres providing new indoor training facilities. And in the summer of the same year the aquatics centre will reopen to public use by which point its clumsy spectator wings would have been thankfully consigned to history. The Olympic park itself will re-open in two stages - north park next July and south park (below) in 2014.
Club football redevelopment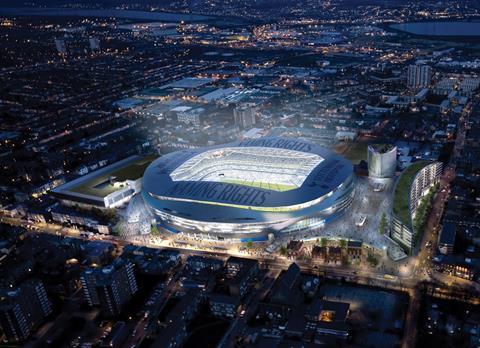 Chelsea FC's recent failure to acquire Battersea Power Station is unlikely to stop the club's super-rich owners looking for a new site in the area, especially as the constraints on major development at their existing Stamford Bridge Ground are so acute. Chelsea's eventual solution will inevitably have a major impact on the built environment surrounding the selected site. Now that Tottenham Hotspur's inexplicable obsession with the Olympic stadium appears to have subsided and they have finally seen the sense of pressing ahead with their massive 40ha, £400m Northumberland Park project (below).
Not only will this involve the transformation of their White Hart Lane Stadium into a 60,000 capacity ground to match that of local rivals Arsenal by 2016, it will also create hundreds of new homes and make a seismic contribution to the much-needed regeneration of Tottenham.
CULTURAL PROJECTS
The onset of National Lottery funding in 1994 has meant that the last 20 years have been a boom time for cultural projects in London and across the country. Gone are the days when art galleries and museums were seen as the preserve of the elite. Tate Modern, by far the world's most visited modern art gallery, proved conclusively that the arts could be as effective a driver of regeneration as commerce. Public funding cuts inevitably mean that in the immediate future at least, there will be less evidence of the expensive, showpiece projects of recent years such as the British Museum Great Court and the Tate Modern itself. But the sector still promises to sustain a significant amount of construction activity in the short term and applications to the Arts Council's capital investment programme from the likes of the Royal Opera House, National Theatre and South Bank, indicate that several major London venues are still planning significant renewal and refurbishment works over the next few years.
Design Museum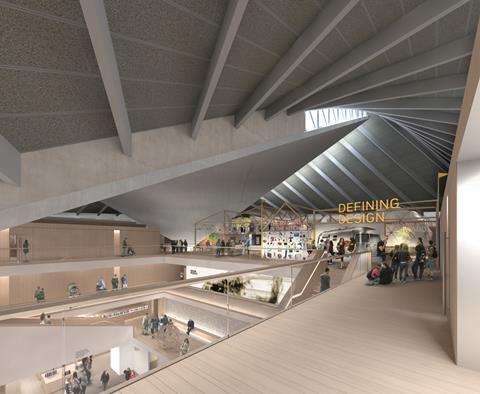 Arguably the most ambitious of London's upcoming cultural projects, the new £80m Design Museum is set to move from its current premises by Tower Bridge into the converted former Commonwealth Institute in Kensington in 2015. Much of the institute's original 1962 RMJM-designed structure, chiefly its soaring parabolic roof, will be retained and reworked by architect John Pawson after 10 years lying empty. The new building will provide three times more space than the museum's ground breaking but remote present building in Shad Thames and will considerably enhance its civic profile.
Victoria & Albert Museum Extension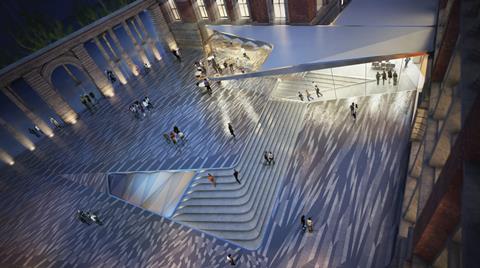 Construction will begin next year on Amanda Levete Architects' £41m competition-winning extension to the V&A. Less radical than Daniel's Libeskind's doomed Spiral extension, its primarily subterranean accommodation also makes it considerably less contentious. The scheme will also feature a new public courtyard and forms a key component in the museum's evolving spatial relationship with the adjacent and recently part-pedestrianised Exhibition Road. Completion is scheduled for 2016.
British Museum Extension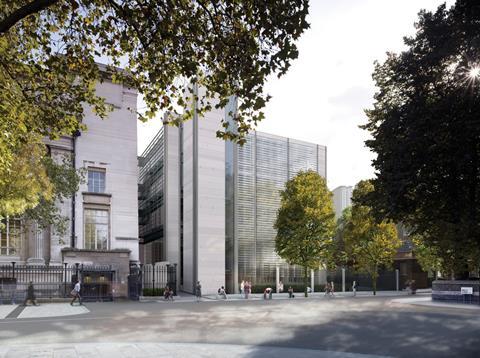 While Richard Rogers' £135m British Museum Extension is unlikely to capture the public imagination in the manner of Norman Foster's spectacular Great Court 12 years ago, the new World Conservations and Exhibitions wing marks a major expansion to the world's third most visited museum. Initially rejected by Camden council for excessive scale and bulk, the approved scheme sank 20% of its accommodation underground. When it opens in late 2013 it will provide new research, logistics and gallery spaces in a series of pavilions to the west of the main building.
Tate Modern Extension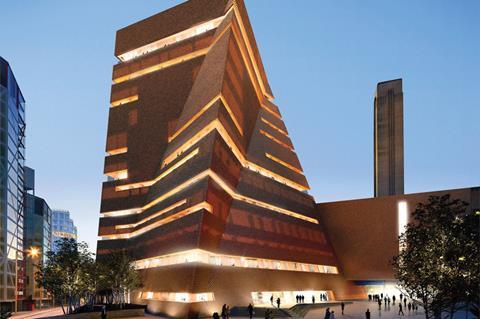 Such was the success of Herzog and de Meuron's seminal conversion of Bankside Power Station in 2000 that they were invited back to design an extension behind the main block. However, the distinctive pyramidal ziggurat has not had quite the easy ride of its predecessor; the original approved scheme featured a translucent, tapering stack of boxes and was scheduled to open in time for the Olympics. The more rationalised form and material (brickwork) of the current £215m design will eventually offer the Tate 60% more space and doubtless consolidate its position as a hotbed of radical avant-garde design. Although the building is not scheduled to open until 2016, its first phase, featuring new exhibition and performance space in converted former underground oil tanks, opened this summer.