Far from the Olympic aquatics centre, the first of Zaha Hadid's big UK projects is complete. Building reviews her dramatic and somewhat psychedelic transport museum in Glasgow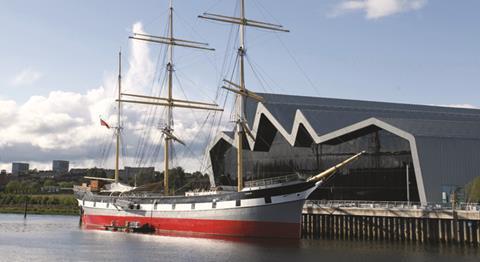 Zaha Hadid's £74m Glasgow Riverside Transport Museum is now complete. Although Hadid has designed other buildings in the UK, including the Evelyn Grace Academy in south London and a Maggie's Centre in Falkirk, this is her first major British commission and it precedes the much-anticipated opening of her London 2012 Olympics aquatics centre later this year.
The museum is located in a former shipyard on the banks of the famous River Clyde and its architecture draws direct inspiration from the rich industrial heritage this dramatic naval setting provides. The facade facing the water is the museum's most distinctive external feature. A glazed curtain wall is encased within a thick steel frame. While the walls of the frame are perpendicular to the ground, its roof profile explodes into a jagged, asymmetrical ripple of pleated zig-zags and plunging crevices. It is a dramatic yet cryptic gesture and instantly recalls a whole range of surreal metaphors, ranging from an overturned ship-hull to a mechanical wave to a reactionary, new-age church.
From the air, the roofscape also casts a faintly geological presence, like a grooved terrain scorched into the riverbank.
Away from the waterfront the building assumes a more serene aspect with its elegant, gliding curved steel walls. Further surprises await inside, where the robust precision of the steel exterior is abandoned in favour of a riotous orgy of luminous green shades. Motorbikes, locomotives, omnibuses and motor-cars are suspended in a psychedelic, lime-drenched dreamscape of swirling ceilings and overhead strip-lighting.
But, despite the playful melodrama of the vivid interiors, the full-height glazing on the principal facade draws visitor's gazes from the interior out to
the views of the River Clyde. Appropriately, these anchor the museum to its context and provide a constant reminder of the site's strong industrial origins and Glasgow's proud ship-building past.
Project team
client Glasgow council
architect Zaha Hadid Architects
main contractor Bam
structural and services engineer Buro Happold
cladding contractor Varla
structural steel Watson Steel Structures
project manager and QS Capita Symonds