The Building Awards shortlist for Sustainability Project of the Year highlights some exceptional schemes that have innovation at their core and keep a responsible eye on the future. Ike Ijeh takes a sneak peek
The Enterprise Centre, University of East Anglia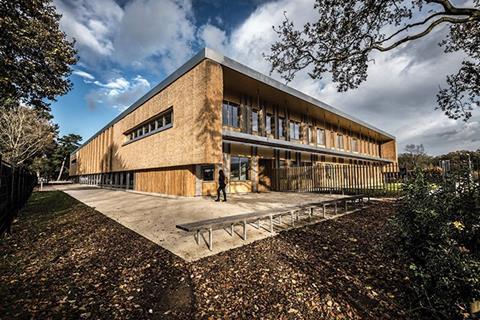 Norwich, Norfolk
Architect: Architype
Client: Adapt and University of East Anglia
Contractor: Morgan Sindall
Submitted by: Morgan Sindall
This landmark building notches up at least two groundbreaking firsts. It is the first building in the UK to be wrapped in thatched timber cassettes, thereby innovatively combining traditional construction with modern technology. It is also the first building in the world to use Thetford Corsican Pine in its timber frame.
As well as these achievements, the project achieved the relatively rare accolade of being awarded BREEAM "outstanding" and Passivhaus dual certification. Its use of low-carbon concrete and dedicated "fabric first" approach also helped the building achieve an industry-leading air test result of 0.31 air changes per hour, below half of the Passivhaus requirement @50Pa, and reduce carbon emissions by 75% in comparison with conventionally built higher education buildings. The Enterprise Centre also adopted an enlightened approach to social sustainability and enterprise, as the build process helped educate over 300 SMEs and also introduced thatch-making skills to a new generation of young apprentices, ensuring the continuation of a much-loved traditional building vernacular.
GSK Compliance Building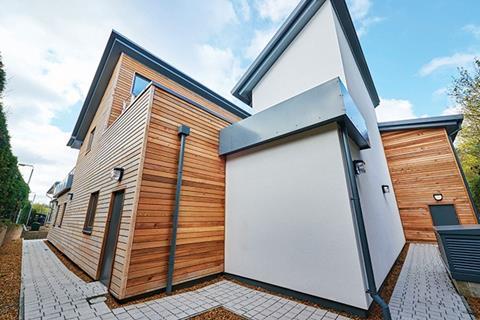 Ware, Hertfordshire
Architect: Simons Design
Client: GlaxoSmithKline
Contractor: Simons Construction
Submitted by: Simons Group
This project asks a simple question: can a pharmaceutical facility with all its attendant heavy plant and servicing requirements ever achieve carbon neutrality? On the basis of GlaxoSmithKline's (GSK) new operational base in Hertfordshire, the answer is a resounding yes. Moreover, not only is the new building carbon neutral but it releases 17 tonnes less CO2 per year than a conventionally designed pharmaceuticals building of a similar size and its construction phase also released 1,000 tonnes less CO2 than a standard build. The design is based on four years of theoretical research by Simons and GSK, which has led to such design features as an off-site manufactured highly insulated timber frame envelope comprising Hempcrete, glulam and CLT, passive solar heating, improved airtightness, a CHP plant and 200m2 of solar panels providing twice the annual energy the building needs, thus allowing the remainder to be fed back to the grid. Despite being located in temperate southern England, the building has also been designed to withstand heatwave weather that could severely compromise the temperature and humidity conditions required for the storage of pharmaceutical samples.
Keynsham Civic Centre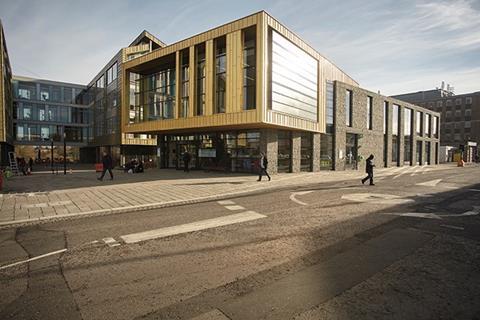 Keynsham, Somerset
Architect: AHR
Client: Bath and North East Somerset council
Contractor: Willmott Dixon
Submitted by: Max Fordham (environmental engineer)
This pioneering office building is virtually zero carbon, achieving an impressive EPC rating of 5, equivalent to 2.85kgCO2/m2. It is also on target to achieve a DEC A score at the end of its second full year of operation. A number of innovative sustainable design features enable the building to attain these high standards. It utilises a hybrid cross-laminated timber frame. It harnesses high quality, low maintenance natural materials and cladding such as solid oak flooring and the standing seam brass that makes such a distinctive visual impact externally. Despite its noisy town centre location, it offers full natural ventilation. And it adopts a committed "passive first" approach to the design. The project has also fully embraced the Soft Landings approach, with the contractor responsible for closely monitoring energy use over two years post-construction.
5 Broadgate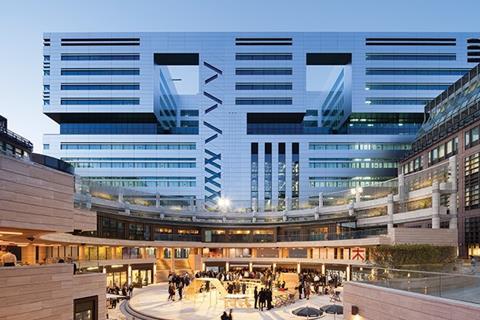 City of London
Architect: Make
Client: British Land
Contractor: Mace
Submitted by: Make
The bitter planning controversy that dogged this landmark development belies a remarkable environmental design ethos that has produced one of the most sustainable large office buildings in the country. Swiss investment firm UBS' biggest European HQ outside Switzerland houses 6,000 traders in 700,000ft2 of new office space spread over 12 floors. As London's biggest groundscraper, the building also conclusively rejects the high-rise typology – and all its associated environmental flaws – currently holding the City in thrall. The new HQ also rejects the glass curtain wall skin that is also the current default architectural response for City corporate buildings, instead opting for a super-insulated primarily solid envelope that drastically reduces solar gain and helps the building to be almost 50% more energy efficient than Part L of the UK Building Regulations require. The BREEAM "excellent" score of 84.6% also puts 5 Broadgate in the top 10 BREEAM-rated office buildings in London and this, with the incorporation of environmentally-friendly features into almost every aspect of the design, enables the design team to describe it as a "quantum leap forward" in office building design.
Centre for Medicine, University of Leicester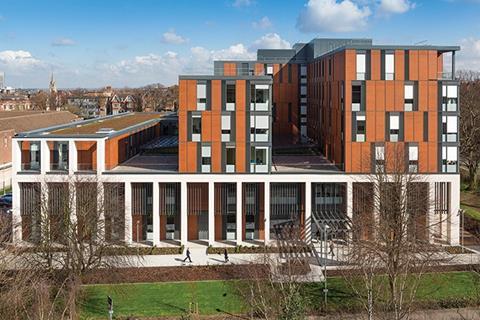 Leicester, Leicestershire
Architect: Associated Architects
Client: University of Leicester
Contractor: Willmott Dixon
Submitted by: Willmott Dixon
The University of Leicester's new £42m Centre for Medicine is the UK's largest non-residential Passivhaus building. It provides 12,836m2 of office, lab and teaching space spread over six floors within twin, podium-linked tower blocks. The building has also achieved BREEAM "excellent" and EPC A-rated dual certification, due to a remarkable collection of pioneering environmental design features. Its highly insulated envelope provides impressive U-values of 0.13W/m2K and air permeability of less than 1m3/m2/hr@50Pa. Intelligent systems also include a subsoil heat exchange system to pre-warm and pre-cool incoming air, heat recovery mechanisms within the ventilation system and automated blinds to keep rooms cool. Energy consumption is predicted at 80kWh/m2 per annum and a 150m2 photovoltaic array generates up to 300,000KWh of electricity annually. Finally a district energy scheme uses a low-carbon gas-fired CHP system and biomass boilers and has a green wall and roof planting.
Penarth Learning Community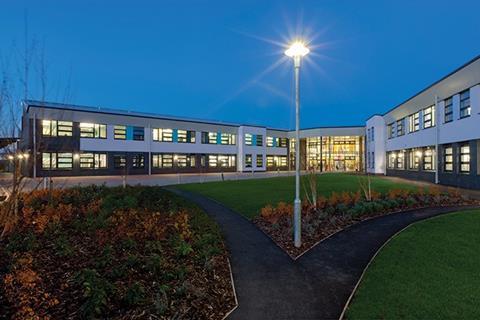 Penarth, South Glamorgan
Architect: HLM
Client: Vale of Glamorgan council
Contractor: Bouygues UK
Submitted by: HLM
The education sector may have access to smaller public funds than has been the case in the recent past but the Penarth Learning Community proves that this need be no barrier to achieving the highest standards of sustainable design. The development comprises a new mainstream secondary school as well as a special educational needs school and has been designed to deliver a flexible learning environment with a minimal environmental impact. To assist this strategy, a number of sustainable design features were incorporated such as reduced reliance on artificial lighting, natural ventilation, extensive shading devices to limit solar gain, an orientation-optimised facade and a SMART metering and BMS system. These measures have resulted in a CO2 emissions rating of 12.78kg CO2/m2 per year.
Bartholomew Barn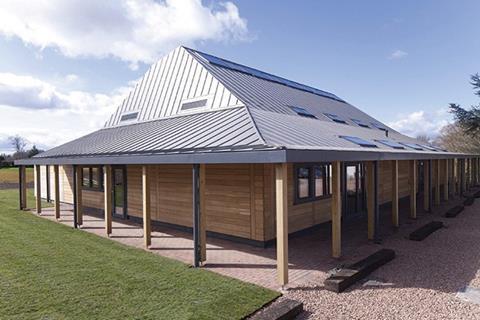 Worcester, Worcestershire
Architect: Associated Architects
Client: King's Hawford Junior School, The King's School
Contractor: Speller Metcalfe
Submitted by: Saint-Gobain (key consultant)
Measuring just 450m2 and costing only £1.2m, this charming little multipurpose hall may be one of the smallest finalists but what it lacks in size it more than makes up for in innovation. The timber post and truss-framed hall provides space for sports, assemblies, drama, music, dance and performance events for the King's Hawford Junior School, which makes up one third of the historic 475-year-old King's School Worcester. It is also the first building in the UK to utilise environmental consultant Saint-Gobain's radical Multicomfort design concept. This includes Passivhaus standards of energy use. The concept seeks to create designs that optimise four key comfort types: thermal, acoustic, air and visual. The intention is to promote a holistic sustainable design strategy that increases health and wellbeing in a manner that also protects the environment. This approach is unique because it stakes its environmental credentials not just on technical performance but also on end-user comfort, a refreshingly humanist approach to sustainability.
Land Rover BAR Americas Cup HQ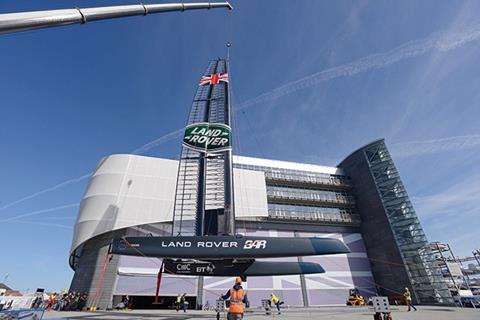 Portsmouth, Hampshire
Architect: HGP Architects
Client: Land Rover BAR
Contractor: Allied Developments
Submitted by: HGP Architects
The Americas Cup may be the most glamorous yacht race in the world but the new Portsmouth HQ of its British race team Land Rover Ben Ainslie Racing is built from a robust mixture of the practical and pioneering. The 6,874m2 28m tall purpose-built building provides office and training space for the crew as well as a vast triple-height workshops for boats to be built and repaired. Impressively the build took less than 18 months. Environmental features include 432 solar PV panels, which provide 130MWh per year, 100% renewable electricity, 15 separate building performance monitoring points and a 70% improvement in air permeability compared with Building Regulations, all of which contributed to the building's BREEAM "excellent" rating. The flagship building's redevelopment of a former dockyard site also delivers long-term sustainability in the form of committed urban regeneration.
Hub by Premier Inn Covent Garden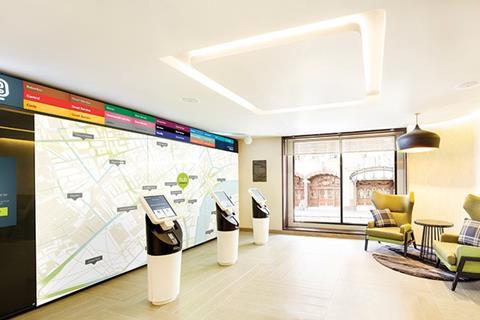 Covent Garden, London
Architect: Axiom
Client: Premier Inn
Contractor: McAleer & Rushe
Submitted by: TowerEight (project manager)
Budget hotel chain Premier Inn has developed a new brand of sustainability-conscious boutique hotels of which this Covent Garden branch is one of the newest and most pioneering examples. Hub Covent Garden is the only hotel in the UK to achieve BREEAM "outstanding" status. Hub's environmental aspirations are based on the "lean, clean and green" approach: it aims to use 30% less energy than required by Building Regulations, it employs only energy-efficient equipment and it uses 100% renewable energy. This is achieved by a variety of sustainable design initiatives being introduced in the hotel such as heat recovery technology to heat and cool guest rooms, a CHP plant supplemented by gas fired water heaters, insulated windows to reduce cooling requirement, 50% of the building's water requirement supplied by greywater, a biodiverse roof and a cycle store for guests. As a result, energy consumption is 20% less than at other Premier Inns, which will doubtless contribute to the chain's target to reduce energy consumption across its portfolio by 10% by 2020.
7 Air Street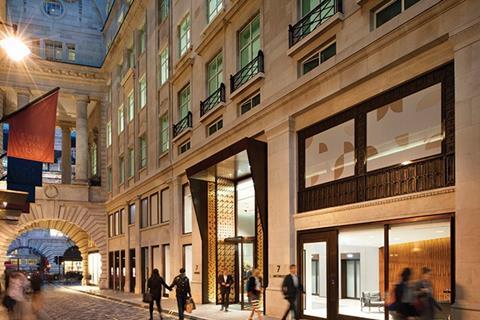 Soho, London
Architect: Barr Gazetas
Client: The Crown Estate
Contractor: Sisk Group
Submitted by: Aecom (services engineer)
This pioneering and prestigious development received the coveted accolade of being the first listed building with a BREEAM "outstanding" rating in the UK. This convincingly extends sustainability excellence into the historic buildings sector. The grade II-listed classical building was built in the 1920s as part of the extensive redevelopment of London's Regent Street. Its radical refurbishment involved the complex consolidation of two existing buildings behind retained facades as well as the rationalisation of floor heights. But it is the building's environmental achievements that set a new benchmark, saving 350 tonnes of carbon per year. Much of this has been done in the conventional manner, such as renewable energy sources, a biodiverse green roof and a new highly insulated envelope. But what is most interesting is the scheme's preoccupation with behavioural as well as physical change, with its radical adoption of green lease tenancies encouraging occupants to adopt energy saving practices. This establishes 7 Air Street as a national game-changer in the pursuit of a sustainable low-carbon future.