Commercial development in the City has had the shadow of Brexit looming over it for a year now. So were the doom-mongers right to say that voting to leave the EU would darken prospects for some of the biggest schemes? Ike Ijeh looks at five key projects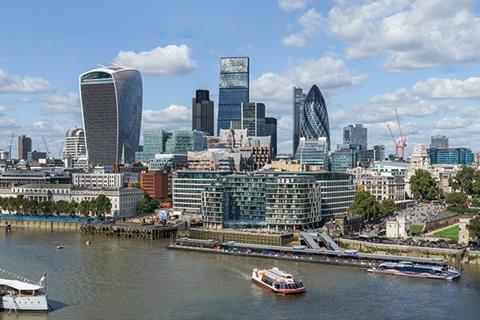 Just before the EU referendum last June, the view of a commercial construction market nervously awaiting the result of the vote was broadly summed up by Pierre Vaquier, chief executive of Axa, the French insurer co-financing the planned 22 Bishopsgate tower: "We have not launched the project, because we want to see the results of the Brexit vote, if the UK votes to leave the EU on 23 June, we will have to revisit all options."
The 22 Bishopsgate tower – which since construction of the current design began in January 2016 is the largest and tallest office block being built in the City of London – has been seen as something a bellwether for the health of the City's commercial market. So it caused some concern among commentators when the project was paused shortly before the referendum.
With its focus on global finance, the City of London's commercial sector is considerably less diverse than elsewhere in central London and this high level of specialisation leaves it more susceptible to fluctuations in the office market. Nonetheless, many feared the Brexit vote would cause the pattern witnessed at 22 Bishopsgate to be replicated at commercial sites across the capital. This concern was backed up by a report published by property agent Savills last autumn. The document warned that half of the planned developments in central London were likely to be postponed as a result of the vote to leave the EU and that the commercial development market would decline by 30-40% across the UK over the next five years.
And the unexpected hung parliament delivered by this month's general election potentially adds to the gloom. Richard Garner, head of the commercial agency and property consultant Daniel Watney, predicts that the current fractious political climate heralds a mixed future for London commercial property.
"I sense we are well and truly entrenched in inaction and uncertainty for the next four years. However, it might not yet prove to be all that bad. Investors will be delighted at any course of action that sees a softer Brexit and takes the London office market out of its no-man's land."
Notwithstanding the election result, is this Brexit "no-man's land" really as bleak as some predicted?
Keep calm and carry on
There has undoubtedly been caution about the future within a sector that, last June, had just recovered from the financial meltdown. Some commercial schemes in London have now been put on hold and construction of a number of speculative developments has been paused until their viability can be assured by a higher proportion of pre-let agreements.
And yet, many major schemes such as 21 Moorfields, 100 Bishopsgate and the Scalpel skyscraper are proceeding as planned. Construction of 22 Bishopsgate has not only restarted but is proceeding apace, with Vaquier striking a considerably more upbeat tone. "The decision to proceed underscores our confidence in the anticipated breadth of demand from local and global occupiers for easily accessible space in a prime location in the City of London."
A Savills spokesperson confirms Vaquier's optimism. Across central London, commercial occupancy rates are high, the volume of leasing has kept level with this time last year, the level of pre-let certainty in the City of London is higher than normal and relatively few developments have completely shifted from speculative to pre-let. The City of London planning authority has also confirmed that there has been no reduction in the volume of planning applications it has received for commercial projects.
So what effect has the Brexit vote had on London's overall commercial market? Has London's market weathered the storm? Or has any damage merely been delayed? In order to gauge the confidence across the central London commercial sector, we have picked a number of key commercial projects to see how they have fared in a city waiting for Brexit.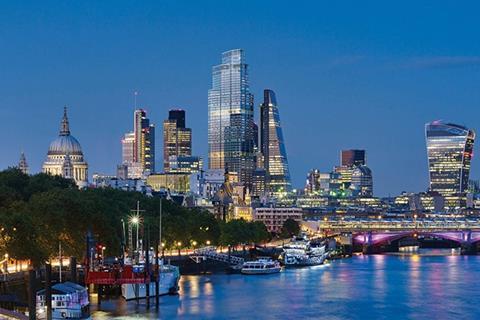 22 Bishopsgate
Status: Formerly paused, now under construction
Developer: Lipton Rogers Developments
Contractor: Multiplex
Architect: PLP
Value: £1.1bn
Area: 201,863m²
For a project first proposed over a decade ago and on which construction has now been stopped twice, Brexit is just one of the many hurdles that has beset the controversial 22 Bishopsgate tower. The first "Pinnacle" design was famously thwarted by the credit crunch after which its expensive, bespoke design became incompatible with prevailing commercial demands. The result was its unfinished eight-storey concrete core stump standing abandoned on the site for four years.
Eventually resuscitated with a more conventional design, the project then hit the buffers again when backer Axa and its consortium of international investors halted construction last summer due to post-referendum jitters. Even after Axa reaffirmed its commitment to the project and restarted construction last October, it was still embroiled in the strange saga of the tower's height being reduced via a new planning permission attributed by the developer to "changing economic conditions", only for the original height to be reinstated last month.
But tumultuous behind-the-scenes developments aside, it is impossible to overstate the symbolic significance of this scheme proceeding after the Brexit vote. As the tallest building under construction in the City, its survival was seen as a massive vote of confidence in London's post-Brexit commercial durability. Had the project been halted yet again, not only would it have been viewed as a totemic failure for City planning and commerce, but several commentators predicted it could also have unleashed a post-Brexit contagion of failing confidence across the City that could have seen many other smaller commercial schemes either scuppered or suspended.
But not everybody sees the decision to proceed with the tower as a good thing from a commercial point of view. Because 22 Bishopsgate provides a gigantic 2.1 million ft² of office space, it fuels worries that regardless of whether Brexit leads to a reduction of City office demand or not, its construction may lead to a glut of empty office space in the City when it completes at the end of the decade. According to Tom McCurley, partner in GM Real Estate: "We have been quite concerned about the risk of oversupply in 2019; some large projects being delayed isn't necessarily a bad thing."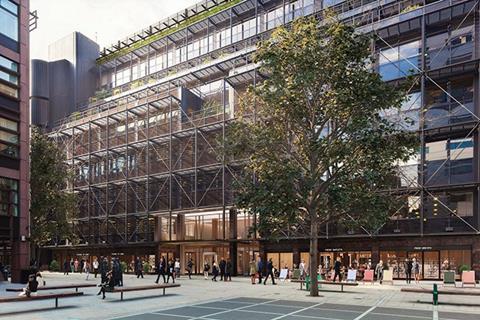 1 Finsbury Avenue
Status: Plans scaled back
Developer: British Land
Contractor: n/a
Architect: Arup Associates
Value: £102m
Area: 26,756m²
British Land, the UK's second biggest developer, has seen its fortunes fluctuate wildly since the Brexit vote. Last November it announced pre-tax profit up 16.4%. Weeks later it also started construction of its 46,452m² 100 Liverpool Street, a redevelopment of one of its signature Broadgate office blocks.
But at the same time as its profit announcement, the developer also revealed that the value of its properties had dropped 3% in the preceding six months and that it would be reviewing all its commercial developments. As a result, just last month it announced that it was cutting the amount of speculative development across its £14bn portfolio from 5% to 4%, a gesture interpreted as an attempt to shield itself from any prevailing economic uncertainty by increasing its proportion of pre-let development.
British Land's mixed fortunes and its potential vulnerability to Brexit are explained by the fact that it is particularly exposed to the commercial sector by its higher degree of investment in the central London office market.
And one scheme that exemplifies the commercial adjustments which prevailing market winds have demanded is its 1 Finsbury Avenue project.
Located on the northern edge of Broadgate, 1 Finsbury Avenue was originally built by Arup Associates in 1984 and currently provides a gross area of 43,664m² over six storeys. In 2015, British Land won planning permission to add another two floors and completely revamp the premises. However, after the November 2016 portfolio review, last month it was announced that the additional floors have been shelved and that the amount of dedicated office space has been slashed to just 26,756m². Former office spaces are now allocated for non-commercial uses such as retail and restaurants. As a result of the lower-cost refurbishment, the scheme is now expected to complete late next year rather than the original 2019 completion date.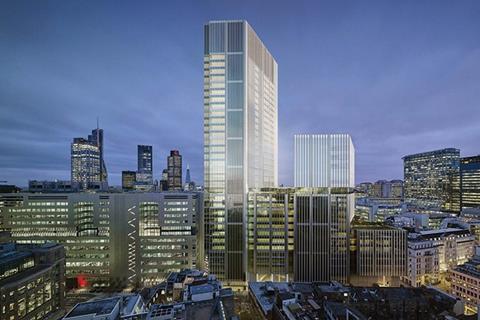 2-3 Finsbury Avenue
Status: On hold, awaiting pre-let
Developer: British Land
Contractor: n/a
Architect: Arup Associates
Value: n/a
Area: 62,000m²
1 Finsbury Avenue is not the only British Land scheme to feel the Brexit pinch – the much more ambitious plans for 2-3 Finsbury Avenue next door have also been affected. The original six-storey building was built by Peter Foggo Associates in 1984 as part of the very first wave of Broadgate redevelopment. Last October, British Land won planning permission to replace the building with a new Arup skyscraper rising to 32 storeys. The development was to comprise four tapered buildings providing 62,000m² of speculative office space and accommodation for around 5,000 workers. In addition, there was to be 4,000m² of retail space and a 1,300m² restaurant and public roof terrace on the tower's 13th floor.
However, in the very same month planning permission was awarded, British Land announced that the scheme was highly unlikely to start construction without a significant pre-let. This was in line with the post-Brexit review across the developer's portfolio that has sought to limit its exposure to speculative development and the uncertainties this entails.
"It's a different world post-Brexit vote", explained British Land chief executive Chris Grigg at the time. "Developers are being a bit more conservative in pressing the [go] button". At present, no start date for construction of the scheme has been announced.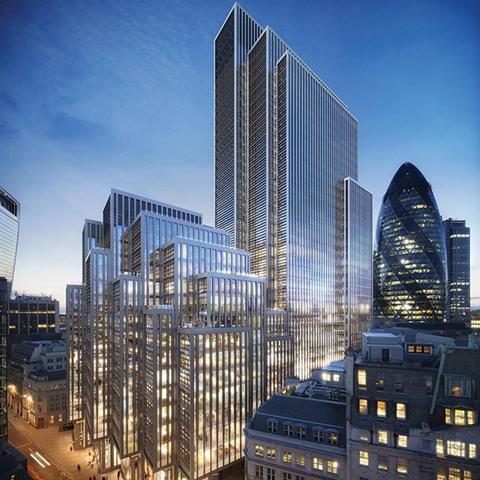 40 Leadenhall Street
Status: On hold, awaiting pre-let
Developer: TH Real Estate
Contractor: Mace
Architect: Make
Value: £1.5bn
Area: 910,000ft²
It is not just British Land that has reined in speculative development after the result of the EU referendum. Bishopsgate-based TH Real Estate may not be a household name but it is one of the world's biggest property investment managers. Yet it too has succumbed to the cooling winds blowing through the commercial property market. While its much-delayed 60-70 St Mary Axe scheme, otherwise known as the "Can of Ham", is now finally under construction after almost a decade of credit crunch-related delays, clouds of uncertainty now surround its largest London development just next door.
The tower at 40 Leadenhall is planned to be a 34-storey speculative office building designed by Make Architects and nicknamed "Gotham City". The scheme gained planning permission in 2014 with Mace appointed contractor the following year and construction expected to begin in 2016. However, just weeks after the Brexit vote, the scheme was put on hold and the developer announced that it would not be proceeding with construction until a sufficient amount of pre-let had been secured.
At the time, the developer insisted that "the business plan for the scheme has always included a pre-let element" and that "sentiment remains to progress the scheme." But TH Real Estate director of central London offices Nick Deacon also conceded that "the business plan hasn't changed but in reality, due to Brexit, it has just been elongated."
Yet in another twist, a press spokesperson for TH Real Estate insisted this month that the delay has "absolutely nothing to do with Brexit" and that the owners are currently seeking a "development partner as well as significant pre-let in line with their original plans for such a large-scale development".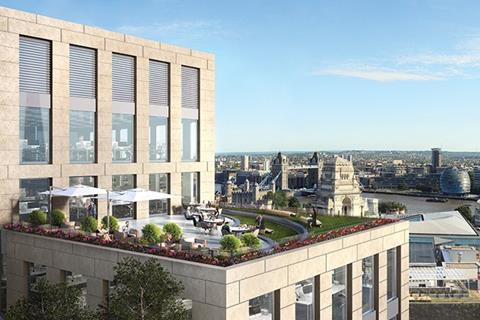 80 Fenchurch St
Status: On hold
Developer: Partners Group
Contractor: n/a
Architect: Foster + Partners / TP Bennett
Value: £200m
Area: 245,000ft²
Chances are you've never heard of 80 Fenchurch Street, a speculative office redevelopment on the eastern fringes of the City of London. And yet it potentially offers one of the clearest cases of a commercial casualty from the Brexit vote. Replacing a now demolished 1980s postmodern block, the proposals first gained planning permission in 2008 under a Foster + Partners scheme. But the global credit crunch meant the scheme, then owned by Irish developer Shieldpoint, went into receivership and the site remained undeveloped for several years before being sold to Swiss private equity firm Partners Group in 2015. The year before this, the Foster scheme had been revised by TP Bennett which now proposed a series of tiered terraces surmounting a 14-storey office block.
After the sale, the new owners demolished the existing buildings on the site and announced plans to start construction of the new development in early 2016, with an expected completion date of spring 2018. But at present, construction has not yet commenced and the project is essentially on hold.
A spokesperson for Partners Group declined to comment on the reasons why the development had stalled and was reluctant to specifically attribute them to Brexit. However, the timing of the delay, in line with reports that the speculative development had stalled due to the failure to find a tenant, chimes ominously with the post-Brexit experience of other developers who have insisted upon pre-lets before proceeding with construction.
At present, no new dates for construction start or completion have been announced. But the Partners Group spokesperson said that an announcement on the site's future would be "imminent".