The student panel is not too impressed with Anish Kapoor's controversial spiralling Olympic ArcelorMittal Orbit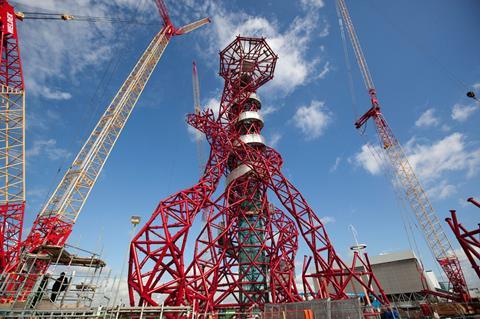 This is the controversial ArcelorMittal Orbit, designed by artist Anish Kapoor and erected in the Olympic park to "arouse the curiosity and wonder of Londoners". Kapoor won the project with this intriguing spiralling sculpture in a design competition initiated by London mayor Boris Johnson and the then culture secretary Tessa Jowell. The idea was to add a bit of wow factor to the Olympic site. (Read more on the scheme here).
Matthew Ashley's verdict
"Helter skelter", the first thought I had while looking at this piece for the first time. The architect Anish Kapoor has followed his usual style of design, creating unusual contemporary spaces for the user to get profound optical and emotional experiences.
'I'm sure I'm not the only one who feels baffled by this complex, curvy and metallic structure,' Matthew Ashley
The meaning of the piece is lost to me, I'm sure I'm not the only one who feels baffled by this complex, curvy and metallic structure. The design was meant to rival that of the Eiffel Tower, Statue of Liberty and the Empire State. I see no comparison between this unstable Olympic Park "space filler" and those great iconic sculptures. Therefore my opinion is that Kapoor has placed his mark upon Olympic Park but I do not think that this sculpture is the right choice for this prestigious area.
Adrian Cohen's verdict
The thought that instantly came into my mind when hearing of this project was "lack of purpose". Having observed the actual structure my mindset has not altered. Abstract and striking as it may be, symbolising a strong and daring feat in engineering, ArcelorMittal Orbit fails to live up to the expectations of rivalling great landmarks such as the Eiffel Tower.
The fact it was created in the mindset of Boris Johnson - where he found the Olympic Park needed "something extra" - highlights this absence of real purpose. The tower also seems to struggle to accompany the surroundings; its large twisting steel rings and non-linearity replicate that of an unstable atom.
And unstable it appears to be, which is why I see it fail in the race to create a cultural icon. Landmarks such as the Eiffel Tower, Statue of Liberty or even the Giza Pyramids make bold statements, they do not confuse and they certainly weren't sculpted with a purpose of needing "something extra".
Matthew Ashley and Adrian Cohen are architecture students at Nottingham Trent University.
Source
If you wish to take part in First Impressions email nargess@me.com