Three architecture students comment on Zaha Hadid's 2010 Stirling Prize winning building in Rome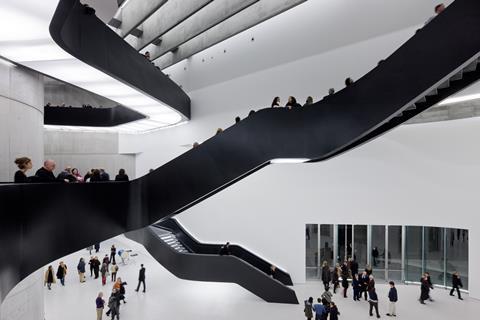 Craig Allen, architecture student at the Royal College of Art
It's probably fair to speculate that buildings such as this are what many architecture students dream of - a behemoth, a platonic dollop of design, an orgasmic fix of architectural expression.
My first inclination is toward a somewhat nonchalant first impression. This building makes me hungry. My stomach rumbles when I even glance at any one of the slick, despotic representations of the edifice. It's been many years since I've laid eyes on a Viennetta, but the arrival of the Maxxi brings all those memories of mint swirls and crispy, cracking ice cold chocolate topping right back. The buildings' interiors melt in your mouth. For all that is said about digital design, this building might well have been conjured up with the aid of a pastry bag.
The exterior is more cake box origami than icing. Its chiselled cheekbones encourage one to marvel at the mass of concrete poured to form such a structure. Arguably it is the competition drawings that fill the role of the icing in this indulgence par excellence, and their role should not be disparaged when many first impressions of this project are clothed in over a decade of exposure to such depictions.
Allen: This building makes me hungry. My stomach rumbles when I even glance at any one of the slick, despotic representations of the edifice
After a 10-year gestation period in which there have been several changes amongst the political overseers of its birthplace, the Maxxi has just had its big party. One might indulge in melancholy pessimism and imagine this party piece lonely come the turn of the century. Then again, one would like to think the 21st century will saviour all its cakes and celebratory treats with growing reverence. First impressions suggest the Maxxi is an array of flavours, and success may depend on how this compares with the real Gelato.
Matthew Mouncey, architecture student at Nottingham Trent University
Hadid's Maxxi Museum Rome could not have come at a more prominent moment in time. We as a civilization, now more than ever, seem intent on weaving our cultural history into today's social fabric. Museums and galleries are springing up all over the world in an attempt to preserve yesterday's cultural influences today, and today's for tomorrow's generations. Maxxi proves to be no exception to this; the completion of this long-awaited and mature project proves to be half a decade too late to be anything worth shouting about.
The one thing, though, that sets Maxxi apart from others of its kind is its daring to become more than just a milieu for the exhibitions contained within; Hadid's monumental design scheme allows it to stand alone as an icon to the arts, in which it succeeds dramatically. Is it worthy of the Stirling Prize? I don't believe so; the winner should be of the best design excellence laudable of recognition and set to inspire millions, of which I believe there are stronger candidates. Despite this, however, I have fallen in love.
Edward Atkins, architecture student at Nottingham Trent University
This bold, futuristic design from Zaha Hadid continues her ongoing relationship with fluid architecture. Located in one of the most historic cities in the world; the Maxxi Museum flows around the surrounding buildings with unbroken concrete walls, flooded with light through glass ceilings. The entrance is established by the upper layer meandering over the lower, reaching out over your head.
It is an extremely exciting building, the logistics of the architecture and the interplay between the different elements is incredible. It is unfortunately, like many of Hadid's work, a building where the concept can only be appreciated best as a holistic view from the air, this is due to the design's fluidity being compromised by a somewhat angular street view.
Source
If you would like to take part in our First Impressions email nargess@me.com.