Nottingham Trent University first year architecture students propose ideas for a city tram or bus stop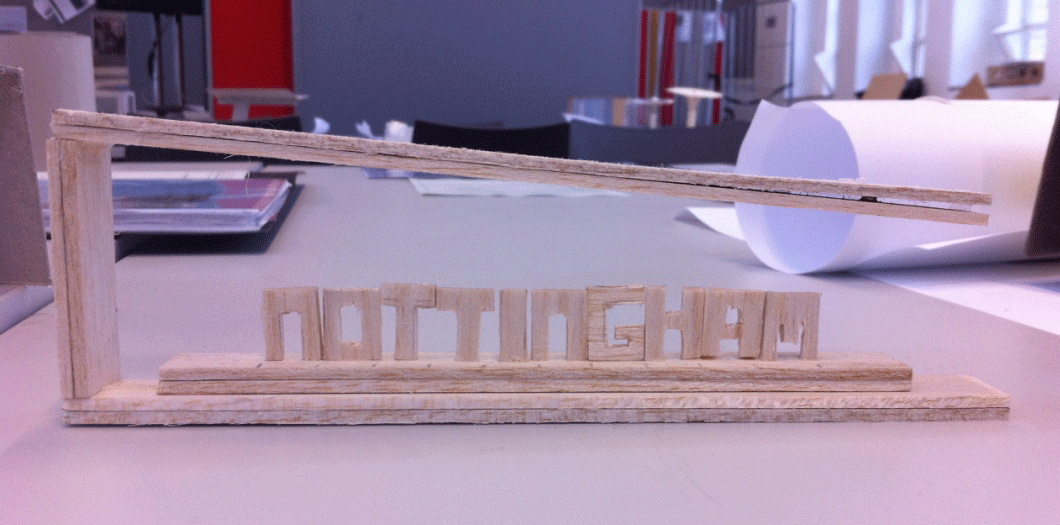 Nottingham Trent University's first year architecture students were asked to design a new bus or tram stop for the city and suggest where they would be located. Here the students discuss their proposals:
The Umbrella stop by Yahia Naceri
A picture of a group of people standing by a bus stop sign carrying umbrellas inspired me to take the umbrella shape as a concept for this project. The roof is the focus point in my design, it consists of wavy glass panels that are connected together by the stainless steel tubes which in the centre. The canopy stand on the central I beam and is supported by stainless steel ribs. It is lying on the rounded glass wall which consists of a glass panels on a stainless steel frame. The roof has solar panels that are placed on its centre to provide energy for the lamps that are situated in metal ribs. The wooden cylinder covers the beam and could be used as an information and advertising panel.
The Shell Stop - Rebecca Low
The inspiration for The Shell Stop came from researching natural forms, when I came across the structure of shells. The side view of the bus stop shows the shape of the curve of a shell, which had been researched by Leonardo Fibonacci to give the shape. I wanted The Shell Stop to be unique to one site, so after looking around Nottingham I found a view of the market square that I wanted my bus stop to face, rather than facing the road like a typical bus stop would.
The Nottingham Tram Stop - George Playford
The Nottingham Tram Stop has been designed with quite a literal form and aesthetic. This is evident through the design of the seating, with its form spelling out "Nottingham". This feature makes the design specific to Nottingham, whilst also adding versatility in terms of positioning around the city. To ease the literalism, the seating has been submerged into a base, so that pedestrians have to look and concentrate to notice the word Nottingham. The shelter is also open on three sides to enhance the views of its surroundings within the city, for example, located on the Market Square.
The Curve - Richard Whittingham
The design inspiration for the tram stop came from the natural flowing curved patterns of lace design that is linked with the cities historical lace market. It is combined with new multimedia technologies including Sky News for waiting passengers which is displayed upon an interactive membrane allowing for free flowing "Breaking News Articles" to scroll along the organic curves of the tram stop. Other design traits include slow rotating benches to discourage long waiting and also lighting within the stand that can be pre-programmed to meet the area's aesthetics.