Will Alsop left behind some bizarre-looking buildings and a heap of brilliant anecdotes – but he also showed us how to put art into architecture. Who will take his place?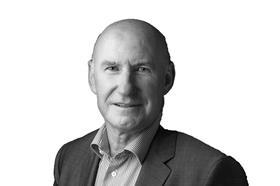 Will Alsop – our playful, maverick artist and rchitect – has gone. It's a great sadness to me and an even greater loss to my profession. Sadness to me because I knew him well.
We worked together on a couple of projects: Palestra, his lovely office block in Southwark, and the unbuilt Puddle Dock in the City of London. My daughter Maxine, having written her Bartlett dissertation on Will's magnificent Peckham library, went to work and paint with him and is now an associate director with his office, ALL Design. My father-in-law, Tom Porter, wrote a book on him – The Noise. They became great pals and smoking buddies and their wives became enduring friends.
So my relationship with Will had many valences – he even asked me once to chair his practice. When I got back to him, pointing out that I actually had my own practice, he retorted that it was alright as he had found someone better to do the job – Marco Goldschmied. Classic Will!
Will's work was not technology as architecture, it was art as architecture, full of form, colour and wit in the pursuit of social purpose
Working with Will was a real pleasure. I was hired by the developer, Blackfriars, to make sure the projects at Puddle Dock would work as offices, so I got a ring-side seat as Will and Christophe Egret developed the design. One week the design for Puddle Dock would have the building made of green copper, the next week aluminium and so on. One time a cool slate stealth bomber of a box-like structure was presented with a large blob hanging out one end. "What's that blob for, and what's it made of?" asked the client, a little bemused. "It's for conference rooms and it's made of leather" replied a straight-faced Will. Creased with laughter, the client asked if it could have chrome studs like a biker jacket. "Don't be silly," replied Will. Then looking him in the eye he told him: "Some people know me for my boxes, other people for my blobs. You have a box with a blob – be happy."
This playful exchange must have been one of thousands in his career, but it belied his genius. Will was highly intelligent, perceptive and a formidable artist as well as being a great architect. It's the combination of these talents that made his work so phenomenal. On first sight I thought that the Peckam library was a bit dubious, but when I visited it I realised how good it was. He raised the youth of Southwark above their normal existence to a magical room with huge reading "gourds" and a grandstand view of the City. How inspiring that must be. And beneath, he liberated the ground plane (a recurring theme in his work) for ball games and a new civic space.
The same daring intelligence produced Toronto's Sharp Centre, floating above an existing building like a black-and-white monolith straight out of 2001: A Space Odyssey. These are his two masterpiece built works.
We need a new Will, a paint splattered, irreverent, clever new Will of a new generation
His work was the antidote to Foster. Not that I dislike Norman's work, I like it a lot – but not all architecture can be lightweight structure and neoprene gaskets. Will's work was not technology as architecture, it was art as architecture, full of form, colour and wit in the pursuit of social purpose. Surprisingly, he was never afraid to discuss his proposals with the "ordinary locals" and, charmingly, he spent many a morning painting with psychiatric patients in Kensington and Chelsea hospital. Engagement with real people held no fear for him.
The architecture profession needs someone like Will Alsop, who disrupts and challenges what we think is possible, or sensible. Before Will there was Cedric Price, whose eclectic brilliance informed the Renzo Piano and Richard Rogers-designed Pompidou Centre as much as Peter Cook's Archigram ever did. Will walked in Cedric's footsteps and exceeded his master's achievements, like all good pupils should.
But where is the successor to Will? Is British architecture to be left in the hands of the hi-tech Lords and their acolytes, along with the politeness of Allies and Morrison and their like? Or the dullness of the architects who carpet bomb massive housing developments with brick structures devoid of culture or content? Peter Cook's Facebook tribute to Will wailed: "Now we are left with the drearies". And he might be right. Who now is going to bring us a Barnsley Tuscan Hill Town with its colourful necklace of buildings as a new town wall? Who will bring us a Heliport Heights, a corten-clad sausage hovering in mid-air, or the educational conference centre just being assembled at Queen Mary university in London, which may be called "Neuron Pod" but resembles nothing so much as a hairy pig? Precious few, I fear, save perhaps Peter Cook's own studio, Crab.
I think we need a new Will, a paint splattered, irreverent, clever new Will of a new generation. Architecture is not just a commodity, not just a technology, not just an urban politeness to keep the planners happy. Architecture needs to be art too, needs to be playful and witty, needs to be colourful, needs to be unexpected and needs to raise our spirits.
Will the next Will Alsop please step forward?
Postscript
Jack Pringle is principal and EMEA regional director at Perkins+Will