As the Bloomberg building marks climate change with a melting iceberg and fans of brutalism are saddened at a coming demolition, one football fan hopes the completion of Spurs' stadium is delayed a bit longer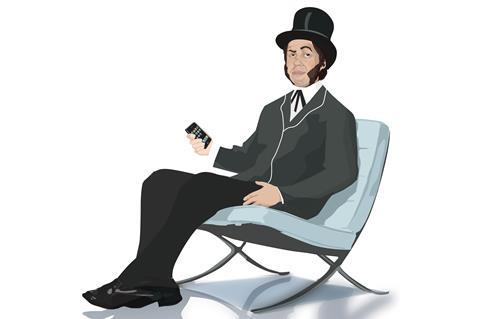 Crystal ball games
As predictions for the new year go, the news that Spurs would miss its game against Manchester United this Sunday as its opening fixture at its new stadium was, perhaps, not that hard to foresee. The club was this week waiting on a report from Mace over the state of completion, meaning that speculation over what the opening match might be continues. Perhaps it will be the game against Watford on 30 January [Ed: After we went to press this week, it became abundently clear that the Watford game would not mark the opening of the new stadium]. Watford happens to be the team of Mace chief executive Mark Reynolds. It's a funny old game.
Reasons to be cheerful
Speaking of which, a Watford fan who lives in the shadow of Wembley – Spurs' temporary home – is hoping Spurs have to keep playing there a little longer. Responding to Brent council's consultation over plans to increase crowd capacity should Spurs be forced to remain at Wembley for the rest of the season, this local resident reeled off a list of reasons why he approves – going against the views of most others who bothered to respond. He rents out his driveway to fans on match days and wants to see his beloved Watford play its league game later this month against Spurs at Wembley, telling planners: "Playing the match at Wembley would mean that I would be home quicker than if the match was played at White Hart Lane." Come on, Mace and Spurs, be sports. Make this chap's wishes come true, just for his sheer chutzpah.
A brutal ending
The brutalist Welbeck Street car park in central London looks set to be demolished after mayor Sadiq Khan effectively washed his hands of efforts to save it. Designed by Michael Blampied and Partners, the car park was built in 1970 to accommodate shoppers driving into the West End to use the nearby Debenhams store. Sold to Shiva Hotels group two years ago, the building failed to gain listed status and is set to make way for an Eric Parry-designed hotel. The car park's supporters had hoped its eye-catching hexagonal facade could be retained, but their wish will go unfulfilled: demolition is scheduled for next month. Watch it come down, as the Syd Bishop demolition brand likes to say.
The bare necessities
To Shard Place, the latest slice of the Qatari-owned Shard Quarter, where my hack attended a topping out ceremony last month. The 26-storey building, designed by Renzo Piano and being built by Mace, will feature 176 apartments with stunning views of central London and a shared roof garden. Many of the apartments will even feature their own "naturally ventilated winter gardens". So my colleague was surprised to be corrected by developer REM's chief executive, Michael Baker, when he asked about the market for luxury apartments. "We're not building luxury apartments," Baker replied. "They're just apartments." They sound pretty luxurious to me …
It's a rap
Hip-hop megastar and erstwhile Trump fan Kanye West has tweeted a screenshot appearing to show him on the phone to heavyweight architect Norman Foster. Kanye has produced a range of clothing through his design studio Yeezy and has previously tweeted of his intention to design homes, raising the prospect of a wacky collaboration. The partnership between pop idol and starchitect would not be new: back in 2015 Zaha Hadid partnered with Happy singer Pharrell Williams on a line of Adidas trainers. Before long we'll have real estate via Richard Rogers and Rihanna, and boots via Beyoncé and David Adjaye. I wait with bated breath.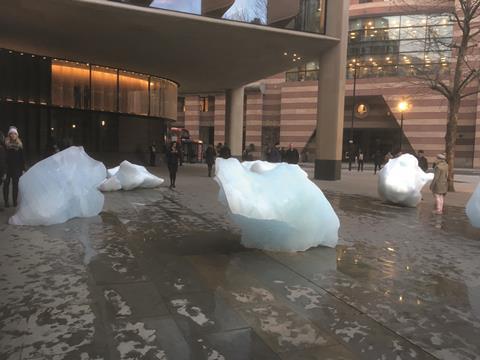 On the rocks
I recently highlighted a whiffy water feature outside the Stirling prize-winning Bloomberg European headquarters in the City of London, and just before Christmas the Fosters-designed building hosted another installation in the name of art: mini icebergs. Artists Olafur Eliasson and Minik Rosing marked a recent climate change meeting in Poland by transporting 30 huge lumps of ice from Greenland and positioning them outside Bloomberg's offices and Tate Modern. The blurb says the ice was to remain in place until 21 December, "or until it melts away". By the time I'd packed up for Crimbo it was in a rather sorry state …
Send any juicy industry gossip to hansom@building.co.uk