This year Mipim gave us Boris, Baroness Jo Valentine (who?), a pulsating dance palace with more Russian occupiers than the Crimea, a dapper looking French waiter, big wheels, cyclists and … er … Boris again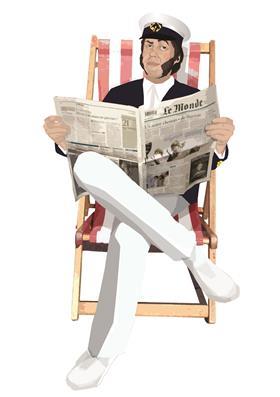 Boris the builder
Mayor of London Boris Johnson was the big draw of Mipim's opening day and the organisers of the London stand must have been pleased that he agreed to précis his later keynote speech where they were based, packing the place out. He didn't disappoint, quipping that Mipim did not, as some cynics would have you believe, stand for "meet me in the pool in a minute", but instead stood for "making important property investments for millions of people on modest incomes". But some of his points met with less enthusiasm. He said that London developments should include a "high quotient of affordable housing that reflects the buoyancy of the market". "Can we do it?" he asked, only to be met with a lone yes, possibly from his PR team. Still, you can't fault the guy for trying.

Second fiddle
Boris was always going to be a hard act to follow. And so it proved for Baroness Jo Valentine who had the unenviable task of addressing delegates at the London stand just moments after Boris had wrapped up his short speech, which received applause and laughs in equal measure. No sooner had the baroness taken to the podium than the vast majority of delegates lost interest and despite the advantages afforded her by a PA system, it was near impossible to hear what she had to say over the chatter of the property world's finest. I couldn't help but feel sorry for her. At least she can rest safe in the knowledge she is unlikely to be the last person to be upstaged by Johnson.
Eurodisco
The official opening cocktail evening at Mipim was well attended this year as construction and property types flocked to the Martinez Hotel on the waterfront and took over the whole ground floor. Most of the atmosphere was a convivial relaxed affair but the back room had an altogether more Hi-NRG vibe with pumping euro-dance and wall-to-wall suited Russians, as far as I could tell. Needless to say it wasn't to my 19th-century tastes and I retired to the terrace for a quiet gin and tonic.
In the shades
Like any other trade show Mipim is awash with free gifts. There were mints, pens, mugs and notepads - I had to buy an extra suitcase to haul back this bounty of tat (a Louis Vuitton suitcase of course, this is still Cannes). But it was consultant Faithful+Gould that trumped everyone with a selection of folding sunglasses in corporate blue and green. This was genuinely useful, as I had indeed forgotten mine. But no-one was wearing them with as much conviction as one of the waiters at the firm's drinks reception. His surly Gallic demeanour and studied insouciance was in sobering contrast to the frivolous lime green specks.
Big wheels keep on turning
The variety of investment opportunities on offer at Mipim never ceases to amaze me. Shiny towers and sparkling stadiums are 10 a penny, but there's always one or two that seem to come out of left field. This year I stumbled across a stand for Dutch Wheels - the "global leader in giant [Ferris] wheels as standalone attractions" – tucked away at the back of the hall. But what impressed me most was that they had brought an entire pod from one of their wheels to help demonstrate the product. Their pitch may be a bit niche but they were certainly putting in the effort. Perhaps I'll get one for my back garden.

Need for Speed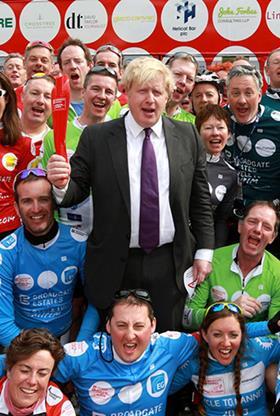 No Mipim would be complete without the arrival of nearly 100 cyclists all the way from the UK on their annual charity bike ride. By all accounts the riding this year, in support of children's charity Coram, was tough and fast.
So much so that on the final morning of the ride certain super-human individuals started to push the pace towards the 20mph mark.
In order to stop people being left behind at the back of the group, they had to be halted by a furious marshal.
He undertook the heroic task of sprinting from the back to the front propelled, I'm told, by bursts of French expletives.
Send any juicy industry gossip to hansom@ubm.com