We reflect on last week's Mipim where BoJo bashed the French, the weather threatened to flood the place, a Turner & Townsend employee reminisced about bath time, and we got our hands on some boules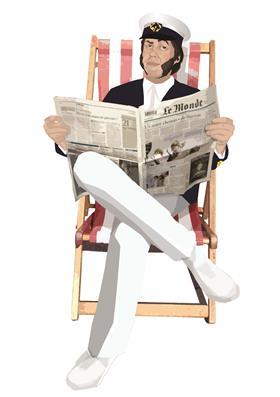 Planes, trains and Boris Johnson
What is it about travelling to Mipim? Last year hundreds of delegates were delayed at St Pancras due to a fire on the track at Lille – and this year hundreds were once again delayed en route to Cannes. Snowy weather led to high-speed trains being cancelled in the north of France as well as delays to flights from Heathrow. London mayor Boris Johnson was among those caught up in delays at Heathrow, and subsequently arrived late for his keynote speech at the conference. Never one to miss a trick, Johnson quipped the snow delay was
"all the more reason to increase [London's] aviation capacity". The most unusual travel story doing the rounds was that a group from engineer Ramboll ended up "stranded" in Amsterdam for eight hours on their way to Cannes. A likely story …
Displacement activity
Sticking with Boris, the mayor was once again the talk of the conference after his conspicuous absence last year. Inevitably, there were jokes aplenty about his French hosts. He trotted out the oft-heard claim London is "the sixth biggest French city" (with 250,000 French inhabitants) before speculating that it is soon likely to "move up the rankings" thanks to French president Francois Hollande's punitive taxes on the rich. However, Boris got so carried away with his French-bashing that he ended up criticising his hosts for something they certainly weren't responsible for - the UK's lack of airport capacity. "The airport situation is an incredible indictment on this country,"
he said. A slight pause followed before he added: "Oh wait! Not this country - this is France!"
Under the weather
One of the earliest sights at this year's Mipim was that of a digger frantically preparing sea defences to protect the restaurants and corporate-themed entertainment areas that line the beach front at Cannes from the ominous approach of high tides due to a sea swell. There were no reports of a wash-out later in the week so I can only assume that the makeshift defences held up. Luckily, those who managed to arrive in Cannes early in the week found themselves rewarded with blissful sunshine, although the weather tailed off spectacularly during the week. There were even reports of snow on the Friday, a previously unheard of phenomenon at Mipim, which, if nothing else, is designed around the expectation of Mediterranean sun. Sacré bleu!
Three men in a bath
Mipim is also an opportunity to trump your achievements to clients, suppliers and rivals, and naturally Turner & Townsend sought to do this at its breakfast briefing on the commercial sector. Robert Deatker, project director on London's Shard - which T&T project managed - told guests about the firm's achievements helping to deliver Western Europe's tallest building. One little known detail was the task of manoeuvring two tonne baths up to the tower's plush apartments on floors 53 to 65 of the 72-storey skyscraper. Deatker said the weighty baths had to be "value engineered" (translation: made lighter) to fit them in the goods lifts. He added that the baths can fit three people, although reassuringly he added T&T hasn't tested this out.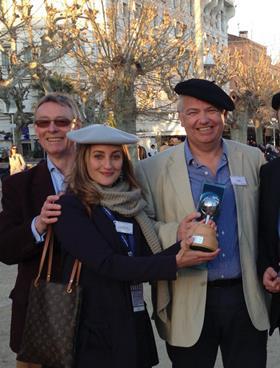 Load of boules
This year my hack took part in a venerable Mipim tradition - the annual boules tournament, organised on this occasion by Weston Williamson Architects, accountant Kingston Smith, and solicitor Ashfords. Building's team also included Sinead O'Connor (no relation) of interior design firm Harmsen and Penny Fitzpatrick of architect MDR Associates. Despite (or perhaps because of) a very laid back approach the group overcame several more competitive entrants to make the final out of a total of 24 teams. Having ridden their luck for much of the day they lost out 4-1 to team Gleeds (pictured receiving the trophy). Still, an enjoyable way to spend an afternoon, although local players seemed bemused by the dodgy skills and loose appreciation of the rules on show.
Send any juicy industry gossip to hansom@ubm.com