Russia wonders what to do now the Games are over, the BBC brings a party on four wheels to the submerged South-west, a hacks bangs his head, and construction collides with the world of musical theatre (jazz hands!)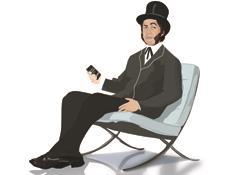 Using up leftovers
The athletes and journalists may have left Sochi following the close of the Winter Olympic Games last Sunday, but what happens now to the dazzling venues and infrastructure that made the most expensive Olympics ever a reality? Russia invested $51bn (£31bn) to enable the remote ski resort in southern Russia to host the Games, topping even Beijing's estimated $40bn (£24bn) for the 2008 summer Games. The area is now home to more than 40,000 hotel rooms, four ski resorts, dozens of restaurants and retailers, five sports arenas, one stadium, and enough roads and railways to handle 20,000 visitors an hour. The Russian government first talked about making Sochi a kind of capital of southern Russia, then about dismantling the arenas and taking them north, then reports surfaced in December that prime minister Dmitry Medvedev had proposed turning it into a casino zone – a proposal subsequently denied by the Kremlin. "I don't think anyone is sure what to do with it," Sufian Zhemukhov, co-author of a coming book on the Sochi Games, told the New York Times plaintively.
Queueing for the bus
As flooding continues to blight south-west England, one of the consequences is that it's open season for construction consultants - particularly engineers - wanting to get on the news to talk about ways to prevent flooding, or mitigate damage to properties in flood plains. As flooding gripped the Somerset Levels, the BBC put on a permanent bus to travel around the area, picking up journalists and pundits as it went along to produce rolling television and radio reports on the crisis. I hear one engineering consultant, who's been a regular passenger on the vehicle, has dubbed it the "party bus", I presume, ironically.
Mind your head
The World Wildlife Fund's headquarters, which proved a fabulous venue for our cover shot this week, is a great project and with all its exposed wood is a fitting habitat for the panda-logoed charity. But even the best projects don't come together without the odd hitch. My reporter, a chap of middling height, was nearly knocked unconscious while fetching a glass of water in the kitchen because the overhead cabinets have been fixed alarmingly low - and he hardly has the physique of an NBA star. I understand a refit to fix the problem is imminent. Perhaps they were expecting real pandas to work there, who are too small to reach the top cabinets.
Typically productive Friday afternoon
As construction's working week draws to a close, many amongst us turn to Twitter to while away a few idle moments on a Friday. Last Friday an amusing hashtag sprang up proffering potential #constructionmusicals. Among them "A hard (hat) day's night" and "West Side Storey" (Sarah Fox, @500wordlawyer) "The Rockwool Horror Picture Show" (Tom Oulton, @itsBIMupNorth), "Les Hi-Viserables" (Stephen Malley, @BrickLawyer) and "Chitty Chitty BIM BIM" (David Philp, @ThePhilpster). I don't know whether to applaud or grind my teeth. There's talk on Twitter that it'll be #constructioncops puns this Friday. You have been warned …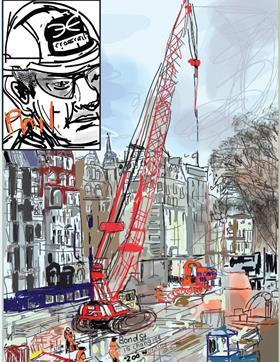 State of the art
News comes this week that the £15bn Crossrail project has appointed an official artist-in-residence. Julie Leonard will be on site in the coming months to create a pictoral diary of Europe's largest infrastructure project. Leonard, who is a
London-based painter, printmaker and digital artist, will use an app on her smart phone to create digital and animated drawings. Crossrail said she would work in and around the construction sites, providing "a narrative of the project, incorporating anecdotes from the workforce and communities living and working along the route". Leonard, who this week revealed her first creations (pictured), said: "I look forward to creating a body of work that will form a unique archive and visual legacy of places that people rarely see."
Send any juicy industry gossip to hansom@ubm.com