We find a regal way to avoid assassination at industry events, meet a modern-day King Canute, chat about the footie and see some ice sculptures. Plus, are Crossrail workers hearing things that go bump in the night?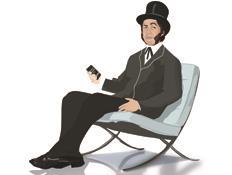 Anglo Saxon kings (part 1)
Congratulations to the Considerate Constructors scheme, granted a Royal Charter Award for excellence by the Worshipful Company of Constructors at a ceremony at London's Stationers' Hall last Wednesday. When it comes to silverware, however, the certificate awarded to the scheme's chief executive Edward Hardy sadly could not top the "loving cup" passed between guests at the occasion. The sharing of the cup – a huge silver goblet, from which guests drink in turn while their neighbours "protect them against assault" by standing with their back against theirs - is a tradition of city livery companies. Apparently it has its origins from Saxon times, when King Edward the Martyr was slain on the orders of his stepmother while drinking, and has nothing to do with a fear of aggrieved supply chain members at industry events.
Anglo Saxon kings (part 2)
Hats off to builder Sam Notaro, who has thrown everything into holding back rising floodwater surrounding his £1m property in Somerset. The 40-year-old owner of Notaro Windows shot to fame last week as rising floodwaters threatened to engulf his well-defended fortress on the highest point in Moorland, Somerset, where floods have never been recorded. He has spent over £10,000 on flood defences for his home, including a 5ft-tall dyke, waterproofing his land with bricks, hiring a pump system and wrapping the bottom of his house with polythene sheeting. Yet aerial photographs last week confirmed water had breached the dyke and was lapping against his house, leading one cruel newspaper to dub him "King Canute". But, as Building went to press, his company tweeted that Sam was "still successfully keeping the water out".
TV historians
Calling all building geeks: The National Geographic Channel launches a cool new series on Tuesday called Time Scanners, which puts history's building wonders to the test. The programme uses cutting-edge 3D laser-scanning technology to explore the secrets of how some of the world's most iconic engineering creations were constructed. Locations include the Colosseum, Machu Picchu, St Paul's cathedral, the Pyramids and Jerusalem. The programme features WSP's head of buildings in the US and Beijing Bird's Nest Olympic stadium engineer, Steve Burrows, as the resident expert. The first episode, on the ancient city of Petra, is broadcast at 9pm on Tuesday.
Yearning for the glory days
As we report in this week's interview, BDP's new chief executive John McManus is a supporter of Celtic football club. And it turns out his passion for the beautiful game is shared by some of his colleagues in the firm's upper echelons. Board director and chairman of the southern region, Peter Drummond, is an Arsenal season ticket holder while chairman David Cash is a Manchester United season ticket holder. No doubt Cash is getting used to an odd new world this season, where he no longer gets the last laugh on football matters with his colleagues.
Making history cool
To Beijing, China, where city authorities have put on an ice sculpture festival featuring several buildings made of ice at the city's Olympic park. Among the 80 sculptures at the show is an impressive 30m long and 9m high replica of the city's Forbidden City, once Beijing's imperial palace. The structures are being kept artificially cold in the shadow of the Bird's Nest stadium.

Death Line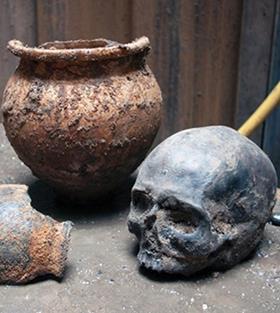 Crossrail is fast becoming synonymous with ghoulish historic finds as the mammoth infrastructure project continues to bore its way under the capital. So far workers on the project have come across Bedlam psychiatric hospital, Roman remains, a prehistoric bison, the bodies of some 9,000-year-old Londoners and victims of the 1348 Black Death plague. A new exhibition at the Crossrail Visitor Information Centre at Tottenham Court Road, which opened last Friday and will run to 15 March 2014, displays some of these items and more recent finds, including skulls from Roman London and a Roman cremation pot (pictured). I hope the Crossrail team don't believe in ghosts …
Send any juicy industry gossip to hansom@ubm.com