Bristol dons red trousers, RTKL treasures its view of St Paul's cathedral, Scotland flexes its economic muscles, and some surveyors find their way to the kitchen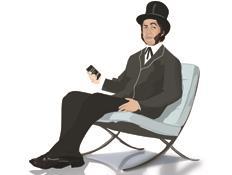 Painting the town red
By all accounts the city of Bristol is taking rather enthusiastically to its independent new mayor architect and former RIBA president George Ferguson. One resident has chosen to express his appreciation for Ferguson - who is famous for always wearing red trousers - by doctoring several street signs. The little walking figures on signposts to the city hall have now had their legs delicately painted red. Rumours that local sales of scarlet trousers are also going through the roof have yet to be verified.
A lack of vision
I must send a thank you note to consultant EC Harris for hosting my fellow hacks for drinks at its plush office near King's Cross. But perhaps the EC Harris chaps should be plying their own colleagues with a conciliatory glass or three. One staff member told me of a possible sore point arising with RTKL, a fellow member of the Arcadis group. Staff at architecture practice RTKL currently enjoy a charming view of St Paul's cathedral from their Holborn office. But apparently a development on which EC Harris is cost consulting - a 1 million ft2 office complex for Goldman Sachs - is soon going to get firmly in the way. No doubt RTKL is tempted to pop round and suggest some last-minute design tweaks.
The dark tower
Speaking of King's Cross, if there was any doubt about the giant scale of Google's planned UK headquarters behind the station - to be built by Bam - this bit of trivia should help settle the matter. Word reaches me that the scheme's architect, AHMM, has worked out that (follow me closely here) if Google's long, narrow building were raised on one end, it would be just 8m shorter than London's 310m-high Shard, the tallest building in western Europe. Perhaps a big looming tower would have been more in keeping with Google's public image, given the recent media focus on privacy concerns and tax avoidance at the firm.
North and south
It can have come as no surprise that our 2013 consultant salary survey, published earlier this month, showed that London is still the highest paid region for most in our industry. But anecdotal evidence reaches me from Aberdeen - dubbed Europe's energy capital - that it could give its southern rival a run for its money. Apparently Aberdeen-based staff at one consultant operating in the city's oil and gas sector recently got a 15% pay rise. Nice work if you can get it.
I know my place
Thanks to everyone who scoured the Building website last week to find me in my birthday suit (not like that …) as part of our 170th anniversary celebrations. I was hiding on the Data page. In total, 36 readers found me, but congratulations to David Henshaw of NPS Property Consultants, who wins a Kindle Fire tablet. Second prize - a trip up The Shard in London Bridge - goes to Susanne Woodman of BRE, and third prize - a bag of Building goodies including a branded Moleskine notebook and travel mug - to Theo Kjellberg from Sweett. Well done all. Although I was a little bemused by four entrants, who helpfully "discovered" me on page 21. I live here!
If you can't stand the heat …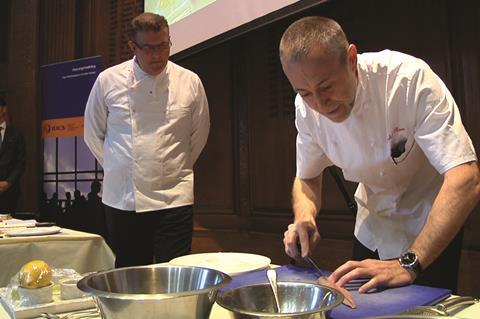 Temperatures were raised at RICS headquarters this month - not because of a heated discussion about surveying, but because the institution ran its first Masterchef competition. The contest - hosted by BBC Masterchef expert judge and Michelin starred chef Michael Roux Jr - pitted RICS chief executive Sean Tompkins (pictured left, with Roux) against Rebecca Best, chair of its new members group RICS matrics. Despite the observation from Roux's head chef Steve Groves that Tompkins was "like a bull in a china shop" in the kitchen, he managed to overcome Best by cooking the tastier mackerel tartar. The contest raised £12,000 for homelessness charity Crash and Great Ormond Street Hospital.
Send any juicy industry gossip to hansom@ubm.com