No (more) news at Balfour Beatty, no one dislikes Boris, and buying yourself a railway line to run around your mansion isn't an insane overindulgence. Plus, the Scottish health secretary sets a bad example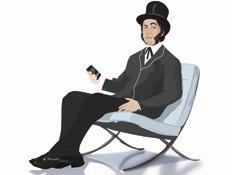 Not on the phone
News that Nick Pollard's role as Balfour Beatty UK construction chief executive had been shrunk - the major projects division no longer reports into him, leaving him with the firm's M&E and regional construction businesses - was met with interest by those reading the Balfour tea leaves. The company stressed that this was not a demotion but a chance for him to focus more on the two divisions causing most concern. But, it was noted that Pollard, a regular on conference calls with analysts and journalists last year, did not feature on calls hosted by new chief executive Leo Quinn and outgoing financial director Duncan Magrath last week.
Not providing subtle hints
Former City of London planning officer Peter Rees has pulled few punches in his views on the role of mayor of London. Now a professor at University College London, Rees called for the post's abolition in an Observer comment piece at the weekend, saying he favoured a borough-led approach to London's development. Whether Ken Livingstone or Boris Johnson was his most loathed mayoral incumbent is not directly stated. Rees merely says: "Elected mayors love 'trophy/vanity' projects: a cross-river cable car that duplicates a tube line; a tourist garden posing as a bridge; another model of a custom-designed London bus - then make a quick escape to Uxbridge or Downing Street." No clues there, then.
Not an overgrown child with a giant train set
Billionaire mobile phone magnate John Caudwell is building a narrow gauge railway around his Grade I listed Staffordshire pile, we learned this week. Caudwell - who founded the Phones4u shop chain, then sold it for £1.5bn eight years before it's plunged into administration - is clearly a bit of a train fan. His charity Caudwell Children has previously taken Staffordshire and Cheshire youngsters to visit the Virgin Trains Academy in Crewe. Caudwell has obviously become tired of the uncertainty surrounding phase two of HS2, and opted instead for a more select network around his 11-hectare estate.
No one dodging inheritance tax
Building has received some interesting junk mail from a company of property finders extolling the use of the government's soon-to-be enacted pension-pot reforms to buy London starter homes for one's cash-strapped offspring. "Historically London property doubles in value every 7-10 years," it professes. "If a parent bought their child a £500k property today, in 20 years, it could potentially be worth between £1m and £1.5m …
 if they didn't buy and the child inherited the £500k in 20 years, they would then need an average salary of around £330k to afford the same property." Seemingly sound logic. But with a pension pot tied up in non-revenue generating bricks and mortar, where does the cash for bingo and sherry come from?
No one expects the Spanish inquisition
There's no need for an inquisition into women-in-property cycle group pedElle's plans for a fund-raising ride this year: it's a 450km trip across Spain from Bilbao to Madrid. The group announced its plans for the 10-13 June event earlier this week, along with an early doors call for registrations for the 35 places available. The Spanish run will be the group's third annual two-wheeled odyssey, following last year's Milan to Venice "Italian Job" and 2013's inaugural London to Paris hop. Money raised goes to children's charity Coram. More details and registration for the Spanish jaunt is available at www.cycle-to.org.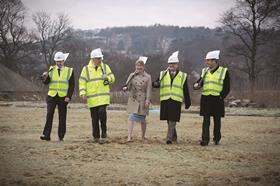 Living on the edge
The craze sweeping the nation's politicians for donning construction gear and descending on a site for the day is also gripping Scotland, it seems. As this photo demonstrates, Scotland's health secretary Shona Robison was obviously so keen for work to get under way on the Royal Edinburgh Hospital's £48m new campus that she skipped the queue for hard hats and safety boots. While this personal protective equipment may in reality have been wholly unnecessary in what looks like an unhazardous grassy field, if the SNP learns nothing else from the main English parties, it has to be to go the whole hog when dressing as a construction worker.
Send any juicy industry gossip to hansom@ubm.com