An Adonis at the helm is what Brunel's builders needed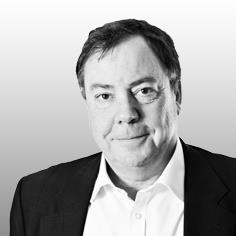 It is all too easy to take shots from the sidelines and offer sniping in place of substance, rather than constructive criticism. However, the recent announcement of the appointment of Lord Adonis as chair of the government's new independent infrastructure commission is as imaginative as it is inspired.
With a brief to draw up plans for a trio of big infrastructure schemes, the three key areas of Crossrail 2, High Speed 3 and improvements to Britain's energy storage all now sit in the in-tray of what was a former Labour transport secretary. With a chancellor who has quite rightly been criticised for talking big but delivering an infrastructure investment programme which has declined by 5.4% since 2010, this is the big chance to prove that he is prepared to walk the talk by, in effect, stealing a Labour plan and appointing a Labour grandee to oversee long-term infrastructure planning.
For our industry, infrastructure investment is welcome on many fronts. It enhances productivity, it creates jobs on a long-term and sustained basis and, with pension funds demanding investment opportunities
with a stable and substantive return because the construction risk is likely to be underwritten by the public purse, it surely strikes the right chord.
The issue with infrastructure investment has always been about politics rather than delivery. After all, we are the construction professionals who delivered the Channel Tunnel and the 2012 Olympics, and are about to complete Crossrail.
The beauty of the Lord Adonis appointment is that a cross-party political consensus has been established from the outset with a respected chairman in place with a brief to hold the government to account if things do not get
The challenge has always been funding. So much of the finance for infrastructure projects is front-end loaded whereas the benefits are diluted and spread over a long period of time. Hence, the government approving the initial expenditure sees itself as getting all the blame at the outset but none of the political plaudits at the end.
The beauty of the Lord Adonis appointment is that a cross-party political consensus has been established from the outset with a respected chairman in place with a brief to hold the government to account if things do not get built. He, in effect, is enacting a plan under a Conservative administration that comes straight from his own Labour Party's manifesto. While he will be operating as an independent peer, his appointment is shrewd.
Last week George Osborne announced that 89 local authority pension funds would be pooled into six "British wealth funds" with assets of more than £25bn each. He is hoping that they will see the wisdom of investing in infrastructure. As I understand it, Lord Adonis' role is to advise the government, but decision making on the who/what/where and when will remain with ministers.
The commission will operate from a position of neutrality and will use our industry expertise to manage the politics based on what is needed rather than what is politically expedient. The chancellor was quoted as saying that he sees the new commission as deciding dispassionately what projects were most needed and that it was there to hold "any government's feet to the fire" if they did not deliver.
These are encouraging words and I welcome the re-commitment to infrastructure construction activity but it comes after a track record of limited success on delivering on Osborne's ambitions. It was pointed out that previous plans revealed in 2011 expected 500 building projects to be supported by up to £20bn from pension funds over a 10-year period.
Critics point out that so far only £1bn has been raised, which has been allocated to, among other things, London's new giant sewer project. Others from our industry will also point out that two days after Osborne revealed the new commission, it was announced that the flagship £2.9bn consultants framework has also been delayed yet again and now looks as though it will be awarded in 2016, three years late.
A leader column in the Financial Times heralded the new commission as "firing up Britain's bulldozers". It points out the vital impact of infrastructure on our sector and holds out the hope that political barriers that have brought delay and prevarication may well be overcome by the appointment of Lord Adonis.
I think we have at last got grounds for optimism and he is a clever and shrewd appointment by a government that is showing a zeal for enhanced public projects that would not be out of place in a Britain from the age of Brunel. He just may bethe galvanising figure that investors needed to see at the helm. Let's hope so.
Richard Steer is chairman of Gleeds Worldwide

There will be a session on Infrastructure, cities and the northern powerhouse at this year's Building Live event on 26 November.
For more information and to book tickets go to: www.building-live.co.uk/programme