Direct rail link from Reading to Heathrow gets green light amid review into projects in CP5 spending plan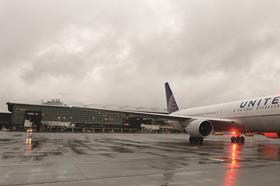 A £130m Network Rail scheme to create a direct rail link from Reading to Heathrow airport has been confirmed as going ahead - despite an ongoing review into the infrastructure client's spending programme.
All projects in Network Rail's Control Period 5 (CP5) spending plan are currently on hold while its new chairman Peter Hendy carries out a review of its investment, which is due to be published in November.
However, Building can reveal that the Western Rail Access to Heathrow scheme - which will enable passengers from the west of England to travel by rail directly to Heathrow without having to change at London Paddington - is one of the schemes in the CP5 programme that has been spared the axe.
The plans will see a 5km tunnel built under the M4 and M25, which will connect with the Great Western main line at a new junction built between the Langley and Iver train stations.
The new rail line would travel above ground for 250m before entering the tunnel, and would then connect with existing platforms at Heathrow's terminal five.
Speaking to Building, Jane Mason, economic partnership officer at Slough council and lead on the rail programme, said the project "is confirmed" subject to planning permission - due to be submitted by spring 2016.
Mason admitted there was "a bit of a slippage" with the programme due to the Hendy review, with a full stakeholder consultation yet to come.
But she said: "The scheme will go ahead. What we are unsure about is the timetable Network Rail originally committed to.
"We're looking to see what can be done to catch up a bit and we are hoping to be as close to the original timetable as possible."
Heathrow Airport has started the tendering process for consultancy work on a third runway, despite the project not yet receiving the go-ahead from government.
Heathrow Airport Holdings has called for expressions of interest in four key areas: programme management, information management, construction advice, and technical and design advice.
Interested firms have until 16 October to respond, after which Heathrow will draw up a shortlist.
Shortlisted companies will be formally invited to tender in November. A decision on preferred bidders is expected in early 2016.