Lower interest rates or additional financial incentives are needed for the Green Deal to be a success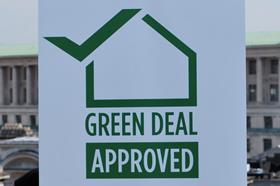 In reference to the story (Green Deal market shows "healthy signs of growth", 17 May, page 14) - incentivisation for Green Deal take-up is still poor. Not only is there a lack of awareness of this government initiative, but the savings are based on paying back the cost of the measures over their expected lifetime. This offers no real net benefit to the consumer.
This is on top of the disruption of having the works undertaken in the first place. The high interest rate - announced on 17 May 2013 as 7.67% for a 25-year loan to 7.96% for a 10-year loan through the Green Deal Finance Company - will ensure that those who can afford to have works undertaken will do so out of their own pockets, leaving those who are less well-off with a higher overall bill. Without reducing interest rates or creating additional financial incentives (such as linking stamp duty to household energy efficiency), the Green Deal will continue to underachieve in terms of delivering improvements in household CO2 emissions.
Dan Jestico, head of research and development, Hilson Moran