While government is in listening mode, UKGBC's Julie Hirigoyen argues for sustainable growth through three fronts
As we begin to unlock the lockdown, it is clear that the number one priority for government must be near term job creation and economic growth. Yet rather than viewing this as somehow separate from our climate ambitions, it is encouraging to note that businesses and politicians alike are now explicitly linking the two objectives. From the prime minister's statement on World Environment Day to the words of secretary of state and COP president Alok Sharma at the Petersburg Climate Dialogue, both a 'green recovery' and securing a 'more resilient economy' have been at the forefront of the government's statements on plans to reboot the economy.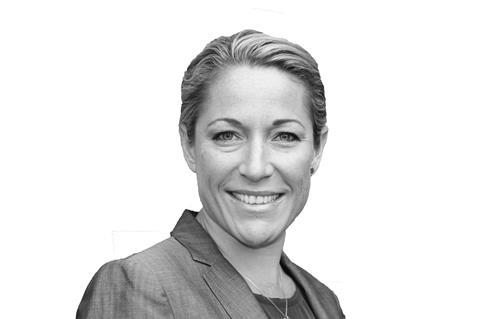 Last week, I was pleased to join Alok Sharma on one of the government's economic recovery roundtables, looking at some of the growth opportunities of accelerating to a net zero carbon economy. The property and construction industry hold the answers to some of the most cost-effective ways to reach net zero whilst boosting the economy. Here is what I told him:
New homes and buildings are central to the net zero objectives
Delivering better performing new buildings will be a crucial part of restructuring our economy and creating places that are truly fit for the future. New standards are not only vital for the development of low-carbon supply chains and technology to meet our net zero target, but also for making sure we do not kick the can down the road and lock in carbon emissions that will need addressing in future.
The construction sector needs absolute certainty that there will be no backtracking on government's commitment to strengthen Part L of the Building Regulations
UK businesses are already investing heavily in reducing their carbon emissions, and that investment must not go to waste. In these highly uncertain times, the construction sector needs absolute certainty that there will be no backtracking on government's commitment to strengthen Part L of the Building Regulations this year. Indeed, the proposed Future Homes Standard should be significantly strengthened, to ensure that it aligns fully with net zero carbon outcomes.
It is clear that the low carbon design and product solutions needed to deliver net zero – including innovative new construction methods – offer a golden opportunity to create jobs and improve skills, enabling the UK to gain a competitive advantage and export cutting-edge products and services, just when we need it most. Targeted capital investment focused on sustainable outcomes would support the transition by providing a timely boost to sustainable supply chains – not least additional investment in low carbon heat. A related government-funded training programme could also rapidly upskill furloughed workers or those looking to requalify from sectors severely affected by covid-19.
Indeed, alongside these substantial economic benefits, strengthening of new building standards is also vital for delivering higher quality, healthier homes and buildings. The quality and health of our homes and places has come into sharp focus during the lockdown, and will likely remain so into the near future. This has highlighted the importance of features such as daylight, thermal comfort and sound insulation, alongside access to local amenities and green spaces. We must therefore take every opportunity to boost the design quality of our new homes and places – and in so doing ensure that all our communities are as resilient as they can be to whatever the future might bring.
We need a home energy efficiency retrofit programme
Looking beyond new buildings, how to decarbonise those already standing represents a considerable challenge. And yet, a flurry of evidence in recent months has not only compounded the case for greater action but highlighted the substantial benefits of doing so.
The International Energy Agency has rightly said that energy efficiency has a key role to play in any green economic stimulus, supporting existing workforces, creating jobs and delivering economic growth nationwide. Closer to home, the Energy Efficiency Infrastructure Group's latest report suggests that investment in home renovation for net zero will help to 'level up' infrastructure and opportunity across the UK – supporting over 150,000 skilled and semi-skilled jobs to 2030, reducing household energy expenditure by £7.5bn a year at today's prices – doing more in regions most affected by unemployment, under-investment and fuel poverty.
As a consequence of energy efficiency enabling households to save money on their energy bills, they will have much needed additional disposable income to spend, thereby helping to address the demand-side factors underlying any recession. Moreover, the economic cost to the NHS of cold homes, at a time of great pressure, is around £1.4bn and living in a cold home markedly increases the incidence of respiratory disease, which in turn is a risk factor for more severe incidences of covid-19. Investing in home retrofit would play a vital role in addressing this.
Let's focus on biodiversity and climate resilience
Alongside addressing the climate crisis, it is important to remember the other side of the same coin, biodiversity decline.
Access to greenspace has proven incredibly important to many during this period, but this time has also highlighted the disparities between those with and without access. Given high levels of public support, there is clearly a real opportunity here for positive action. Delivering green infrastructure and nature-based solutions can not only enhance the resilience of our streets and properties to climate change, but also help enhance both residents' health and biodiversity.
The evidence on the links between green space and both physical and mental health benefits is extensive and well-established. Defra previously estimated that if everyone had access to sufficient green space, the benefits associated with increased physical activity could save the health system at least £2.1bn a year. In addition, it is estimated that tree cover saved London more than £5bn in 2014-18 through air cooling, and prevented productivity losses of nearly £11bn by keeping summer temperatures bearable.
Finally, as we look to the future of the built environment and the wider economy after this crisis, it is important that both the industry and the government learn the right lessons from our current experience. It is only through this and taking the right measures now, that we can 'build back better' in a way that secures a truly resilient, sustainable and prosperous economy for the future.
Julie Hirigoyen, chief executive, UK Green Building Council (UKGBC)