Speller Metcalfe's Matt Brown responds to one of our blogs on housebuilding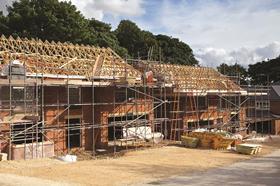 As director of living at an SME regularly delivering affordable housing projects of between 5-15 units, it was interesting to read Luke Burroughs' comment on providing greater opportunity to those firms that are not considered volume housebuilders ("We must re-empower small and medium-sized housebuilders", www.building.co.uk, 1 August 2014).
We diversified into the affordable housing sector to do what many of us did in the recession - broaden opportunities. As bottom line became priority, prices were driven down to a place where smaller contractors couldn't compete and larger contractors didn't possess the flexibility and, often, the quality of a smaller builder.
Seizing the middle gap and through a lot of relationship building we now find ourselves in a prime position to deliver on both these aspects and approved contractor for over 20 housing associations. Added to this and an additional benefit to comments made is our ability to drive regional growth through employment of local supply chains – something volume house-builders can't always compete with. SME's can and will provide if given the right market opportunities.
Matt Brown, living director, Speller Metcalfe