Our RICS salary survey shows pay is going up across the board - and that's just one reason to be cheerful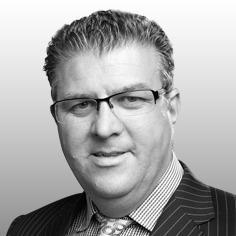 Every year, RICS gets together with recruitment agency Macdonald & Company to look at salary trends in the property and construction industry. The survey always comes up with some interesting results and, this time (published today), I was extremely pleased.
In my last entry to this blog, I looked at the construction industry and wrote that - despite all the financial and economic woes of recent years - the very worst seems finally behind us and RICS expects the industry to remain fairly buoyant this year.
This is, clearly, just as good news for the sector as it is for the wider economy. For every £1 invested in construction, the economic output is £2.84. The news is also fantastic for the hard-working professionals who've actually helped drive this growth. The people at the coalface are deservedly seeing these successes passed on to them.
To put this in context, the average quantity surveyor earned almost £49,000 last year and project managers took home around £57,000, over double the UK national average salary of £27,000. Crucially, though, the majority saw their salaries increase on last year and most are expecting further rises over the next 12 months. It was not long ago that I was asked to lobby for the role of quantity surveyors to be put on the official UK list of scarce resources. I sense that I might be asked to do this again in the not too distant future.
Those entering the profession now as students, trainees and young surveyors will find endless opportunities
All in all, this shows just how attractive a career as a construction professional is. Putting the financial rewards aside for a moment, those entering the profession now as students, trainees and young surveyors will find endless opportunities.
The future economy is a global one and the construction industry is the place to be if you are looking for a globally relevant career. Applying for a role on a different continent is now more-or-less as straightforward as applying for one in your neighbouring town or city, and the opportunities are most definitely out there.
Major projects are under way right across the globe and areas like the Far East, India, the Middle East and Brazil will need more and more construction professionals to fuel their ambitions. RICS standards and qualifications are increasingly recognised and required across the globe.
So far, so good, but without professional and ethical standards underpinning everything we do in the sector, we are nothing. I was therefore delighted to see that chartered professionals across the board in the UK earn a premium of over £8,000 a year on their non-qualified counterparts.
Quite rightly it pays to get qualified and those operating to properly regulated professional standards are at the top of the tree when it comes to salary and will be most in demand globally. With countries like India needing to build a city the size of Chicago every year for the next 25 years to cope with urban growth, demand for professionally qualified construction professionals is only set to grow.
Sean Tompkins is chief executive of the RICS