If we were to do for vocational training what we did for sport over the past two decades, investing in it and enthusing young people, the skills shortage that threatens our industry would be a thing of the past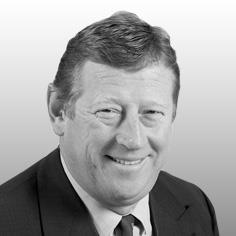 We will never know how things would have turned out had the UK voted to remain in the European Union. What we do know, however, is that we had a shortage of skills in the construction industry before the referendum and the Brexit decision certainly won't make things any easier. Skilled workers from the EU represent a significant percentage of the construction workforce and although most of those EU citizens who are already here will be able to stay that pipeline of skilled labour is likely to be at least heavily restricted. And how are we going to replace the many baby boomers who will be retiring in coming years?
The recent Scape report, Sustainability in the Supply Chain, provided a very helpful insight into just how heavily skills shortages in the built environment are weighing on the minds of public sector managers. While "only" a third of managers rated the skills gap in their community as bad or severe, 85% said that there had been some negative impact on the quality of workmanship they received, and 80% said that skills shortages were hurting their ability to keep projects on budget.
Some helpful measures are afoot, however. The government's post-16 skills plan, released in early July, is a positive step. Accepting the recommendations of the Sainsbury Review (the Report of the Independent Panel on Technical Education), it aims to move towards simplifying the whole environment for developing vocational skills and to address the esteem gap between academic and vocational routes for young people.
Critically, it acknowledges the need for structured work experience as part of the education journey, which too often in the past has been lacking. Of course, this "real-world" experience is already provided in apprenticeships but it is good to see the skills plan acknowledge that college-based courses also need to have this sort of direct work experience baked in.
It is good to see the skills plan acknowledge that college-based courses need to have direct work experience baked in
Construction companies need a wide range of skilled workers in IT, accounting, human resources, and other disciplines, so they won't just be recruiting from the construction pathway described in the skills plan. But it's encouraging nonetheless that there will be a clear pathway for developing construction-specific skills.
Of course, there is also the apprenticeship levy coming into place in April 2017, which will guarantee that companies across the built environment invest in skills through apprenticeships – even if, for a lot of firms already paying the CITB levy, it creates a "double whammy". Still, the scale of the problem is huge, and I worry that incremental, evolutionary approaches will not be enough.
One thing we saw in Rio this summer was that when this country puts its mind to something and invests in it, we can make it happen. What we need for construction is an effort along the lines of Britain's investment in sport two decades ago. Clearly, a key element of this is government support. We need certainty and substantial funding in the public sector pipeline to give firms the ability to predict future needs and the financial confidence to invest in skills. We need a consistent and stable policy environment that allows companies to form partnerships with the educational system to promote apprenticeships or other "learn while you earn" solutions that mean young people are prepared for the real world of work.
But it's not all up to government. We know that in the private sector we ourselves can make progress in tackling the skills shortage. I believe that our strategy should be a simple one:
Recruit – reach out to the next generation and show them the tremendous rewards of careers in construction
Train – demonstrate clear progression routes for individuals working in the built environment so they stay with us for the long term
Retain – raise the level of quality in the built environment and promote a culture of professionalism, so that the outstanding reputation of our work (and the benefits it brings society) draws young people to want to join us.
It is the personal responsibility of every one of us who works in construction or the broader built environment to be encouraging young people to consider careers in our sector. We can get out into schools, and work with colleges and other training providers to ensure relevant and structured work experience.
Ultimately, what we do in our jobs, and in our sector more broadly, is really just a means to an end. The built environment is about improving people's lives, individually and collectively.
People benefit from healthy workplaces and homes. Construction is a great multiplier of productivity: better housing, better infrastructure and better work environments all lead to a more productive economy. No, we'll never know "what might have been", had the EU referendum vote gone the other way. Nor could we know just how many gold medals Team GB would have won had we not invested lottery money in the 1990s in sports training and facilities.
But let's take inspiration from our medal winners in Rio and consider it a challenge to make the same thing happen for construction.
James Wates is chairman of Wates, the CITB and Build UK

Building and the Construction Youth Trust have launched an initiative for construction firms to offer young people work experience places. Sign up now at www.building.co.uk/experience