James Bessey predicts what major changes to our rules and regulations new entrants to construction may expect to see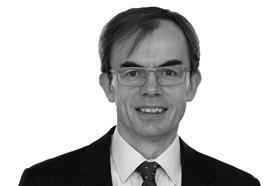 This issue of Building looks at new entrants to the construction marketplace. Of course one issue is what challenges they face, and part of assessing that is recognising where the industry is and how it is changing. But another aspect is what new entrants themselves may offer to the industry in terms of ideas, approaches and new ways of looking at things.
Undoubtedly this is an industry facing major structural changes. Three issues alone justify that assessment: the Hackitt fire safety review and associated regulatory change; Brexit and the resource challenges it brings; and solvency and funding in the light of Carillion's collapse and similar events.
There is growing noise around the idea that procurement processes should take account of overall social and lifecycle value, rather than just focusing on lowest cost. That is linked to a need to arrest declining quality, the poor payment practices among tier-one contractors that have been shown up recently, and modern slavery.
There is growing noise around the idea that procurement processes should take account of overall social and lifecycle value, rather than just focusing on lowest cost
Criticisms have been levelled at main contractors for imposing long payment terms and high levels of retention on the supply chain, so they can effectively use sums due to their subcontractors' to benefit their own cash flow. It is a flawed business model, driven in part by low profit margins. The public sector is looking to address this through mandating payment arrangements through procurement processes, using project bank accounts and (possibly) legislating around retentions.
In respect of modern slavery, there have been examples recently of building sites being raided for using forced labour – presumably a reflection of the race to the bottom on tender prices. Like the Bribery Act, the Modern Slavery Act captures supply chains (wherever they are located). The anticipated increase in offsite manufacture may mean that the industry needs to adopt better due diligence processes to ensure compliance with the act (and larger operations will need to report in an annual statement on measures they are taking to combat modern slavery).
Perhaps the greatest change is to move away from the 'build today, argue tomorrow' approach
Government is going to be a major player in all this. First we must wait to see what legislation is brought forward by the end of the year to implement Hackitt's recommendations. Can government escape the shackles of Brexit long enough to do a proper job for the industry? If it does then arguably the new regime – probably implemented in a similar way to the CDM Regulations – will produce a quite different landscape for new entrants to construction from that of just five years ago.
Government can also lead the way by mandating evaluation criteria to be applied in the public sector. Last month the Cabinet Office launched a consultation into how government should take account of social value in the award of central government contracts. The next generation of private-sector clients, contractors, consultants, lenders and wider stakeholders will also need to buy into a different philosophy if there is to be pervasive sectoral change.
In terms of construction law, the question is whether "the market" can deliver that change in mindset rapidly enough or whether incentives and/or sanctions will be needed.
Take a relatively small issue like operation and maintenance manuals. A few years ago buildings were regularly being passed for practical completion with no, poor, inaccurate or partial manuals. The manuals were allegedly to follow, but anyone dealing with dispute resolution knows this often does not happen and/or the quality and accuracy of the product diminishes the longer after completion it is produced. Consumers have pushed back against this and amendments requiring such paperwork as a condition of practical completion are much more common. But that does not help when a main contractor becomes insolvent or leaves the job before the end. Rolling provision of documents by category of specialist may come in. The proposed Hackitt reforms will require a proper paper trail. Any new entrant to the sector should expect a much more rigorous approach to paperwork.
Arguably this theme started with the Construction Act introduced in 1998 and the requirements for notices about payment issues. My recollection is that the industry took a long time to adjust to the act – and, remarkably, one still sees some industry parties oblivious of the obligations. Non- or late payment of the supply chain remains a concern and risk for employer parties. Insolvencies show how employers are left to pay again to get specialist work completed that is not easily obtained from new suppliers.
Perhaps the greatest change that underpins all the above is to move away from the "build today, argue tomorrow" approach. NEC/EEC contracts, again led by government action, were part of that change. New entrants may well find that they need to be fully engaged before, during and after the build works themselves.
James Bessey is a partner in Blake Morgan