Simon Rawlinson discusses where the greenest shoots can be found in architecture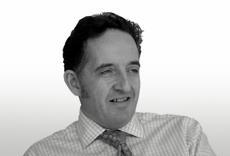 Building is looking at the world of architects this week with a full feature out in print and online on Friday examining the state of play in the sector.
Yesterday on building.co.uk, three top bosses shared their views on what's in store for architects - today, industry expert and economic commentator Simon Rawlinson discusses where he sees the opportunities and challenges for the sector.
Simon Rawlinson, head of strategic research at EC Harris
By being at the front end of the feasibility process, architects should be the first to see signs of recovery in construction markets. It is early days, but the RIBA Future Trends survey, published this month, has been positive for the first four months of the year - indicating greater confidence in future workload.
The public sector has been a challenging market for many practices, and there is a growing perception that the application of OJEU and the use of national frameworks has focused too much opportunity on large practices.
Given the public sector slow-down and the slow recovery of the commercial market, opportunities in private housing are currently the main source of growth for many practices.
Design skills that are focused on re-purposing existing buildings, through change of use or re-planning, have the potential to be a major source of workload
One of the great strengths of UK architects has been their ability to move into overseas markets. With the UK and Europe providing limited opportunity, many practices have taken the traditional route to recovery of "getting on a plane". However, obvious targets such as Libya are in danger of saturation, so practices need to be selective in their choice of market. Evidence of the impact of overseas markets is mixed. On the one hand, RIBA data suggests that only a very small proportion of work in progress, currently 2%, is related to overseas projects.
On the other, many larger practices rely on large overseas commissions, which bring their own challenges, such as scale and speed of response required, and the commercial risks involved. Masterplan commissions with duration of little more than a month place a great strain on creative resources, but could potentially open the door to much larger, long-term commissions.
However, some of these commissions carry considerable commercial risk, and the lead consultant role, where fees and liability for the full design team are channelled through a single business, may not be appropriate for practices with a constrained balance sheet. Managing the performance of other consultants, providing for cash flow and actually getting paid are real issues, and the well-publicised difficulties recently faced by some UK practices provide ample evidence of the risks involved.
Closer to home, architectural practices have plenty of challenges to deal with. From a design point of view, the need to respond to these more austere times with design solutions that are both functional and performance-focused is a high priority.
Clients increasingly need buildings that can be occupied more intensively, with a lower carbon footprint at a lower cost. These projects certainly require ingenuity, but may not provide the opportunities for expression and innovation that were common-place, even in schools and colleges, prior to 2010.
That's not to say that design quality is optional, more that investment in quality has to be made very effectively to secure maximum benefit. Mixed use regeneration remains on the agenda in many locations, so the architects' skills as an integrator will continue to be highly valued. Design skills that are focused on re-purposing existing buildings, through change of use or re-planning, have the potential to be a major source of workload.
Innovation around BIM has the potential to be a major differentiator for all businesses in the construction supply chain
An additional, ever-present challenge is the need to reduce carbon emissions, heightened over the next couple of years by the forthcoming introduction of Part L 2013. As well as dealing with new modelling tools and processes, it is highly likely that the building fabric will assume an even greater role in delivering emissions reductions - potentially constraining the options available to architects and certainly requiring an even better appreciation of building physics.
No profile of architecture in the UK in 2012 can be written without reference to building information modelling (BIM).
The most recent NBS survey, published in March 2012, shows that just over 30% of practices were actively using BIM solutions in their workflow, but encouragingly, awareness levels have reached just under 80%. Cost of implementation continues to be a barrier, and more work will be needed to address potential blockers such as PI insurance to give architects the confidence not just to adopt BIM, but also to share models in such a way that all parties benefit from better quality information.
Innovation around BIM - particularly around workflow and the ability to make best use of information - has the potential to be a major differentiator for all businesses in the construction supply chain.
Based on BIM and model integration, architects will continue to have the opportunity to strengthen their role at the centre of the development and construction process.
However, this space could become very crowded with contractors and consultants, so the Architects' BIM proposition will need to be distinct. With so much value from BIM derived from downstream construction and operation, there is a great opportunity for designers to create the initial BIM models and information infrastructure.
BIM's potential to deliver joined-up solutions is an indication of how the industry is likely to evolve - with greater integration of design and construction, earlier involvement of the supply chain and greater use of standard, information rich components.
Clients will need to be very effective in defining and communicating their requirements, and the architect's contribution to the role of client advisor - promoted by the RIBA - will be an important development for the profession, making best use of high-value skills at key stages in a project.