John Tebbit finds Hagia Sophia in Istanbul awe-inspiring but longs for the day when the Shell Centre on London's South Bank has been removed and forgotten about
Hagia Sophia in Istanbul is still a staggering building, nearly one-and-a-half thousand years after it was built. The scale, the vistas and spaces are still awe-inspiring today just as intended by its creator, the Byzantine Emperor Justinian I, in the early sixth century. It remained the largest building of its type for almost a thousand years and was over 1,100 years old before St Paul's Cathedral was built.
When Constantinople, as it then was, fell to the Ottoman Turks under Sultan Mehmed II in 1453, he ordered that it should not be destroyed but converted to a mosque. I like to think that the Sultan along with his great architect and engineer Sinan (of the Blue and Süleymaniye Mosques) were equally impressed at this magnificent building. It remained a mosque until the 1930s when it became a public building. In a city of so many magnificent building, Hagia Sophia is the must see for any visitor to Istanbul.
My blunder is a building I see every working day on my commute. I have walked past it, under it and it still strikes me as one of those buildings that only its own architect could have loved.
The Shell Centre on the South Bank of the Thames is, to me, an example of 1960's architecture that the world will not miss, particularly the lower rise buildings adjacent to the railway viaduct. Add in bits falling off and it really is unprepossessing. The only sad thing about the recent sale of the complex for redevelopment is that the tower will remain.
Never mind, the Shell Centre will vanish from both the world and memory long before Hagia Sophia.
John Tebbit is deputy chief executive and industry affairs director of the Construction Products Association
WONDER
Hagia Sophia was built in the sixth century and served as a Greek Orthodox church until the city fell to the Ottoman's in 1453. At this point it was converted into a mosque. In 1935 Mustafa Kemal Atatürk, the founder of the Republic of Turkey, secularised the mosque and converted it into a museum. In the last decade the building has undergone major restoration work to stabilise the structure and internal climate.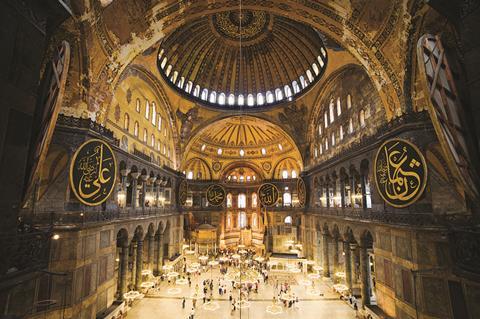 BLUNDER
The Shell Centre was designed by Sir Harold Robertson and built in 1961. The tower is 27 storeys high and extends three floors underground. It is one of two central offices for oil company Shell (the other is in The Hague). Construction on a redevelopment of the centre, that will retain the original tower, will begin next year.