UK Green Building Council report calls for government to underwrite Green Deal loans in bid to bring down interest rate and drive take up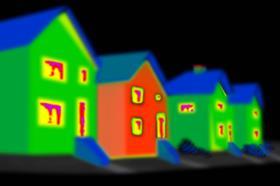 The government should move to guarantee Green Deal loans in a bid to save its floundering flagship energy efficiency scheme, a report by the UK Green Building Council (UKGBC) has said.
The UKGBC report into the finance offered under the Green Deal concluded that the interest rate under the scheme, currently between 8% and 10%, should be subsidised or underwritten by the government in order to help bring it down.
This come after Building revealed last week that Labour would consider underwriting Green Deal loans as a way of reducing the interest rate offered under the scheme if it forms the next government.
The UKGBC report said the interest rate was already competitive, but a lower interest rate would mean more measures could be installed without breaking the scheme's Golden Rule, which states the cost of installing the measures –including finance costs – must not exceed the savings on bills over the duration of the loan.
It says this would act as a driver for take-up of retrofit measures under the scheme.
The report, which drew on the experience of 17 firms including Carillion and Keepmoat (see below), also said this rule needed to be relaxed to allow householders to repay loans more quickly and that lenders under the scheme should be able to offer variable interest rates, linked to the Bank of England base rate.
The report also recommended that community and social groups be encouraged to lend under the Green Deal to widen the choice of lenders for consumers.
Paul King, chief executive of the UKGBC, said the Green Deal had "massively under delivered".
He said: "[The] government has to step in to create incentives that encourage homes into taking action and be prepared to prioritise capital spending on energy efficiency. Underwriting the Green Deal – as government has done with Help to Buy - would provide a huge shot in the arm for the retrofit industry."
King added: "Government must make energy efficiency a top national infrastructure priority, as important as decisions on HS2 or aviation expansion."
Christoph Harwood, partner at Marksman Consulting who chaired the Task Group, said lower interest rates "cannot be achieved through a standard market solution".
"Financial intervention at either a local or national level would be required to deliver a lower interest rate at the large scale required," he said.
The Department of Energy and Climate Change has been contacted for comment.
UKGBC Task group membership
Adca Investments
Bank of America Merrill Lynch
Behaviour Change
Carillion
Consumer Futures
E.ON Energy Services
Ecology Building Society
Energy Saving Trust
Forum for the Future
Gentoo
Keepmoat
Marksman Consulting LLP
Saint-Gobain
Travis Perkins
Verco
Willmott Dixon
The Green Deal Finance Company (observer)