True business management is lacking from our industry. Chief executives and MDs must show real captaincy skills or risk being casualties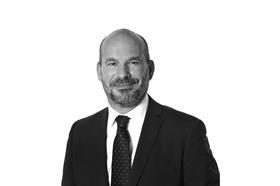 The political chaos all around us is a clear cause of concern to most businesses. As fears grow about the wider economic outlook, construction voices have been most vociferous in warning of the need for stability, countercyclical public sector investment and continued access to migrant workers.
It has also been clear the government is not particularly minded to give construction special treatment. Despite our sector deal, I know we are still seen as a "problem child" by politicians, underpinned by the usual productivity woes but also increasingly tainted by high-profile headlines about major project delivery failures and poor-quality buildings that have led to a backlash from the electorate.
Many people will still blame the system or others in the system without holding a mirror up to themselves and taking responsibility – forcing themselves to find a different way
What the industry has to realise is that it has to solve its own chaos. Now is the time to wake up and smell the coffee and show some leadership – and this is the crux of the matter for me. It is true business leadership that is lacking from our industry, I'm afraid. We have no shortage of industry bodies and institutions claiming to be "leading" change but there are real risks of a broader lack of followship and the continued bias of vested interests not creating strategic impact.
Ultimately, it's going to be down to those who personally lead businesses to make decisions that will secure their future and, by collective effect and peer pressure, change the wider industry for the better. As usual, I firmly include construction clients, funders and advisers in this bracket, as they continue to be part of the problem. Unless those individuals who drive the engine room of the built environment sector from majors to small-to-medium enterprises realise we are running out of competent people, we are frittering away profits through design, transaction and delivery waste, we are still delivering unsafe, poor-quality built assets and we are a massive part of the climate change problem, then all the sector deals in the world will not lead to reform.
There are, interestingly, the beginnings of real regulatory reform starting to show on the horizon and that should please the public, but it should also deeply worry many in the industry. Some of the proposals in the government's Building a Safer Future consultation and the more recent Raising the Bar interim report could have far-reaching implications for construction, in effect making "business as usual" impossible, overlaying a competency and process filter on construction that we have never seen before, and that's before we even look at the impact of structural workforce decline.
Further pain will stem from what is now an apolitical realisation that we need to move towards net zero carbon. Unlike 10-15 years ago, this will be an irreversible direction of travel towards industry process efficiency and higher-performance buildings. I would also flag the insurance industry as an increasingly powerful agent of reform, as it is starting to unilaterally shape change by refusing to underwrite aspects of existing professional services, contracting risks and certain building materials use, irrespective of regulatory change.
It's also clear that the commercially led behavioural inadequacies of our industry are yet again coming to the fore, spurred by declining workloads and failing market sentiment. Loss-leader bids and buying work are back with a vengeance, even though input costs are still going up – this is coming from consultants, contractors and subcontractors. Not many have learned from the past it seems, including some clients (public and private), lawyers and other "advisers" who are still focused on cost not value and now see opportunity to exploit. Reducing selling prices without addressing the underlying 40-50% waste factor in our industry is nonsense but that is what many are seemingly intent on doing.
So, all you sole principals, managing directors and chief executives out there –controlling your business's future whether you're engaged in sophisticated strategic business planning or simply deciding what the next job is and at what price to bid for it – you now have a stark choice, even more extreme than what I set out in Modernise or Die in 2016. You either show personal leadership and decide what changes you're going to make that will improve your business health or you increasingly risk being a casualty.
Don't get me wrong, our industry is changing and modernising, but in pockets, and we do have leaders of businesses making this happen on the ground, ably supported by a further minority of change agents within those businesses, but as long as they remain in the minority and people lazily keep saying from the sidelines: "We want to change but how?", or the apologist: "It's not as bad as all that", then a great deal more pain lies ahead. This is set to be accelerated by external disruptors, some aided by government, upsetting the status quo.
Many people will still blame the system or others in the system without holding a mirror up to themselves and taking responsibility and forcing themselves to find a different way. You'll only control change by altering what you individually decide to do next, whether it's your wholesale business strategy, client or funder selection, bidding behaviour, technology deployment, new joint ventures and collaborations, better payment practices, training needs and so on. If you simply wait for the system to change, chances are you'll be too late.
Mark Farmer is chief executive of Cast Consultancy and author of Modernise or Die