With a constant need to attract the best students, the development of universities has remained a strong sector for the construction industry. But are universities making the most of the connections with the cities they are in? Our roundtable of industry experts gathered to discuss the issues faced by our academic institutions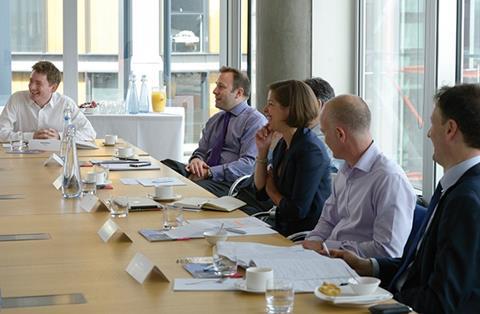 Round table speakers
Professor Alan Penn, University College London
Professor John Polak, Imperial College
Ralph Luck, King's College London
Julian Robinson, London School of Economics
Stephen Wells, Queen Mary, University of London
James Lee, Greater London Authority
Paul Clark, Universities UK
Heather Topel, University of Cambridge
Richard Meier, Argent
Philip Watson, Atkins
Mike McNicholas, Atkins
Elspeth Finch, Atkins
Sarah Richardson, Building (chair)
Research carried out by Building's sister research company Barbour ABI shows that during the downturn universities continued to spend at a rate of about £2bn a year on construction.
As a result of this sizeable spending, which has been driven by the government-backed push to increase student numbers, universities have become increasingly influential players in their local and regional economies.
But are universities and city authorities working together in a way that will maximise the benefits for both the institutions and their communities, or are opportunities being missed because of a traditionally siloed approach to investment? Building and Atkins assembled a roundtable of property experts from higher education to debate the issues thrown up by the sector's rapid and continuing growth, and the extent to which universities and their home cities could benefit by a more collaborative approach to development.
Making connections
Nowhere are the growing pains of university expansion more acute than in Cambridge, where the 800-year-old university has embarked on a £1bn residential-led development to the north-west of the city.
According to Heather Topel, deputy project director of the North West Cambridge Development, the scheme is chiefly driven by the university's need to attract the kind of high-quality research staff who are in demand worldwide - which meant improving the infrastructure of the city as well as the university itself.
"We need to find ways to attract the best and brightest of the city to Cambridge. Our priority is to find accommodation that is fit for purpose for our research staff," she said.
Professor Alan Penn, dean of the Bartlett Faculty of the Built Environment at University College London, agreed that the surrounding urban environment is an increasingly important element of any university's offer.
"When students come from all over the world, they come here [London] because of the city. Even with the cost of accommodation, it's a tremendously exciting place," he said.
We are cognisant of the relationship of the university with our new neighbourhood. we are looking to invest in these places for the long term

Heather Topel, North West Cambridge Development
In turn, well-planned higher education developments can help to spur the regeneration of the towns and cities they are located in.
King's Cross is probably the highest profile example of how a tertiary education institution has catalysed development. The developer Argent lured Central Saint Martins college from its former base in the West End, bringing thousands of students and staff on to the former railway land site. "It's been tremendously helpful for our development," said Richard Meier, partner at Argent.
"It makes people want to be there because they identify that there's a really interesting mix of people. Ultimately, a successful regeneration scheme is about people being where other interesting people are doing interesting things."
Paul Clark, policy director at Universities UK, argued that higher education institutions are often the anchors for their local economies, giving as an example the University of Teesside in Middlesbrough.
"You have hollowed out petrochemical and steel industries, but you also have a very stable university which is a major employer," he said.
Penn agreed. "If you look at a lot of northern cities, the university is the main employer, it's the lifeblood of the community," he said, explaining how what he terms "student-led regeneration" can provide a catalyst for neighbourhood revival.
"They [the students] are only there three years, but they drink and spend a lot so the pub and the corner shop get going and then other people move in," he said.
The balance of power
But who stands to benefit most from university developments, the communities they are located in - as Clark's comments suggest - or the institutions themselves? This was a question posed by Mike McNicholas, Atkins' UK MD for design and engineering.
"None of us, hopefully, take the view that universities don't care about the cities they are in, but the contribution they make is not just an altruistic thing, it's about attracting the best talent," said Philip Watson, UK design director at Atkins.
However, given the long history of "town and gown" tensions, knitting higher education developments into the surrounding urban fabric is often a challenge, even where the will is there from the universities.
This issue is important for the North West Cambridge Development, said Topel.
"We are very cognisant of the relationship of the university with our new neighbours," she said. "We are not looking to cut and run, we are looking to invest in these places for the long term. The character of place is important to us.
"We are not pretending that this is going to recreate medieval Cambridge. It will be a very contemporary place and will have a different feel, but the scale will be that of Cambridge and the way the urban form relates to public spaces."
Penn said the crucial thing was to avoid homogeneity when shaping a development.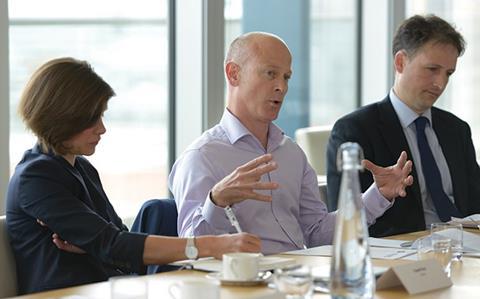 "It's the difference between a fruit salad and a fruit bowl: rather than chop it all up and make a smoothie, it's better to say we have great things and put them into a bowl together."
Professor John Polak of Imperial College, London, cited ETH University in Zurich as an example of a university development that had not worked.
"They had the same sort of congestion problems in the centre of Zurich that we all face and they had to expand. Their solution was to build a whole new campus on the edge of town, which is a 20-minute bus ride from the centre. It's taken a very long time for that new campus to gel and it still feels sterile and over-planned," he said.
"They had few alternatives: Zurich is a small city so they were on a dodgy wicket. There's a whole set of intangibles to do with culture and place that we depend on which are extraordinarily difficult to replicate but unfortunately very easy to destroy."
Argent's Meier argued that a successful development isn't just about bricks and mortar, but how the site is managed, which can sometimes be overlooked.
"You can have somebody trying to secure Google, which is a major pre-let for our site and you can have somebody spending an equivalent time on agreeing a food pitch outside where the Google building will be. Estate management and the buildings have proved to be equally important."
The London question
UCL's Penn made the point that in contrast with northern cities, universities form a much smaller proportion of the London economy. Nevertheless, he argued that the sector plays a crucial role underpinning what he described as the capital's unique "ecology" of knowledge-intensive businesses, which in turn are key to the UK's broader balance of payments.
James Lee, senior policy officer, economic and business policy at the Greater London Authority, stressed that the capital's mayor Boris Johnson is alive to the "huge" economic potential of the university sector.
"The mayor has been very supportive of Tech City, which has now developed into Med City with London linking up with Oxford and Cambridge. The priority is using the economics of agglomeration that we have here."
The biggest risk for london is that accommodation costs are so high that the creative graduates that come out of these top universities can't afford to stay here

Philip Watson, Atkins
So how do London's universities make better connections with their surrounding urban environments? Julian Robinson, director of estates at the London School of Economics, argues that this is exactly what his institution does.
"The most important thing is being open and permeable and not putting the barriers up. We are conscious at the LSE that we don't want the privatisation of public streets," he says.
As part of its next major development, the LSE is planning to create a new public square, using its own land. "It's about putting something back into the city because we know that students come here partly because it's London."
However, he argued that this kind of approach is becoming more difficult because the capital's economic success threatens to put out of reach the kind of inner urban sites universities need if they are to remain embedded at the heart of civic life.
The LSE faced a tough battle securing the site for its recently completed student centre, he recalled.
"We did it because we had to do it strategically but we were up against the Candy brothers, a high-end residential developer. We are not going to be able to do that again in a hurry."
Stephen Wells, director of estates and facilities at the University of London's Queen Mary College, said he faced similar challenges in Whitechapel. However, while the college is anxious to boost its presence in the East End neighbourhood, due to the proximity of its partners at the Royal London hospital, it faces land values that are escalating as a result of the imminent arrival of Crossrail.
"We have to compete with developers in Whitechapel to access land for expansion, which is difficult." As a result, he said, London's universities would have to work increasingly closely with councils and the mayor's office to bring forward the sites they required, both for their own facilities and to house their students.
Robinson warned the consequences of these wider economic pressures in London could threaten to undermine London's position as a leading centre of research, as without an intervention in the property market there was no way postgraduate researchers would be able to secure a foothold on the property ladder. "It's embarrassing what postdoctoral researchers in cancer get paid," he said.
And failure to resolve these issues could also undermine the long-term health of the wider London economy, warned Atkins' Watson. He said: "The biggest risk for London is that accommodation costs are so high that the creative graduates that come out of these top universities can't afford to stay here."
So, universities may be becoming more interwoven with the fabric of their cities, but if the longer term futures of the students who learn there are to become more inseparable too, there are some fundamental issues to be resolved.