Work continues at the EVB Facades factory in Kyiv with the firm insisting it will deliver on a contract for a Birmingham student block next month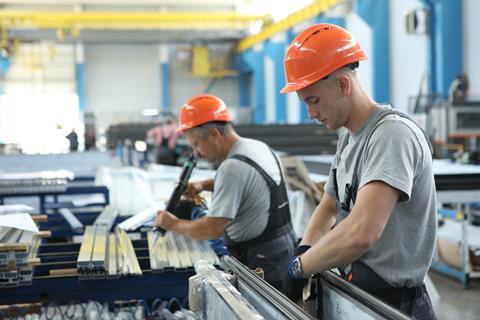 Around a month before Russian tanks began to roll across his country's border, Anatoliy Chegusov was preparing a risk analysis for his clients in the west. The owner and managing director of a glass facades business in Kyiv, Chegusov told his UK customers there were three possible scenarios for the months ahead.
Scenario one was that there would be no war, an outcome which they believed to have a roughly 43% probability. Scenario two – estimated at 45% – described minor acts of Russian aggression, confined to the east of Ukraine. The third scenario, Anatoliy told his clients, was a bloody massacre, culminating in a third world war.
"The first two scenarios were wrong," Chegusov told Building, speaking over Zoom from an under-siege Kyiv last week. "I really hope the third will also not be correct."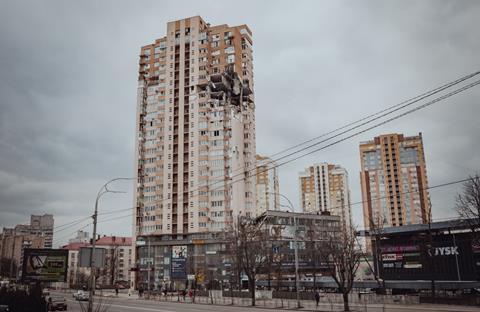 Much has been made of the bravery and perseverance of the Ukrainian people in defending their country, and Chegusov has such tenacity in spades. Since 2001, he has run EVB, an aluminium facades and windows specialist which has glazed many of Ukraine's tallest towers and which he claims is the market leader in the country.
Among the firm's projects is a new purpose-built student accommodation block – Compass Birmingham – in the Curzon Circle area of the UK's second biggest city. Astonishingly, despite the conflict raging around them, Chegusov is insistent that he and his employees will deliver the project.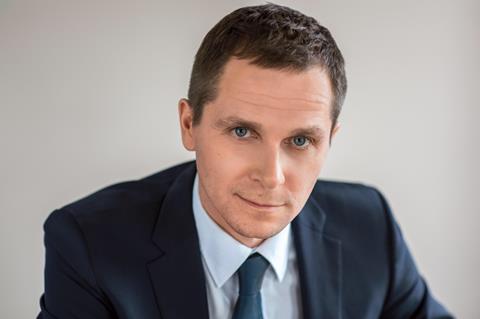 "Notwithstanding the war, we have to fulfil our obligations," he told Building. "We have to continue with Compass, because students have to start living there from the beginning of September."
To do so will be no mean feat – the company has to manufacture the facade units at a plant in Kyiv before shipping them to Birmingham to be installed by their UK subsidiary.
But they can no longer access new glass units from Poland and the coating facilities for their aluminium units is out of order following the bombing of a gas pipeline to the north of the city.
On top of that, around 60% of the company's 200 workers have fled the region, while a further 20% have been conscripted into the army or joined up with territorial defence units.
> Also read: How to understand the effects of the crisis in Ukraine
> How Gleeds boss in Ukraine escaped from Kyiv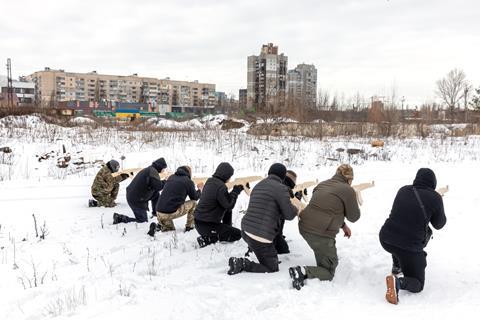 There has also been the challenge of attaining the correct documentation from a government under attack. "Many different problems appear, but we manage them," Chegusov said.
The suspension of EVB's Ukrainian contracts due to the war has helped to reduce the staffing challenge, but the firm has been forced to adapt in order to deliver the project on time. Some glass units have been shipped to the UK directly from Poland for final assembly with the rest of the Ukraine-built facade unit.
EVB's factory has been in operation since 15 March, after a weeks-long pause immediately following the invasion. "There was a week or two of panic and concern with everyone," admitted Christopher Smith, director of EVB's UK subsidiary.
"[But] we had all the material, they carried on making it, we told [the developer and contractor] Torsion that was the case – they did look at other options, but I think they realised there was no other option than letting us do it that made any sense to anybody.
"There have been some issues around logistics and transportation and customs documentation, but we've continued to operate and will continue to operate. From where I sit it's nothing more than a miracle."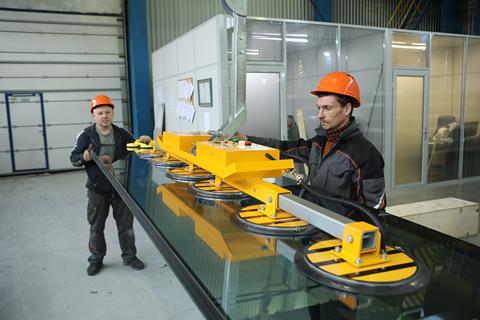 "Issues" might be putting it lightly – a blockade of the main roads out of the capital meant EVB was unable to use long-track lorries to get its product beyond Kyiv. Instead, it had to arrange a fleet of smaller trucks to take the goods to a logistics centre in the suburbs, where they were picked up by trucks which had been carrying humanitarian aid to the east of the country.
"On the way back they were empty and they picked up our goods and delivered them to the west of Ukraine, where it was relatively calm, and then logistics companies picked up the cargo from the west of Ukraine and went directly to Birmingham," said Chegusov.
Some may question why, given the circumstances, delivery of the Compass Birmingham project is important, but for the Ukrainian the answer is simple. "Life goes on, even during the war where you hear blasts and air raid alerts," he said.
"Some of our employees, they lost homes because they were destroyed. One of our employees, his father was killed – shot from a tank.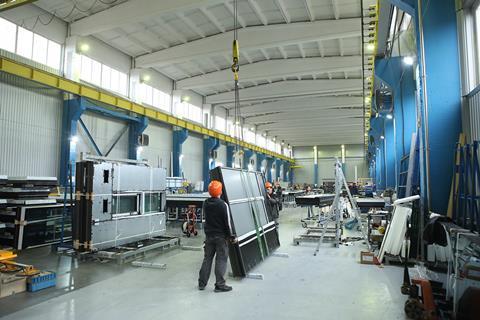 "Even in this situation, probably the worst situation is to have no activity – to just sit at home and read the news, this is what makes you really crazy and nervous. So everyone is trying to do something."
Beyond this, he said, the company needs to deliver the project in order to receive payment and continue to support its employees. All the money paid to the company is going towards maintaining wages, with whatever is left over spent on supporting the army.
It was Vladimir Putin's first major act of aggression towards the country – the 2014 annexation of Crimea – that first pushed Chegusov to look into exploring export activities, having previously been an entirely domestic business. After small-scale projects in Kazakhstan, the Czech Republic, Iceland and Georgia, the company decided to set up shop in the UK in 2016.
The 15-storey, Glancy Nicholls-designed Compass Birmingham development is EVB's second project in the UK. Before that it glazed Hadrians Tower, the tallest building in Newcastle which was built by local contractor Tolent.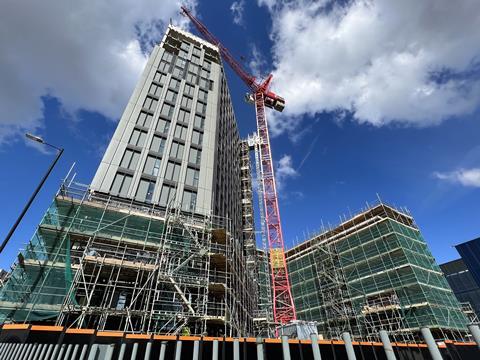 EVB's UK business usually employs around five people, with plans to increase to 12 as more projects come in. Chegusov said he was hopeful about expanding the UK business but said the war had made this more challenging.
According to the MD, the company had been the preferred contractor for a £6m project in Manchester. EVB spent four months on the tender but was told just a few days before the invasion that it would no longer be considered for the work because of the war risk.
Alexey Ermolenko, EVB's operational director, said the company was "ready to create jobs for people in Ukraine", but that they need contracts in the UK. "We don't want anything for free but affordable financing is something that would definitely help," he said.
"It shouldn't be from the government. I'm pretty sure there would be lots of investors who would be looking to assist the Ukrainian economy."
For now though, the firm is focused on just keeping going so that employees who have fled have a livelihood to return to – two EVB employees on the call with Building were in Berlin and South Africa, respectively.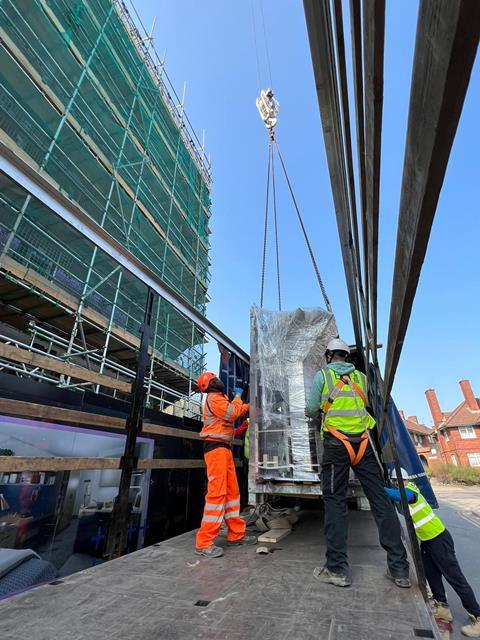 EVB hopes to complete the manufacture of the facade by the end of April and have it shipped to Birmingham and installed at Compass by the end of May. "We will continue operations here in Ukraine if nothing worse happens," Chegusov said.
"We want to show our reputation that we are a reliable partner – reputation is what works best in each and every market."
For his part, Chegusov has no intention of leaving Ukraine unless he absolutely has to. "We all want to live in Ukraine and stay in Ukraine," he said.
While Putin's focus appears to have switched to bombarding territory in the east of the country, EVB is hoping that the situation in Kyiv might improve.
"I don't want to move anywhere, but I would have to if Russians occupy Ukraine – that is not a question for me, I would not stay here.
"But this is the only condition for me to leave my country. Nothing else would make me move somewhere else."