Developers and employers are looking outside the capital's overheated market for opportunities in regional cities. Joey Gardiner goes beyond the northern powerhouse and looks at the prospects for Bristol, Birmingham and Glasgow
Last month's vote to leave the EU has left the industry facing the prospect of an extended period of uncertainty in commercial and residential development – which has already been partly on hold for the past three months. The recent lull, however, has not yet eased the general situation in London where soaring construction costs, huge overseas competition for sites and fears over the health of the global economy are all conspiring to push developers to look outside the capital. Eyewatering house prices are also forcing some big employers to look at other locations for their staff.
At the same time, the government's push for devolution, with its focus on the northern powerhouse and investment in transport infrastructure, is drawing occupiers and developers to the UK's regional cities. A swathe of city deals, both completed and in the pipeline, look set to give several major cities a new impetus as well as funding to boost their economies.
As Graham Hill, Scotland city executive at consultant Arcadis, says: "The London market is very, very overheated. Many developers are citing the very limited ability to make returns on investment there, so the time is right for the UK's regional cities."
However, while all the focus so far has been on the northern powerhouse cities of Liverpool, Manchester, Leeds and Sheffield, a lot is happening outside them. And, while these regional cities remain at very different stages of their recovery from the long recession, many hold some of the greatest opportunities for construction growth.
Here, Building looks at three of the biggest – Bristol, Birmingham and Glasgow, which have a combined economic output of almost £100bn and are home to more than 4 million people – and identifies the opportunities they have to grow and prosper, despite the wider political and economic uncertainty.
Bristol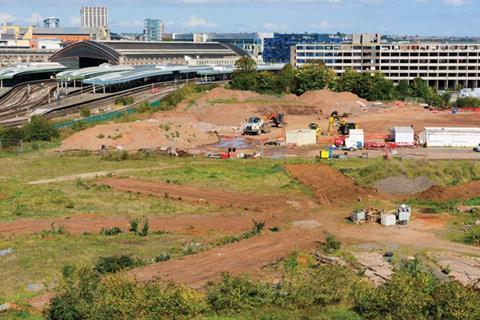 Bristol may not be talked about nearly as much as the likes of Manchester and Birmingham, but this 700,000-strong city has emerged from the recession with the best-performing economy of the UK's eight core cities. It saw its GVA (gross value added) grow by more than 20% between 2009 and 2014; during this period, with the election of an independent mayor, red-trousered former Riba president George Ferguson, it started to shed its council's reputation for cosy inaction and delay, and benefit from its desirable location and relative prosperity.
"Last year, the sun was shining on everyone's back, and the view was let's go out and make things happen," says Simon Peacock, Bristol director at agent JLL.
Adding to the buzz around the city is that work is finally starting on the £91m arena (pictured) – which the council has got Bouygues in to build – and the £200m MetroBus project, as well as the forthcoming rail electrification that will shave 15 minutes off the journey time to London by the end of 2018. Underlining the city's resurgent popularity, house prices in Bristol rose faster last year than in any major city outside London bar Cambridge. Former mayor Ferguson also secured support from the government for a £1bn city deal as one of his last acts before leaving office.
We need to have a rethink on how to make Temple Quarter into more of a mixed-use scheme but, by and large, it is about just getting on with it

Helen Holland, Bristol Council
May saw Ferguson ejected from office by Labour candidate Marvin Rees at the same time as Labour seized control of the council for the first time since 2003. Ferguson had strongly promoted both the arena development and the regeneration of the Temple Quarter enterprise zone around the city's main station Temple Meads. He was viewed as decisive, says Jeff Richards, Bristol office director at planning consultant Turley Associates: "Love him or hate him, he made decisions so things happened."
New mayor Rees has said little about development in general beyond pledging to more than double housebuilding rates to 2,000 homes per year, 40% of which, he says, will be affordable. Unsurprisingly, therefore, this change of leadership has added to the hiatus created by the Brexit vote, according to JLL's Peacock. "There's a bit of nervousness in the market around Marvin, particularly whether his attitude to affordable housing could stifle development."
Likewise, there are fears the council will be less focused on driving through regeneration plans at Temple Quarter. David Hunter, chair of Bristol-based architect Stride Treglown, says: "I don't have great faith the enterprise zone will be pushed forward with enthusiasm – hopefully it can still bear some fruit."
However, the cabinet member for place, Helen Holland, says the council remains absolutely committed to the arena, Temple Quarter and the city deal process. "We need to have a slight rethink on the Temple Quarter about how to make it in to more of a mixed-use scheme rather than just an office quarter but, by and large, it is about just getting on with it," she says.
The cabinet member for homes, Paul Smith, points out that the council intends to set up its own development company to push forward construction of homes for sale, private rent and affordable rent on council land by the end of the year. The company will directly commission homes from contractors, acting as developer and taking some of the strain of delivering affordable homes. "We're quite happy to be bold and ambitious," he says.
Bristol city region
Population: 714,000
GVA per worker: £53,200
New orders 12 months to Q1 2016: £261m
Year-on-year growth: 26%
Average house price: £247,436
Birmingham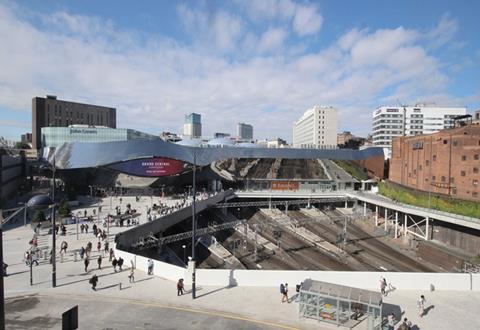 Birmingham has long been the UK's second city in terms of population but, for much of the past 20 years, it has lost out to Manchester in terms of profile and investment. It now ranks behind the northern giant in terms of the size of its economy, worth £48bn to Manchester's £53bn.
However, there are now many signs to suggest Brum is making a comeback – and, whereas Bristol's rejuvenation has come about through organic economic growth, much of Birmingham's buzz comes on the back of existing and planned public infrastructure investment – including the recent £600m redevelopment of New Street station (pictured) and – most significantly – HS2.
Under government plans, Birmingham will have two HS2 stations by 2026 – one to the east of the city near the existing NEC complex, and a branch line terminating in Birmingham city centre at a new Curzon Street Station in Digbeth. The UK Central enterprise zone around the Birmingham Interchange station says that £5bn in development value will be created by the line, while the city council says development around the city centre station could yield 36,000 jobs and 4,000 homes.
While the stations themselves will not be ready until the middle of the next decade, the fact they are coming is already driving activity, according to those on the ground. "HS2 is the big game changer," says Simon Marks, Birmingham city director at Arcadis and a non-executive director at Greater Birmingham and Solihull local enterprise partnership. "UK Central are looking at what early interventions they can make, and are talking about £700m-800m of infrastructure investment and bringing sites forward within a couple of years. We're talking to people already about Curzon Street – they're going to be wanting to develop it now."
The West Midlands could be a building site for the next 10 years. We need to get it right without tying ourselves in knots

Simon Marks, Arcadis
Alan Jarvie, business development director at Atkins for the Midlands, says: "There's a lot of excitement now. Pieces of land are being picked up by developers."
Despite these plans, Birmingham's post-recession economic performance has been less than stellar, with GVA growth of 17% between 2009 and 2014, behind Bristol's. The city suffers from low wages and high welfare dependency, according to the Centre for Cities, and house prices have only recently risen above their pre-recession peak.
Nevertheless, the city's economy has seemingly now picked up, with Deloitte reporting this year that office construction is at its highest level in over 13 years, and consultant Colliers saying more grade-A office space was taken up last year than ever before. Consequently, developers have pushed the button on long-stalled schemes, with Argent starting work on the £500m Paradise Circus scheme last year, and Ballymore announcing at this year's Mipim it would go ahead with its 3 Snowhill scheme, worth £90m.
This is not to say getting developments off the ground is suddenly child's play. Rob Flavell, strategic leader for Birmingham at T&T, says: "The spec development picture is still mixed. There's a lot of talk but pushing the button is still mixed and a number of big sites haven't yet happened."
The recent growth means skills shortages and construction price increases are potentially major constraints on delivery, according to Arcadis' Marks. Flavell agrees: "The amount of capacity taken out of the construction market means that prices can overheat quite quickly. That's challenging the viability of projects, as we're seeing significant trade price inflation, depending upon the sector."
And, of course, the Brexit vote has raised uncertainties about the HS2 project itself, with its main political champion – chancellor George Osborne – seen as likely to lose his job in a climate where the government is looking to make savings. This makes the successful conclusion of the parliamentary bill needed to give HS2 final permission – hitherto expected by the end of the year – particularly important. Flavell says: "Some big regen schemes are waiting to see that go through before pushing the button. The hybrid bill going through will be a big shot in the arm."
Nevertheless, for Marks, the big concern remains that uncoordinated expansion will be done too quickly, rather than not being able to get schemes away. "There's a danger that, if everything comes together – with Highways England also having big plans, and the City deal schemes – the West Midlands could be a building site for the next 10 years. We need to get it right without tying ourselves in knots. Manchester watch out," he says.
Birmingham city region
Population: 2.5 million
GVA per worker: £45,700
New orders 12 months to Q1 2016: £362m

Year-on-year growth: 55% fall
Average house price: £140,166
Glasgow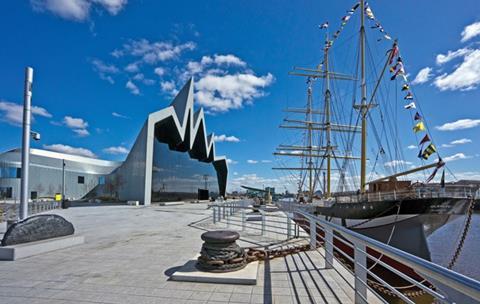 Glasgow has had a very different economic story from Birmingham and Bristol in the past three years. Like Birmingham, Glasgow suffers from problems familiar to ex-industrial cities, with high numbers of people without qualifications and high welfare dependency.
But, where UK cities have suffered three months of uncertainties from the EU referendum, Glasgow has been essentially hamstrung by political uncertainty since the Scottish independence vote in 2014. Andy Outram, lead director of T&T in Glasgow, says: "Because of the nature of the result, it didn't kill the debate and has caused a lot of angst. People are saying 'do we really want to be investing at the moment?'"
This political uncertainty could continue for years to come. However, uncertainty is not enough to explain why Glasgow's overall economy grew by just 11.7% between 2009 and 2014 and why, tellingly, house prices in the city are still more than 10% below their pre-recession peak.
Speculative development is very limited – unless the developer is very well known to the bank, it is very difficult to get funds

Graham Hill, Arcadis
Before the recession, the Scottish property industry was propped up by lending from the big Scottish banks – RBS and Bank of Scotland – which have since vastly restricted their activity. While these banks lent hugely to property firms in the rest of the UK too, in Glasgow there were fewer other sources to turn to when they exited the market.
Bruce Patrick, director UK investment at Savills in the city, says: "The big banks were funding everything in the city but, until last year, they hadn't recovered. While property investment has recovered, the development market has less so because of this funding constraint."
Understandably this has hit speculative schemes in particular. Graham Hill, partner at Arcadis in Edinburgh, says: "Speculative development is very limited – unless the developer is very well known to the bank, it is very difficult to get funds."
Until last month's Brexit vote, however, many were sensing that a corner had been turned, with plenty of demand for development – particularly hotel and leisure following the construction of the successful SECC conference centre and arena – and an easing of the chronic funding problems. Savills' Patrick says: "The funding has been coming now and confidence coming back. The imbalance between demand and supply is becoming even more acute, and schemes have gone from being really attractive to being a no-brainer."
The potential of the city, which has secured a £1.1bn city deal jointly from the UK and Scottish governments, is certainly strong. The government has identified a string of capital projects to bring forward, such as the £100m Collegelands scheme, the £1.2bn Glasgow Harbour scheme, the £250m Sighthill project and the £80m expansion of the Clyde Gateway.
These are alongside major capital programmes from the city's universities, particularly the University of Glasgow, which has a campus development programme worth nearly £800m. Atkins' Gary Ireland, client director responsible for the city, calls the programme the city's "engine". "There's a lot of positivity around Glasgow now. It's lagged behind – but it's the next big opportunity and just needs something to ignite it," he says.
In fact, despite the dearth of activity to date in the city, the SNP's national housing programme and a range of big infrastructure projects elsewhere are already taking up much of the capacity in a much hollowed-out Scottish construction industry, leading to fears over construction costs and skills shortages. "There's a nervousness about the industry's ability to supply what's needed – there'll definitely be a shortage if the expected work comes on stream. We've already seen evidence of increased tender prices and contractors being quite choosy," says Graham Hill.
Glasgow city region
Population: 973,000
GVA per worker: £47,200
Value of new orders 12 months to Q1 2016: £335m
Year-on-year growth: 20%
Average house price: £109,044
Data sources:
Population and GVA data: Centre for Cities (2014); New order data: Barbour ABI; house price data, Hometrack