Turner & Townsend's new embodied carbon calculator aims to put carbon mitigation into the hands of the cost manager
Much ink has been spilt in recent years over the cost of carbon emissions and a great deal of time and effort, particularly in the built environment, has been devoted to putting those costs into accurate numbers. But, if we are going to think about the carbon issue in such pecuniary terms, then why not make it the responsibility of those in the sector with the most experience of measuring, predicting and keeping a handle on costs?
That at least is the idea behind a new tool developed by global consultancy Turner & Townsend. The firm wants to put the assessment of carbon emissions in the hands of cost consultants and hopes its new Embodied Carbon Calculator, a bespoke software tool which tracks the carbon footprint of projects from design to completion, will be the first step to achieving that.
T&T director Steve Waltho, who led the development of the tool, explains: "What we wanted to do is look at the way in which you could have a broader-scale impact on reducing carbon across construction. So, rather than carbon being the preserve of specialist sustainability consulting teams, which it has been historically, we wanted to do something in a way where you could create a much [more] widespread impact and do that with some real pace and scale."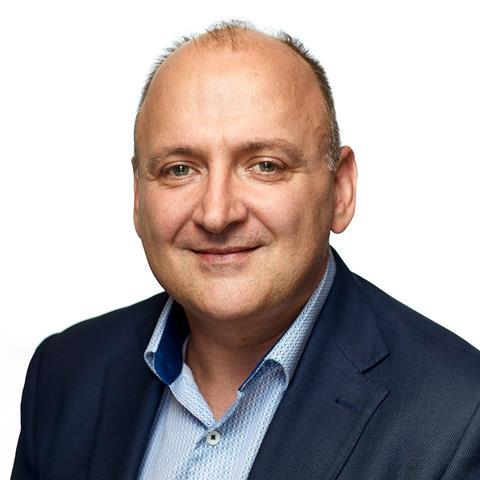 According to Waltho, cost managers are perfectly placed to take up this challenge. He says: "We're trained as cost managers to manage and effectively reduce cost through the design and the build process.
"Shouldn't it also be the case that we are best-placed then, in parallel and integrated with the cost conversation, to actually help mitigate and reduce carbon expenditure through that same process?"
Tristan Harvey-Rice, director of cost intelligence at Aecom, agrees that the "very siloed" approach typically taken over carbon and financial costing has often limited organisations.
The consultant worked as an expert technical advisor for the development of a cost-carbon tool for the Environment Agency, which was rolled out earlier this year, and according to Harvey-Rice the firm has "a number of tools at various stages of development" which jointly assess carbon and cost.
While he was sceptical that there is a one-tool-fits-all solution – he points out that "there are different solutions in different sectors based on different constraints and different requirements" - he agreed that calculation of the two metrics will increasingly go hand-in-hand on projects.
There's a tidal wave of this coming, so it needs to be rolled out sooner rather than later

David Lane, director, Thomas & Adamson
"I think it will follow the same journey that cost has gone through in that it will go through increasing levels of confidence and accuracy, and refined data-sets, standardisation of approaches," he says.
Some cost consultants, such as Thomas & Adamson, have looked outside their own business for embodied carbon expertise – the firm recently started offering a cost-carbon service using a third-party embodied carbon calculation tool called One Click.
Director David Lane said the firm was responding to client demand, with the cost consultant first receiving interest in the service around a year ago.
"There were three or four sort of clients and a couple of consultants asking the question around about the same time that made us obviously sit up and pay a bit of attention to it," said Lane.
"We think there's a tidal wave of this coming, so it needs to be rolled out sooner rather than later, because we're only going to be asked the question more and more as we start to head towards clients and government targets for sustainability over the next four, five or so years."
>> Also read: Cost comparison: Upgrade or renew?
>> Let's design better, specify better and consume more carefully
According to Simon Sturgis, founder of carbon consultancy Targeting Zero, the idea of merging financial and carbon cost management is not a new one and is something that the Royal Insititution of Chartered Surveyors has been "keen on since probably 2017". However, he says that the development of a tool which merges the processes is an innovation.
A planned update to the RICS professional statement of carbon calculating, which Sturgis is leading, is set to include a direct correlation between carbon and the international cost measurement standard and he says that the direction of travel is towards greater responsibility for carbon being placed on the shoulders of cost managers.
The T&T calculator is designed to follow established project planning stages, beginning from the the RIBA stage 2. It is also aligned with the RICS New Rules of Measurement 1 and third-party standards such as the UK Green Building Council, as well as benchmarking performance against industry targets proposed by LETI.
Shifting the curve
LETI, a network of more than 1,000 built environment professionals seeking a zero carbon future, has been consulting with industry groups since 2020 to align definitions and measurement methodologies for embodied and whole life carbon.
Last year it set out an embodied carbon rating system as well as publishing an embodied carbon reporting template that helps firms place their projects against the LETI benchmarks.
Projects are given an indicative rating along a colour-coded scale (below), much like EPC ratings, which runs from A++ to G rated. Currently, the average building design is rated E (775-950kgCO2e/m² in upfront embodied carbon), with LETI targeting an improvement to A (225-350kgCO2e/m²) by 2030.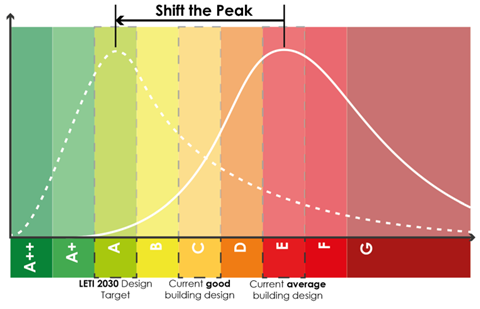 "One of the things we've tried to do in this is make this really clear, plain English," says Waltho. "So that you can take it into a client who is either expert or inexpert in the field, and everybody would be able to understand how the building performs and what they might need to do in terms of improvement and performance."
Waltho says that the scale of a big firm like T&T will help them to build up a large amount of benchmarking data more quickly.
Over time, use of the tool on projects will help the firm build a significant database of carbon values and the performance of projects, giving consultants better insight into what works and what does not.
He adds: "Where you've got other tools, they're either a niche or consultancy. So they haven't got the scale to be able to respond to global clients, big portfolio clients, or that widespread nature that is needed to meet the urgency."
What's more, making carbon the preserve of the cost consultant creates efficiencies by avoiding duplication in measurement of buildings, as carbon-related measurements can be taken as part of their normal surveying process.
However, Sturgis says that, when it comes to carbon, a certain amount of duplication could be "a good thing" for architects, structural engineers and service engineers.
He suggests that in giving cost consultants responsibility for carbon calculation, "there's a danger that might stop architects and engineers structural and MEP from examining their own carbon issues", arguing that cost consultants may not be able to give the kind of immediate day-to-day feedback on design necessary to keep carbon costs down over the lifetime of a project.
In other words, just because cost consultants are thinking about carbon, doesn't mean architects and engineers shouldn't be.
Design consultancies, architects, engineers should be understanding on a daily basis what the carbon impacts of their design choices are

Simon Sturgis, founder, Targeting Zero
"I think that's really good, I think, if when a service is engineers designing services for building that they can figure out not not only the energy use, but also the carbon cost," says Sturgis.
"Likewise architecture, they should know the carbon cost of facades and interiors and what have you, and be able to understand the carbon impact. It's pretty easy to say, well, somebody else is working that out and it's not my problem, but I think it should be our problem".
"Design consultancies, architects, engineers should be understanding on a daily basis what the carbon impacts of their design choices are. So it's not to say you don't have somebody officially producing a carbon calculation, but if architects don't understand the difference between one brick and another, or between two different types of steel that's not good".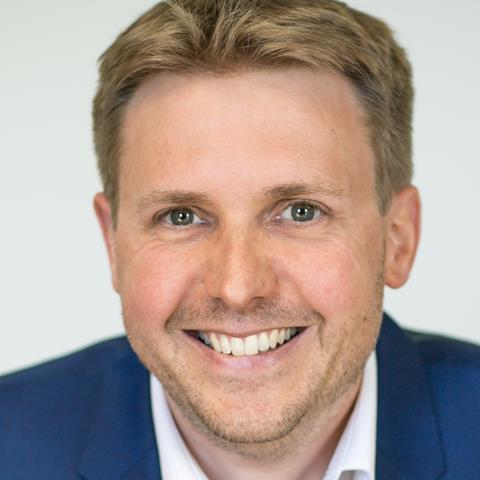 This kind of day-to-day advice on designing out embodied carbon could be the future for specialist sustainability consultants and Waltho believes the cost consultant's new responsibilities will give such firms space to focus on solutions.
"It's just […] a more productive way of getting the measurement done that allows you to do the assessment, and then [they] can concentrate on the route to improvement," he says.
The increasing combination of cost and carbon measurement could have impacts down the construction supply chain too.
Graham Findlay, another Thomas & Adamson regional director, said sustainable material sourcing could become the clincher for subcontractors in tender battles and has been urging contractors to engage with suppliers early on to ensure sustainability is prioritised.
He said: "[Suppliers and subcontractors] are the ones who'll be buying the materials at the end of the day. And when you look at embodied carbon, there's lots of aspects to it, such as transport costs, and the carbon that's gone into creating the material."
Waltho believes that it is only a matter of time before carbon becomes a standard part of the cost manager's responsibilities and expects planning policy will soon require embodied carbon to be considered by planners.
He says: "I do genuinely think we're right at the forefront, a bit of a vanguard on this […] of saying, actually, it's time to shift again.
"The last shift we had was cost planning. Now it's carbon."