The spotlight turns to sustainability policy and ways to promote longer-term infrastructure planning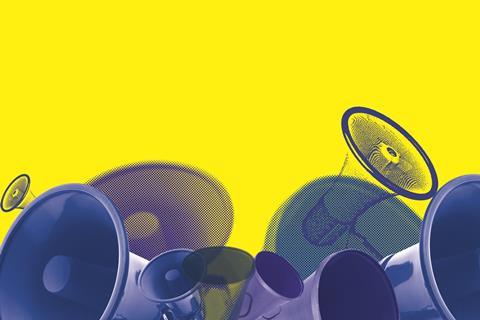 Last week, Building published an analysis of the responses to the first three questions in its Agenda 15 consultation, which we launched in January with the aim of determining what the industry believed the next government should do to best help create a successful, effective and sustainable construction industry.

Here, we turn the spotlight on the second half of the consultation, which sought your views on sustainability policy, current policies which should be preserved, and ways to promote longer-term infrastructure planning.

As with the first three questions, there were some clear common themes which emerged - including support for Sir John Armitt's recommendations on an infrastructure planning process which could transcend electoral cycles, and calls for policies which would promote better lifecycle sustainability of buildings.

However, there was also a wide range of ideas contained within the detail of submissions, such as ways to better link regional and national development programmes, and how to promote the continued success of the housing market.

The next phase of our Agenda 15 initiative, which will be unveiled shortly, will be a process by which we will turn some of these suggestions into a manifesto for the built environment, with which we will lobby political parties on the industry's behalf in the run-up to the general election next May.
But first, here is a detailed look at your responses. to the final three consultation questions.

Question 4
We asked:
"What do you believe is the most significant policy change the government could make to promote a greener built environment?"
You said:
Two key themes stood out from responses as the areas the industry most wants the next government to address on sustainability: retrofit, and policies that promote better lifecycle sustainability from buildings.

The RICS, RIBA and the Federation of Master Builders (FMB) were among those calling for the government to take action to promote green retrofit. The RIBA, which believed there needed to be "a national retrofit strategy that would support local authorities in setting up local retrofit action plans", said that the Green Deal, currently the government's flagship domestic retrofit scheme, needed to be rethought to focus on "street by street retrofit", arguing that "the current piecemeal approach just isn't working". The RICS also said the government should look at overhauling or replacing the Green Deal. Meanwhile, the FMB repeated its call for a reduction to VAT rates on housing renovation and repair, calling for a cut from 20% to 5% for five years to 2020.

Policies that focused on lifecycle sustainability of buildings were recommended by a host of respondents. Many of them highlighted the importance of promoting more energy-efficient performance of buildings in use. The Edge group, for example, called for compulsory Display Energy Certificates (DECs) for all buildings, supported by investment in better technical support for effective reporting, review and benchmarking of building performance.
We need a national retrofit strategy to support local authorities in setting up local retrofit action plans

Riba
The RICS called for the government to factor in "the carbon impact of demolition and redevelopment" to its policies relating to sustainability of the built environment, saying that "the current overwhelming focus on the carbon associated with building energy use, and disregard for the embodied carbon in buildings themselves, may in time drive unintended consequences in terms of premature obsolescence of energy-inefficient buildings".

These two specific themes were underpinned by calls for policies that promote a longer-term approach to sustainability in the built environment. Jeremy Blackburn, head of policy and parliamentary affairs at the RICS, called for a "genuine carbon plan for the built environment, which includes residential, non-domestic and infrastructure - emitted and embodied - new build and existing assets". He said this should "focus on where policies can be bundled and linked to a standard with a target and, crucially, an incentive".

The UK Green Building Council (UKGBC) argued that government must elevate energy efficiency to a "national infrastructure priority" and include it within its National Infrastructure Plan to enable it to be considered for dedicated capital spending alongside schemes focused on areas such as transport, energy generation and communications.

Meanwhile, several respondents wryly noted that any consistency on sustainable policies from the next government would be an improvement on the status quo. Stephen Ratcliffe, director of the UK Contractors Group, said simply "stick to policies and stop doing U-turns. This will provide confidence for businesses to invest."

Other areas highlighted included support for green coal, subsidies for domestic solar energy gain and clearer direction over which targets the industry should focus on - BREEAM and Code levels, or Passivhaus. And an intriguing suggestion came from Graham Stow, of Stow Associates, who suggested that lenders should be encouraged, "by legislation if necessary", to award larger mortgages for greener homes.

Question 5
We asked:
"Which, if any, areas of current government policy towards the industry do you feel must be preserved?"
You said:
Despite the flurry of calls for improvements in government policy made elsewhere in the consultation, it was heartening to see that there were at least some areas of current policy the industry believes should be preserved. Responses to this question ranged widely, but there were three areas that dominated.

One was the continuation of the government's industrial strategy for the sector, Construction 2025. John Hicks, head of government and public at Aecom, said: "It has to be the Government Construction Strategy - do not divert from the mission." He pointed to BIM and supply chain integration as areas of the strategy that must continue to be backed by government. BIM was also highlighted by several other respondents. Peter Haddock, of Edson Evers, said: "We need to keep BIM compulsory on public sector buildings and push it further out into the commercial sector."

A second area that attracted a lot of support - albeit solely from housebuilders - was the Help to Buy initiative. The Home Builders Federation said the equity loan scheme, which has been extended from 2016 to 2020, "has had a huge impact on supply and its extension provides certainty".
Meanwhile, in a detailed submission, Chris Tinker, executive board director and regeneration chairman at Crest Nicholson, said the commitment to extend the equity loan element of Help to Buy on new houses was "the one government policy that will do most towards stimulating increased housing supply over the next six years". He acknowledged the debate over whether the policy was fuelling a housing bubble, but said that "from my perspective, that is simply not the case".
Help to buy is the one policy that will do most to stimulate increased housing supply over the next six years

Chris Tinker, Crest Nicholson
Tinker argued that extending the policy to 2020 is making it more compelling for housing developers to open new housing divisions, and said: "It is the shortage of housing and the prolonged failure for housing supply to match household formation that creates the potential for a housing bubble, not a policy which allows otherwise excluded first-time buyers to follow their parents into house ownership and begin the journey of independence."

The third policy area which received numerous mentions was support for zero-carbon construction. UKGBC said that "zero-carbon standards are driving widespread innovation across industry […] they must be preserved if we are to meet our climate change targets".

The Edge group called for the preservation of the 2008 Climate Change Act and "the concomitant policy on near zero-energy buildings". However, it said that so far the "level of political commitment to achieving the requirements of the Act has been disappointing", and offered a six-point plan to improving that situation - including by moving the focus to "in use performance" by using DECs and similar measures. Meanwhile, St Gobain called for the continuation of earlier plans to achieve zero-carbon homes by 2016, expressing concern over apparent backtracking on the target and "a possible delay to 2019".

Other areas that received backing included: project bank accounts, the increasing focus on supporting SMEs, continued procurement reform which emphasises cost-led procurement and the continuation of the National Planning Policy Framework.

Numerous respondents also made the point that the next government should honour the investment pipeline of the current administration.
Stephen Ratcliffe, director of the UK Contractors Group, said: "We want a new government to ensure the forward line of investment is not interrupted. That's what usually happens and public sector construction grinds to a halt."
Question 6
We asked:
"What measures would you like a future government to take to encourage and support longer-term infrastructure planning?"
You said:
Respondents to this question overwhelmingly agreed that the priority has to be to create an environment for infrastructure planning that can transcend the political election cycle.

Sir John Armitt's review, published in 2013, which recommended a 25 to 30-year national infrastructure strategy and the creation of a National Infrastructure Commission which would advise government on its delivery, received explicit backing from a host of respondents. Richard Threlfall, head of infrastructure, building and construction at KPMG, said: "The biggest prize for the construction industry today is to get all political parties to accept the principles of the John Armitt review and sign up to implement it."

Many respondents, while concurring with the importance of a longer-term infrastructure strategy, also called for specific areas of development to be folded into this long-term plan.

The FMB said the next government should "enshrine housing within all future national infrastructure plans", while UKGBC said government should "put long-term sustainability at the heart of the National Infrastructure Plan, with all capital spending shifting towards low-carbon, resilient infrastructure".

The RIBA's submission called for what it termed a "national spatial strategy", which would "draw together the various strands of infrastructure, housing, economic growth and demographic change to rebalance the UK economy and deliver sustainable growth". It acknowledged the National Infrastructure Plan and Construction 2025 go "part way" to delivering this vision, but said the country still needs a "more holistic view of what and where we need to plan for the future".
The biggest prize is to get all the political parties to accept the principles of the John Armitt review and sign up to implement it

Richard Threlfall, KPMG
The RICS similarly emphasised the importance of both a spatial plan - taking account of regional infrastructure and connectivity - and an integrated approach to development. It said: "This long-term, spatial plan cannot keep infrastructure separate from the development of new settlements, for instance garden cities. HS2 could, for instance, provide a spine for development."

Other measures identified in responses included continued improvements to the planning system to speed up development and for the next government to go further to reduce regulatory burdens.

However, perhaps the most apposite summary of the case for longer-term planning belonged to the RICS: "There has been lots of talk about aping the Victorian age. Next year isn't just an election; Queen Elizabeth will have been on the throne longer than Victoria. It is time to have an optimistic vision of our shared future."