Contractor broadens reach with concrete frame work
Best known as a piling and demolition specialist – the firm was behind the contract to tear down the buildings at London Bridge that eventually made way for the Shard – Keltbray is now looking at above the ground building work with its deal for Dunne.
The move marks a major departure for the firm into a new income stream while the deal will also take it out of its traditional stronghold of London and the South-east.
In a statement confirming the deal, Keltbray said it was "an opportunity to broaden its capability and services portfolio, widen its geographical reach and to respond to market demands".
While it is not in the league of the £200m turnover O'Rourke – a concrete subbie at the time – buying stricken blue chip contractor Laing Construction for £1 back in 2001, the deal does carry a whiff of an ambitious firm looking to expand into an area that has been hit by a number of high-profile failures.
Wembley stadium concrete firm PC Harrington Contractors went into administration last May while John Doyle collapsed four years ago.
Keltbray's chief executive Brendan Kerr will be hoping its move will provide some competition to the likes of Byrne Bros and Careys.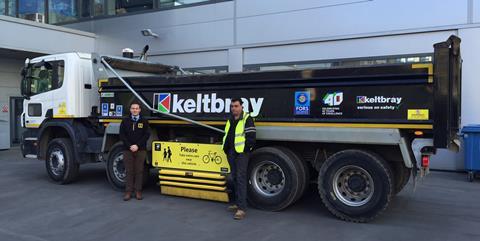 Not all of its moves have paid off – earlier this year it said it was closing down a business that built golf courses using material reclaimed from its demolition work just three years after launching it – but the firm is positioning itself as a go-to contractor for clients wanting a company who can demolish a building, clear the site, stick the piles in and put the concrete frame up.
It's worth pointing out that 10 years ago, Keltbray, which earlier this year launched a safety device aimed at saving the lives of cyclists (pictured), had a turnover of £75m. Today it is £272m. The number of staff was around 300. With the Dunne purchase, this is set to take staff numbers beyond the 1,500 mark.